Chicken Massaman Curry is the easiest Thai curry recipe! This one-pot dinner is the easiest way to make restaurant-quality massaman curry at home.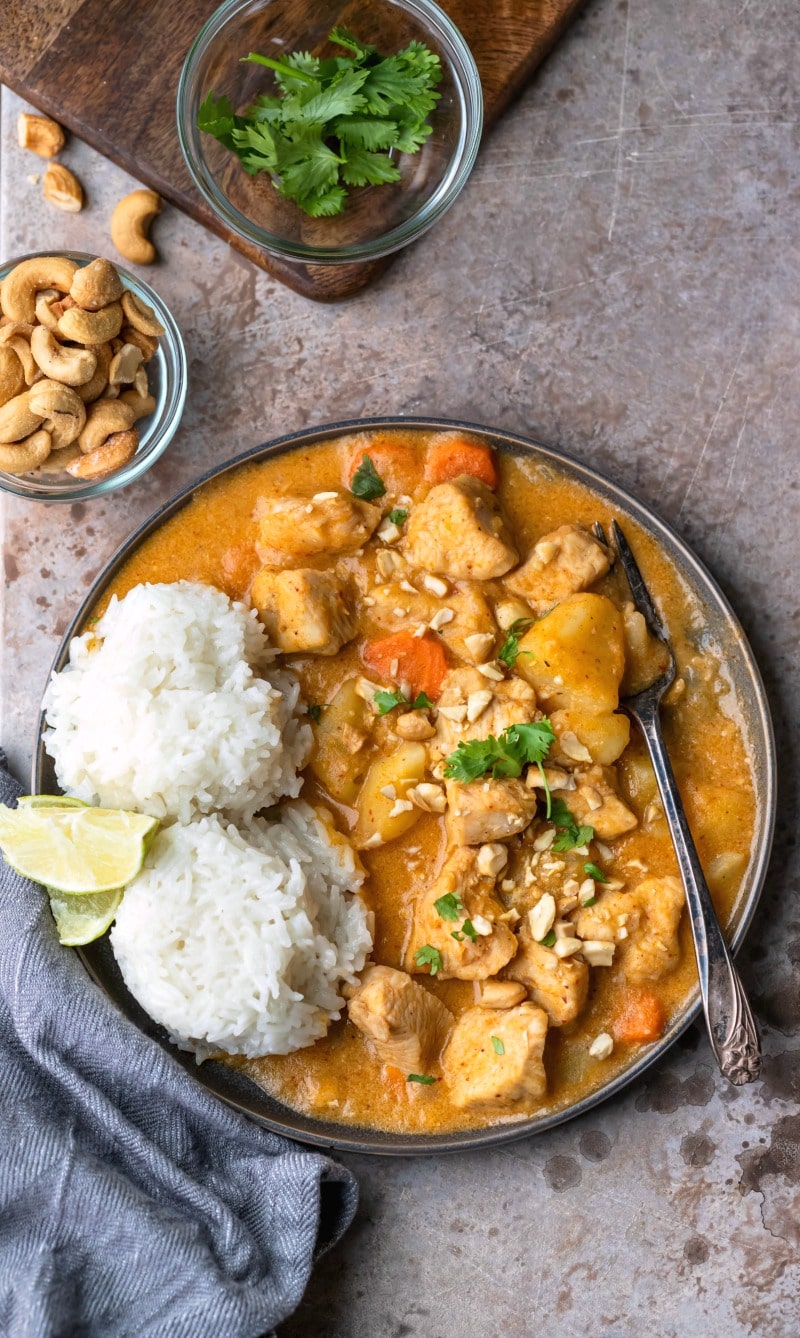 One of my favorite Thai dishes is Chicken Massaman. It also happens to be my husband's favorite Thai dish, and it almost never happens that we share a favorite.
Several years ago, I had the chance to learn to make this recipe, and I was surprised to find that massaman curry is actually really easy to make.
Most of the ingredients are readily available in any larger supermakets, so don't skip the fish sauce or use a generic curry paste. Both the fish sauce and the massaman curry paste give this curry its unique flavor.
What Is Massaman Curry?
Massaman curry is a type of curry that originated in southern Thailand. It uses Massman curry paste along with coconut milk, potatoes, and fish sauce.
It can be served topped with cashews or peanuts.
How To Make Chicken Massaman Curry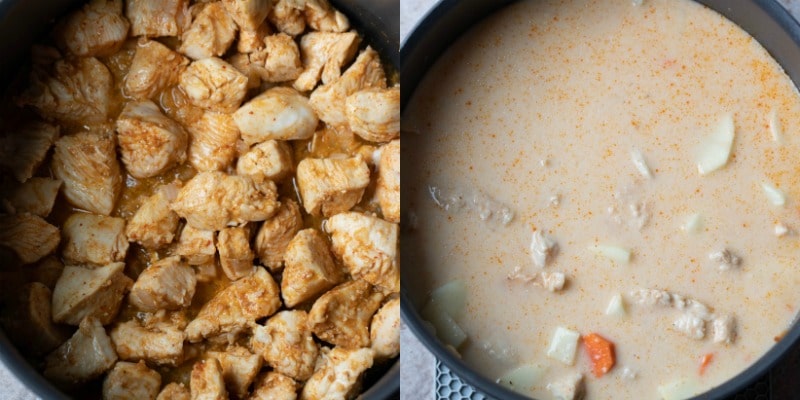 In a large, deep skillet, saute the onion and garlic in the olive oil until the garlic is light brown. You don't want the garlic to burn, so be sure to watch it.
Then add the chicken, curry paste, and fish sauce. Cook, stirring as needed, until the meat is cooked through and fragrant, about 10-15 minutes.
Add the coconut milk, potato, and carrot. Season with salt. Simmer, stirring occasionally, for 1 hour.
Serve over rice topped with peanuts or cashews and fresh cilantro.
What Does Massaman Curry Taste Like?
Massaman curry is flavored with massaman curry paste – a curry paste that has sweeter notes to it. The paste is traditionally made with ingredients such as red chilies and flavored with ginger, shallots, garlic, lemongrass, and spices like cardamom, coriander, cumin, and cinnamon.
It can also contain with shrimp or shellfish, so be sure to read the all of the ingredient labels if you have any allergies or concerns.
Where Can I Find Massaman Curry Paste?
When I've lived in large cities, I've been able to find it in our supermarkets. You can also find it at Asian markets. I've also ordered it online – specifically I've ordered the Mae Ploy Massaman Curry Paste on Amazon.
Tips For Making Massaman Curry
 I use 3 tablespoons of curry paste. It's enough that there's a hint of heat and a good amount of flavor, but it isn't crazy hot.
If you like things on the hotter side, feel free to add more curry paste.
If you like things mild, you may want to start with 1-2 tablespoons and go from there.
I use regular Russet potatoes in this curry.
Don't skip the fish sauce! It adds a distinct flavor, and the curry won't be the same without it.
How To Serve Massaman Curry
I like to serve Massaman curry with sticky rice. If you can't find sticky rice, coconut rice is also delicious with this curry.
I like to finish this meal with mango sticky rice.
If you've tried this chicken massaman curry recipe, don't forget to rate the recipe and leave me a comment below. I love to hear from people who've made my recipes!
You can SUBSCRIBE to receive my latest recipe newsletters or FOLLOW ME on FACEBOOK, INSTAGRAM and PINTEREST for even more delicious food.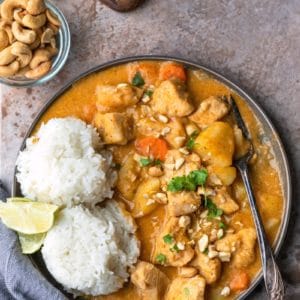 Chicken Massaman Curry
Chicken Massaman Curry recipe - the easy, one-pot way to make restaurant-quality curry at home.
Ingredients
2 teaspoons olive oil
1/2 large onion in large dice
5 cloves garlic peeled and minced
1 ½ pounds chicken in 1-inch chunks
3-4 tablespoons massaman curry paste1
3 tablespoons fish sauce
2-15 ounce cans full-fat coconut milk2
4 potatoes peeled and in large dice
2 carrots peeled and in slices
Handful of cashews
Salt
Instructions
In a large, deep skillet, sauté garlic and onion in olive oil until garlic is light brown, about 5 minutes.

Add meat, curry, and fish sauce. Cook, stirring, until meat is browned and curry is fragrant, about 10-15 minutes.

Add the coconut milk, potatoes, and carrots.

Season with salt to taste.

Simmer, stirring occasionally, for about 1 hour.

Serve over rice topped with cashews.
Notes
This will give you a bit of heat. If you like less heat, start with 2 tablespoons. If you like more heat, add more curry paste to taste. 
I've tried using lite coconut milk, but the sauce ended up watery. 
Nutrition values are estimates. 
Nutrition
Serving: 1serving | Calories: 531kcal | Carbohydrates: 26g | Protein: 31g | Fat: 35g | Saturated Fat: 27g | Cholesterol: 72mg | Sodium: 885mg | Potassium: 1432mg | Fiber: 4g | Sugar: 2g | Vitamin A: 4610IU | Vitamin C: 22.3mg | Calcium: 102mg | Iron: 10.1mg
Published 2/25/15. Updated with new photos and tips 8/26/19.
Reader Interactions
Love this recipe?
Share your thoughts below and let's chat! Make sure to connect with me on your favorite social platform below and show me what you made!