Lemon-Herb Turkey Breast Recipe is a moist, flavorful roast turkey breast recipe that's so easy to make! Perfect for Thanksgiving or Christmas dinner!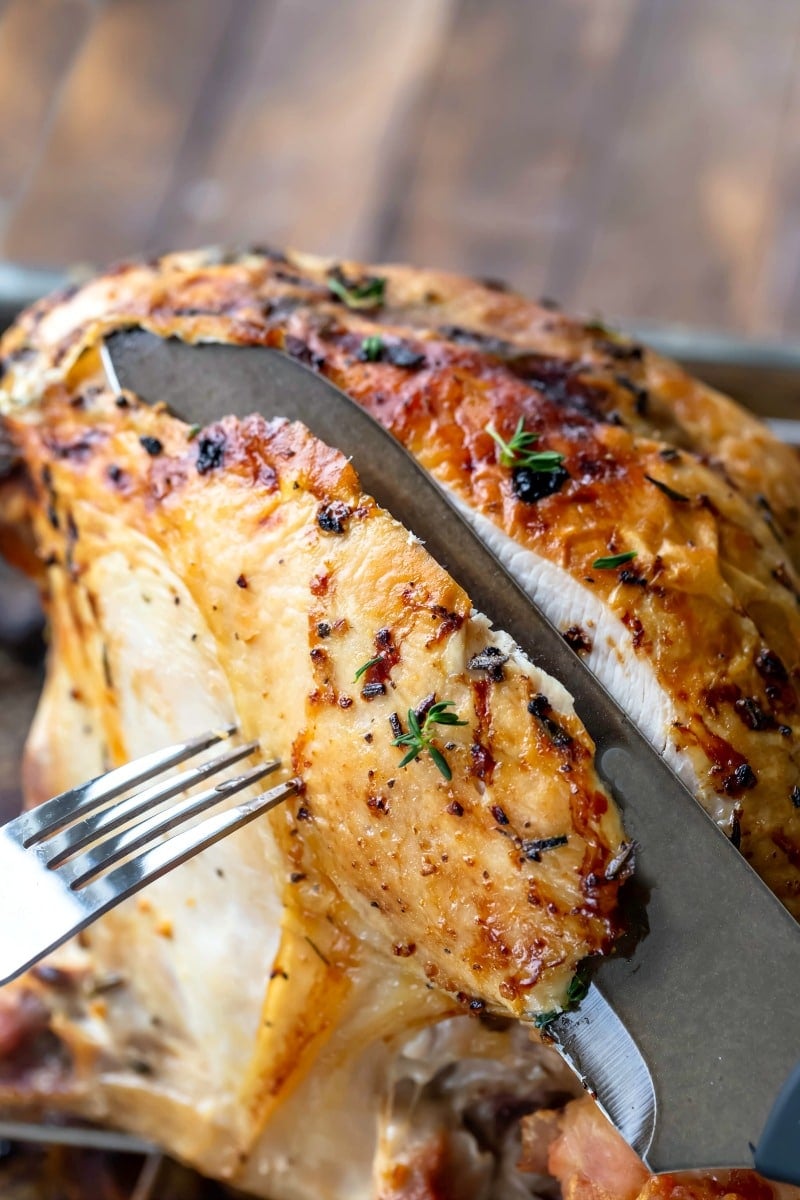 It can be difficult to make a delicious roast turkey. Too often, baked turkeys end up dry and flavorless. And turkeys make enough to feed a small army.
All reasons why I love to make turkey breast instead!
This Lemon-Herb Turkey Breast recipe is one of the best recipes that I've tried. The turkey is incredibly juicy and has a nice lemon, herb flavor to it.
This recipe is also incredibly easy. It only takes about 5 minutes of prep, and then the turkey is ready to go into the oven, which is awesome when you have a lot of other food to make.
So, if you're looking for a delicious, fuss-free turkey recipe, give this one a try!
How to Cook Roast Turkey Breast

For this turkey breast, you first make the lemon herb mixture by mixing garlic, dry mustard, rosemary, sage, thyme, salt, pepper, olive oil, and lemon juice together in a small bowl.
Gently pull the skin back from the breast. You don't want to completely separate it. You just want to pull it back enough to rub about half of the lemon-herb mixture it underneath the skin onto the meat
Then, apply the remaining mixture to the outside of the turkey breast skin. This mixture helps to flavor the meat and keep it moist as it cooks.
How to Thaw Turkey Breast
To thaw a frozen turkey breast, place it in the fridge for a few days prior to cooking. This allows the turkey breast to thaw while maintaining a safe temperature.
What if the Turkey Skin Starts to Get Too Brown?
If the skin starts to brown too quickly, simply tent the turkey breast with aluminum foil and continue to cook until the meat reaches temperature.

Tips For Making Turkey Breast
Herbs: This mix of herbs is commonly sold as a poultry blend. I try to find the poultry blend to avoid buying three separate packs of herbs.
Salt: You can use 1/2 tablespoon of table salt in place of the kosher salt. Or use an equal amount of sea salt in place of the kosher salt.
Chicken broth: You can use chicken stock in place of the chicken broth.
Recipes That Go Well With Turkey
I like to serve this turkey for Thanksgiving alongside traditional Thanksgiving dishes such as dinner rolls, Brussels sprouts, cranberry sauce, and chocolate pecan pie.
If you've tried this lemon herb turkey breast recipe, don't forget to rate the recipe and leave me a comment below. I love to hear from people who've made my recipes!
You can SUBSCRIBE to receive my latest recipe newsletters or FOLLOW ME on FACEBOOK, INSTAGRAM and PINTEREST for even more delicious food.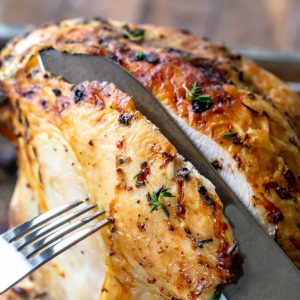 Lemon-Herb Turkey Breast Recipe
Easy turkey breast recipe
Ingredients
6-7 pound bone-in turkey breast
1 tablespoon minced garlic about 3 cloves
2 teaspoons dry mustard
1 tablespoon chopped fresh rosemary leaves1
1 tablespoon chopped fresh sage leaves
1 teaspoon chopped fresh thyme leaves
1 tablespoon kosher salt²
1/2 tablespoon freshly ground black pepper
2 tablespoon extra virgin olive oil
2 tablespoons freshly squeezed lemon juice
1 cup chicken broth3
1 lemon quartered
Instructions
Preheat the oven to 325 F.

Place the turkey breast, skin side up, on a rack in a roasting pan. I spray the roasting pan rack with nonstick cooking spray.

Stir together garlic, mustard, chopped herbs, salt, pepper, olive oil, and lemon juice until combined.

Gently pull back the skin from the meat and rub about 1/2-2/3 of the mixture directly on the meat. Spread the rest of the mixture evenly on the skin.

Pour the chicken broth into the bottom of the roasting pan, and place the quartered lemon into the cavity.

Roast the turkey for about 2 hours, or until the skin is golden brown and an instant-read thermometer registers 165 F when inserted into the thickest and meatiest areas of the breast.

If the skin starts to get too dark, tent some aluminum foil over it.

Remove from the oven, and let it rest for 15 minutes before slicing.
Notes
This blend of herbs is commonly sold together as a poultry blend. 
Or 1/2 tablespoon of table salt. You can also substitute an equal amount of sea salt in place of the kosher salt. 
Or chicken stock.
Nutrition values are estimates. 
Nutrition
Serving: 1serving | Calories: 440kcal | Carbohydrates: 1g | Protein: 59g | Fat: 20g | Saturated Fat: 5g | Cholesterol: 176mg | Sodium: 486mg | Potassium: 770mg | Vitamin A: 20IU | Vitamin C: 5.9mg | Calcium: 40mg | Iron: 3.4mg
Originallly published 11/8/13. Updated with new photos and tips 11/14/19.
Slightly adapted from Food Network.com
Reader Interactions
Love this recipe?
Share your thoughts below and let's chat! Make sure to connect with me on your favorite social platform below and show me what you made!