When my husband and I met, he wasn't much of a dessert guy. Ice cream was pretty much it for him when it came to sweets. And if it was a special occasion, then he'd have some ice cream with Nutella and fruit.
With Father's Day coming up next weekend, I've been trying to come up with a dessert that I think he'd like.
I wanted to make something with Nutella and fruit, so I thought I'd try making a molten chocolate cake out of Nutella (molten chocolate cakes were the first dessert that I made for him when we were dating).
I'm not a huge Nutella person; it's good, but it's no peanut butter.
So, I was surprised at how much I loved these cakes.
They were seriously delicious!!
My husband and son both raved about them, too (Well, my husband raved about them. My son said they were delicious, which, for him, was raving).
These cakes were great with the sliced bananas, but they would also be great with sliced strawberries and chopped almonds.
Molten Nutella Cakes
Molten Nutella Cakes
Prep Time: 15 minutes
Cook Time: 12 minutes
Total Time: 27 minutes
Servings:4 servings
Course: Dessert
Cuisine: American
Keyword: molten chocolate cake, molten nutella cake
Ingredients
2 large egg yolks
2 large eggs
1/4 cup all-purpose flour
1 cup . Nutella (plus extra for drizzling)
1/2 teaspoon vanilla extract
Instructions
Preheat oven to 425 F. Grease and flour 4 ramekins, and set them to a rimmed cookie sheet.

Using a mixer (either hand or stand), beat yolks and eggs until pale yellow, about 3 minutes.

Add flour, and beat until well-combined.

Stir in Nutella and vanilla.

Divide batter evenly among ramekins.

At this point, the ramekins can be covered and refrigerated for up to 24 hours.

Bake cakes until edges are set but the centers is still jiggly, about 12–14 minutes. If you overbake the cakes, then they won't have much molten Nutella in the middle.

Transfer cookie sheet to a wire cooling rack.

Let cakes cool for 5 minutes.

Run a thin knife around edges of ramekins to loosen cakes, and invert cakes onto plates.

Top with sliced bananas or strawberries, ice cream, or more Nutella (if desired).

Serve warm.
Notes
If you want an extra molten center, pour half of the batter into your prepared ramekin, drop up to 1 teaspoon of Nutella in the center of the batter. Cover with remaining batter. Please do not use more than 1 teaspoon of Nutella as it will cause the cakes to brake apart when you invert them. Nutrition values are estimates.
Nutrition Information
Serving: 1servingCalories: 496kcal (25%)Carbohydrates: 53g (18%)Protein: 9g (18%)Fat: 26g (40%)Saturated Fat: 22g (110%)Cholesterol: 179mg (60%)Sodium: 66mg (3%)Potassium: 345mg (10%)Fiber: 4g (16%)Sugar: 40g (44%)Vitamin A: 250IU (5%)Calcium: 105mg (11%)Iron: 4.3mg (24%)
You may also like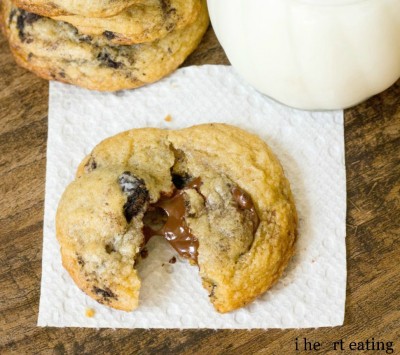 Mississippi Nilla Mud Cake