Easy homemade whipped cream recipe! This simple 3-ingredient homemade whipped cream takes just minutes to make. Perfect dessert topping!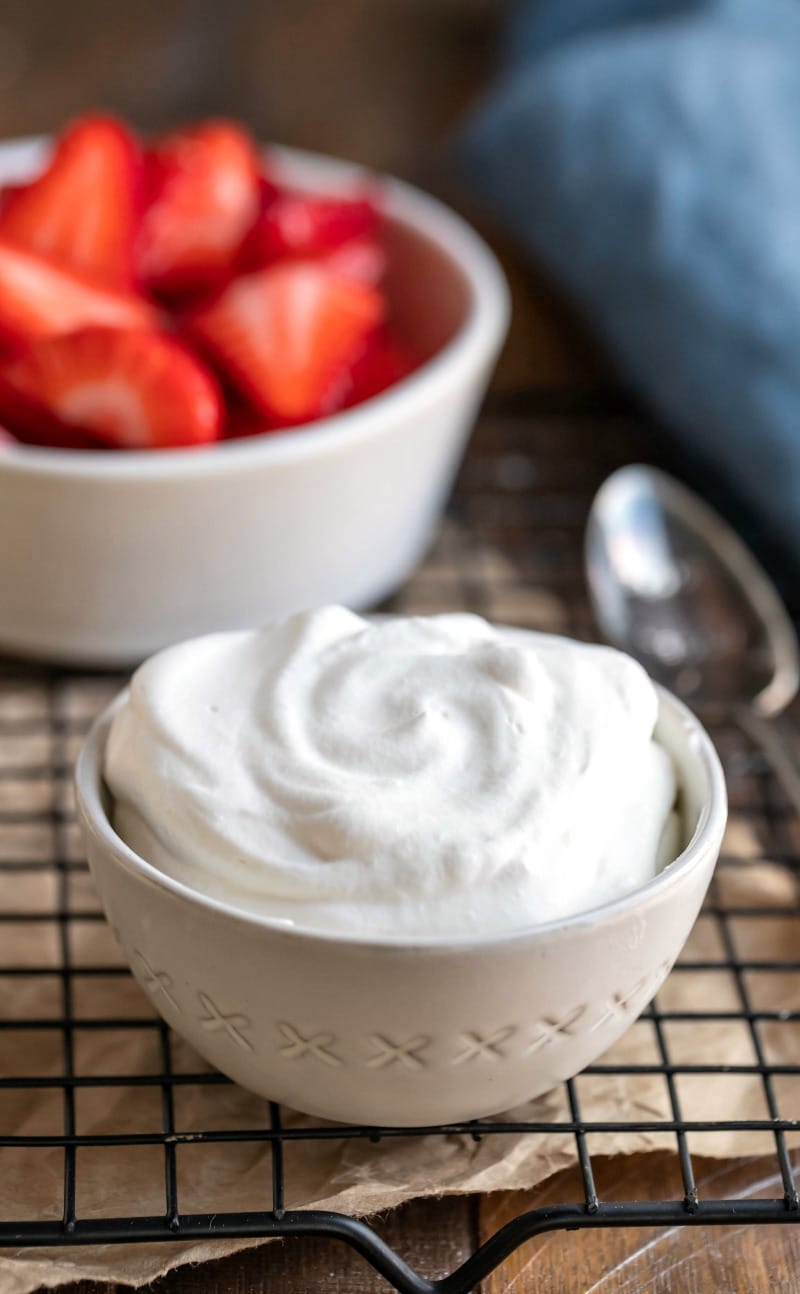 There are a few ways to finish off desserts. A scoop of ice cream or a dollop of whipped cream can really take things over the top.
Homemade whipped cream is so simple, but it can take any dessert from good to great.
Or make it the dessert by serving it with something simple like fresh berries.
And it's so easy to make! It takes just 3 ingredients and 5 minutes to make up a batch of homemade whipped cream.
How to make whipped cream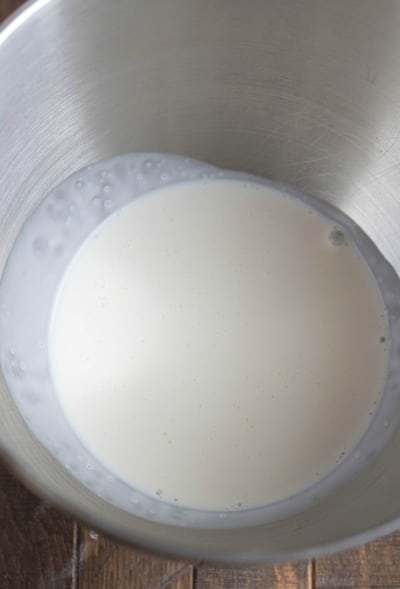 One of the worst things that you could do is to use a hot mixing bowl or beaters straight out of the dishwasher.
Cream whips better when it is cold. So, it's a good idea to chill your mixing bowl and whisk or beaters before you begin.
It's also a good idea to have your heavy whipping cream nice and cold.
You can either use a mixer (hand or stand will work) or use a whisk. Using a mixer is much easier, but it's possible to make whipped cream with a whisk.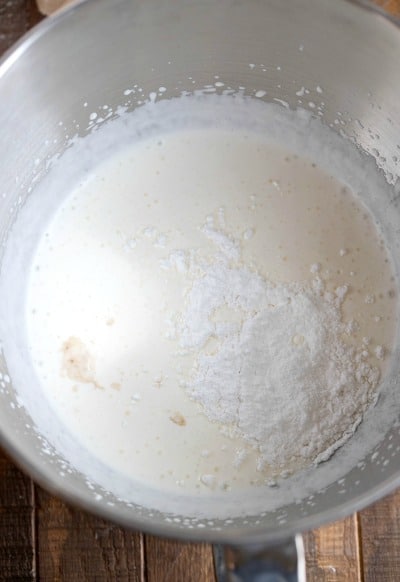 Once the cream begins to thicken, add the sugar and vanilla extract.
Using a mixer? You'll be able to tell that the cream is beginning to thicken when you can see the tracks left by the beater as it mixes.
Whisking by hand? You'll feel the cream thicken as you whisk it.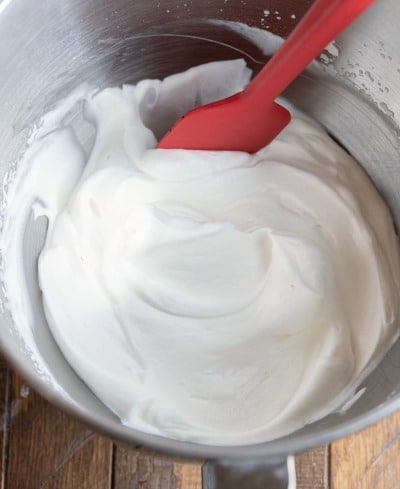 Continue beating until the cream reaches the desired consistency.
For a softer whipped cream, beat until the cream reaches the soft peak stage (the peak of the cream should droop over).
For stiff peaks, whisk or beat until it holds its peak upright.
Don't overbeat
If you're using an electric mixer, it's easy to overbeat the whipped cream.
After the stiff peak stage, continuing to beat the cream will cause it to begin to look curdled and then to form chunks of butter. There's no way to say cream once it reaches this point.
How to make lightly sweetened whipped cream
For lightly sweetened whipped cream, use half of the sugar that the recipe calls for.
So, for ever cup of heavy whipping cream, use 2 tablespoons of sugar.
Can I use granulated sugar?
You can. You can use an equal amount of granulated sugar instead of using powdered sugar if you prefer.
Why use powdered sugar?
Powdered sugar adds sweetness without any grittiness.
I've rarely had any grittiness when using granulated sugar, but I have found that some brands with larger sugar crystals do give a grittier whipped cream.
Can I make flavored whipped cream?
You can! Simply use another flavor or extract in place of the vanilla extract. You may need to adjust the amount depending on the flavor or extract used.
How to make whipped cream ahead of time
Whip the cream to soft peak stage, and then cover and chill until ready to use.
When ready to use, finish whipping to stiff peak stage.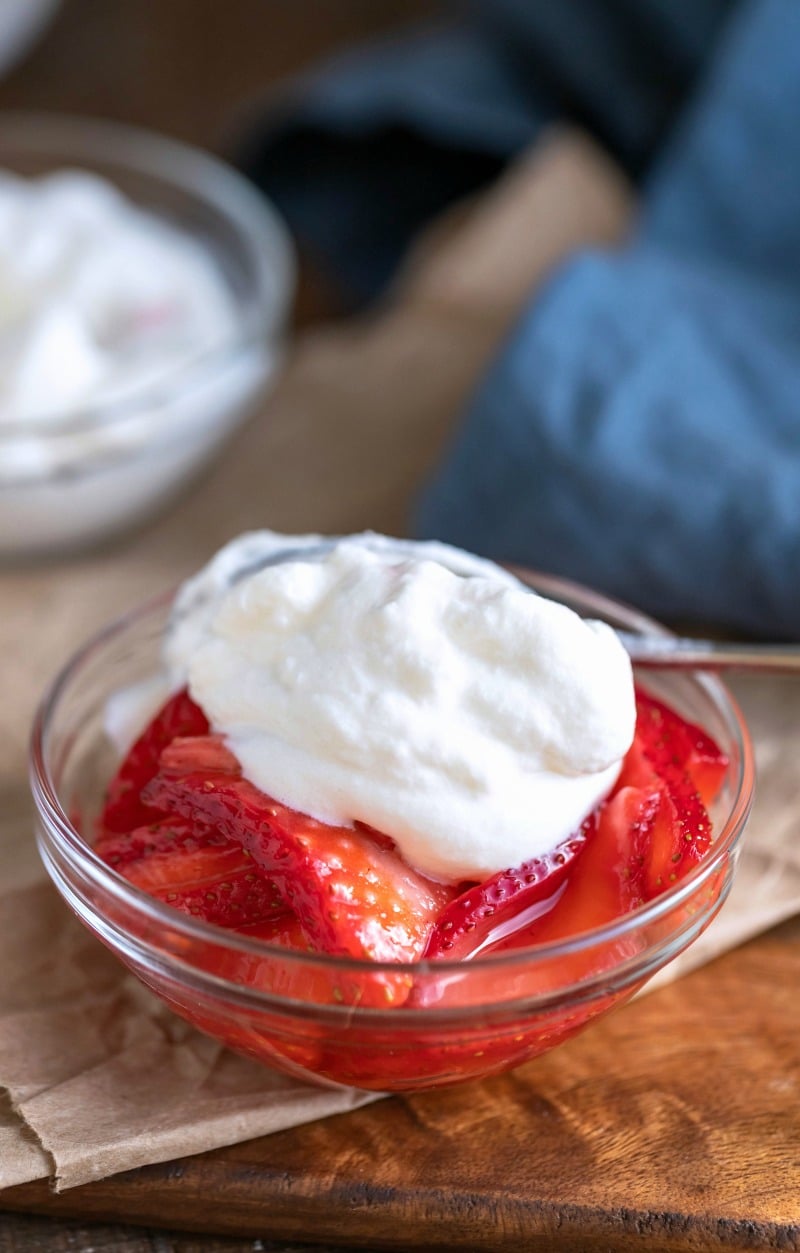 Recipes that use homemade whipped cream
If you've tried this homemade whipped cream recipe, don't forget to rate the recipe and leave me a comment below. I love to hear from people who've made my recipes! You can SUBSCRIBE to receive my latest recipe newsletters or FOLLOW ME on FACEBOOK, INSTAGRAM and PINTEREST for even more delicious food.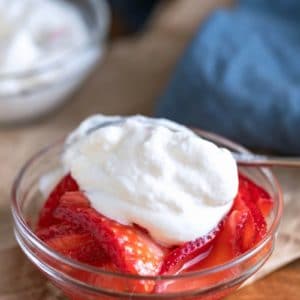 Homemade Whipped Cream
Simple 3-ingredient recipe to make homemade whipped cream. Check out the step-by-step photos and tips above the recipe.
Ingredients
1 cup cold heavy whipping cream
1/4 cup powdered sugar¹
1 teaspoon vanilla extract
Instructions
Chill bowl and beaters for 15 minutes before beginning.

Add heavy whipping cream to the bowl.

Beat until just begining to thicken. You should be able to see tracks in the cream.

Add the vanilla and powdered sugar.

Continue beating until whipped cream reaches desired consistency. Do not overwhip or it will begin to turn to butter.

Chill any leftover whipped cream
Notes
For lightly sweetened whipped cream, use 2 tablespoons powdered sugar. For sweetened whipped cream, use 1/4 cup (4 tablespoons) powdered sugar. 
Nutrition values are estimates. 
Nutrition
Serving: 1serving | Calories: 118kcal | Carbohydrates: 4g | Fat: 11g | Saturated Fat: 6g | Cholesterol: 40mg | Sodium: 11mg | Potassium: 22mg | Sugar: 3g | Vitamin A: 435IU | Vitamin C: 0.2mg | Calcium: 19mg
Reader Interactions
Love this recipe?
Share your thoughts below and let's chat! Make sure to connect with me on your favorite social platform below and show me what you made!