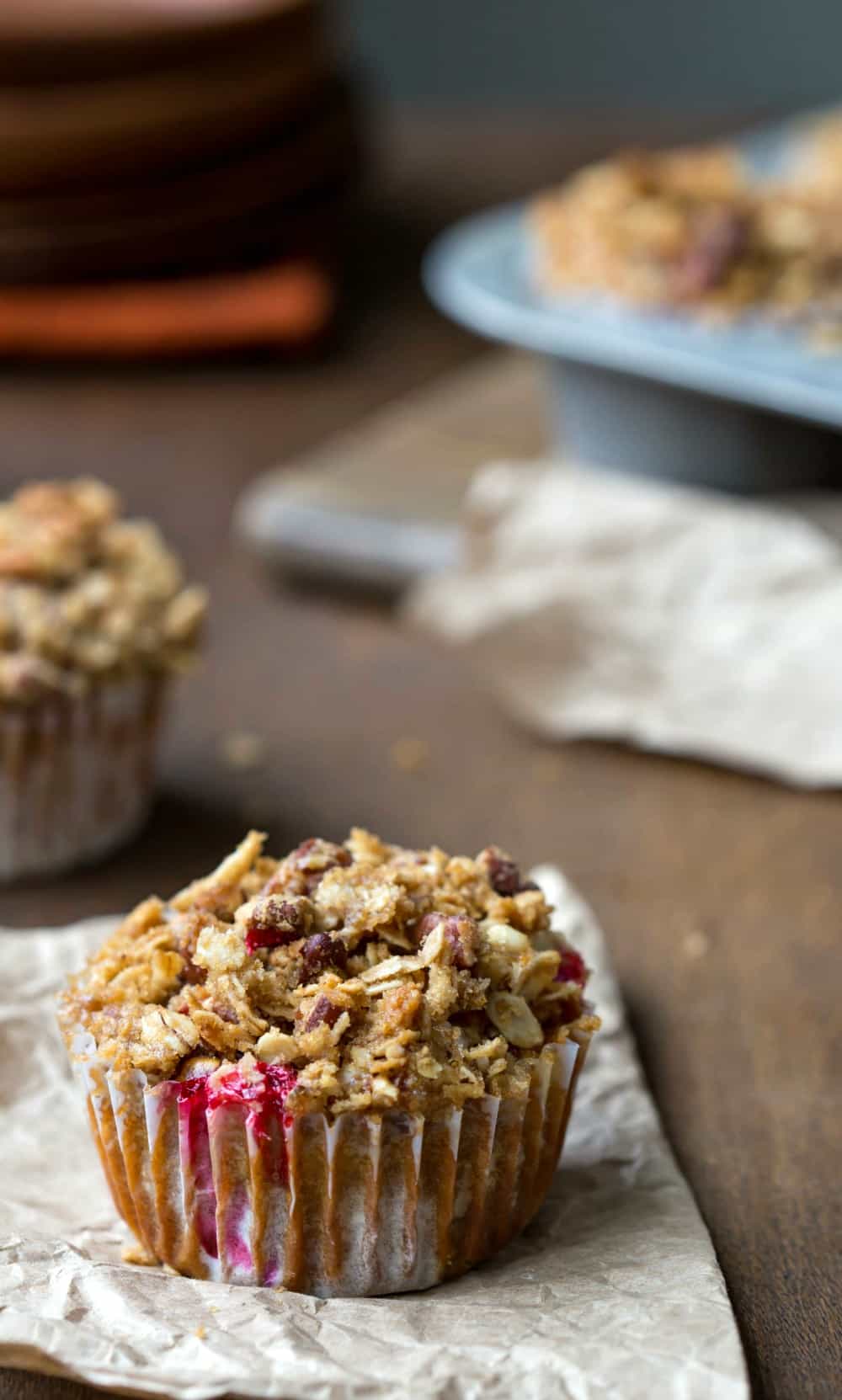 I get excited about the start of each new season – except for Winter. I love Fall, and I'm just not ready for the cold and the snow. As a sort of last hurrah,  I took all of my favorite Fall flavors and put them into this Pumpkin Cranberry Apple Crumble Muffin Recipe.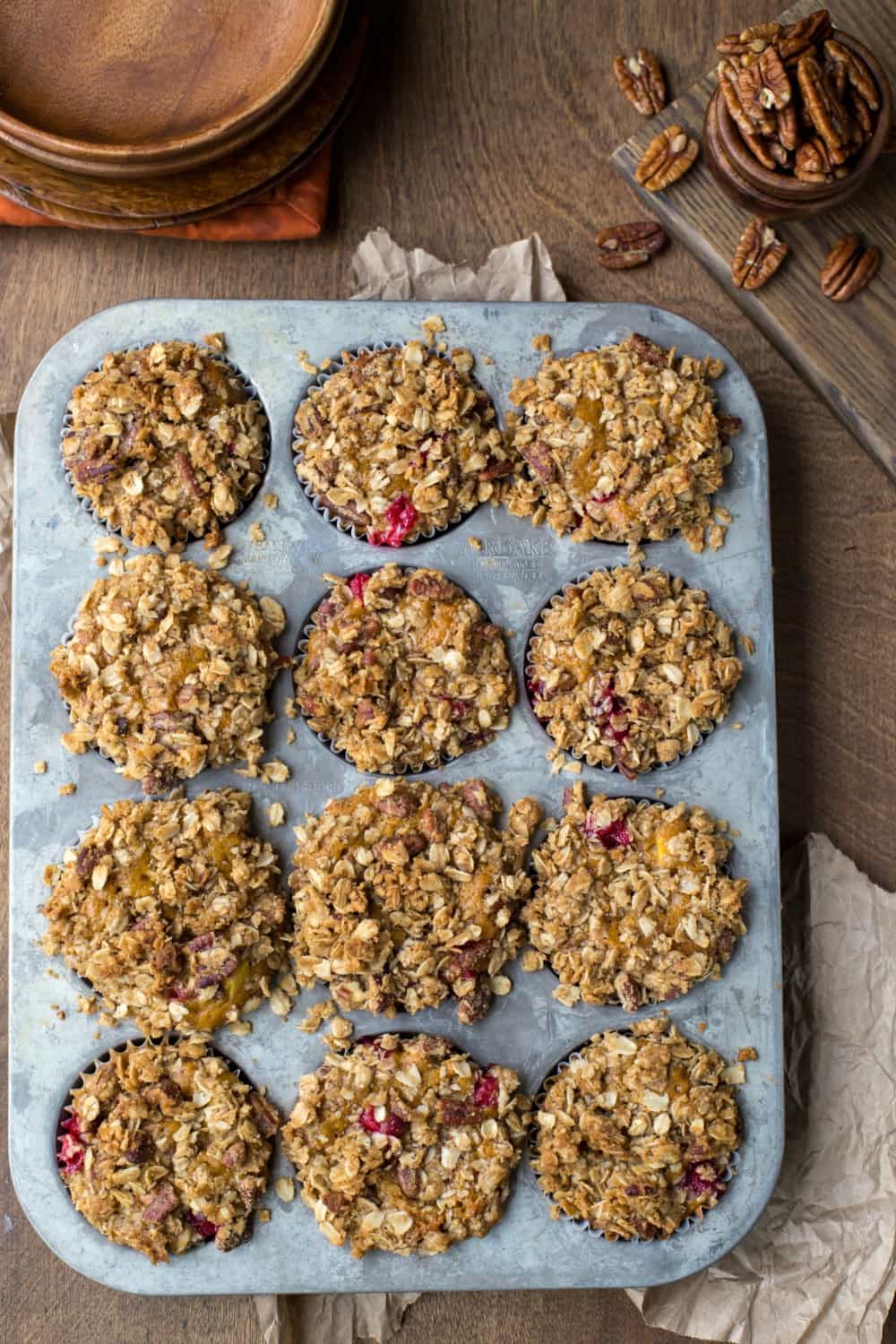 Before I baked them, I was a little nervous about how well the flavors would work together. Turns out, pumpkin, cranberry, and apple are awesome together! All of the fruit helps keep the muffins moist, so the muffins don't need much oil, which means the muffins are delicious and fairly healthy.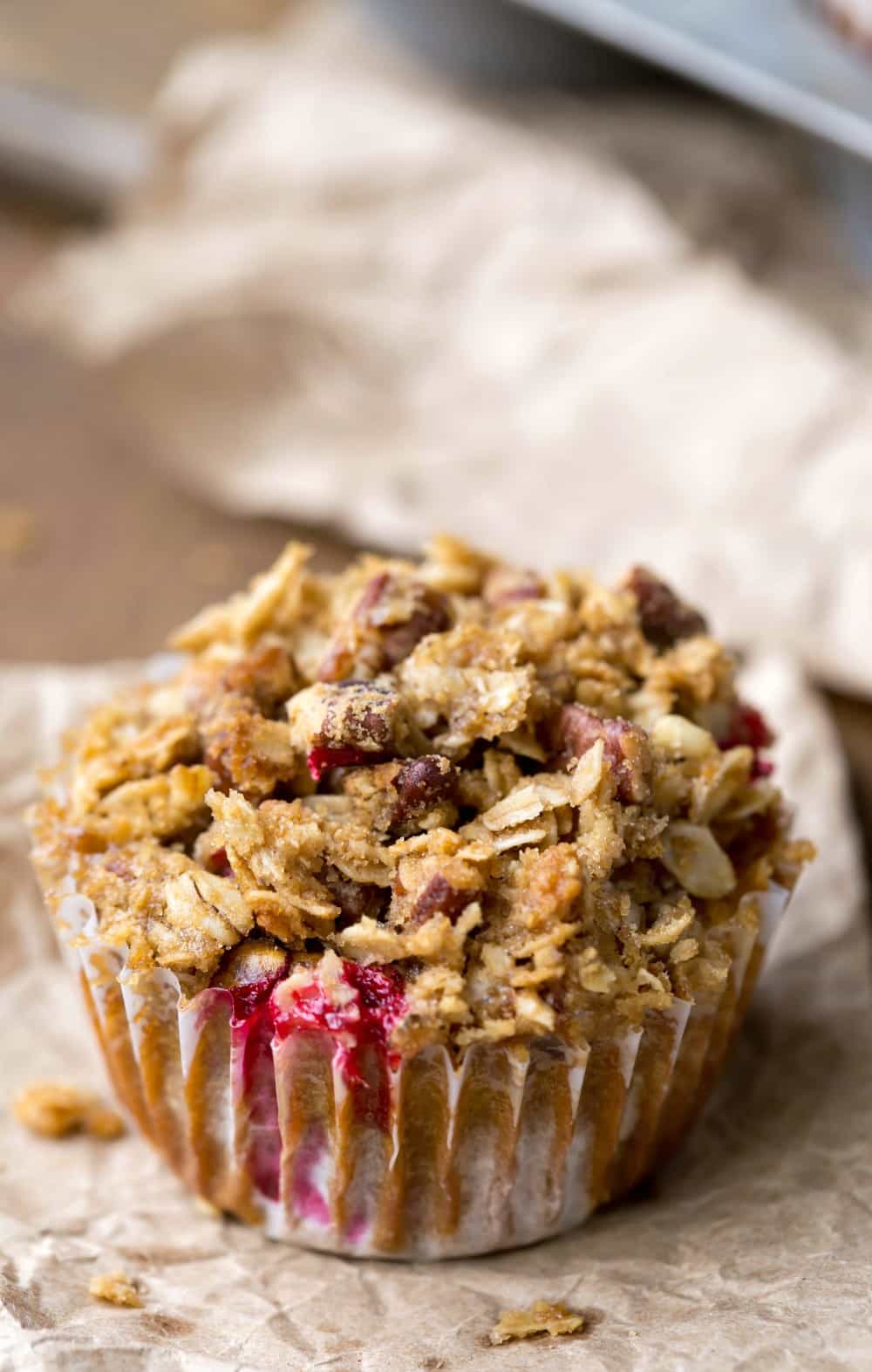 Pumpkin Cranberry Apple Crumble Muffin Recipe
Pumpkin Cranberry Apple Crumble Muffin Recipe
Prep Time: 20 minutes
Cook Time: 25 minutes
Total Time: 45 minutes
Servings:12 muffins
Course: Breakfast
Cuisine: American
Keyword: muffin
Ingredients
Muffins
1 1/2 c. all-purpose flour
1/2 T. pumpkin pie spice
1 tsp. baking soda
1/2 tsp. salt
3/4 c. granulated sugar
1 c. pumpkin puree
2 large eggs
1/4 c. vegetable oil
1/4 c. plain, nonfat Greek yogurt
1/4 c. apple cider or water
1/2 c. fresh cranberries
1 c. diced apple (peeled and cored)
Topping
1/2 c. brown sugar
1/2 c. chopped pecans
1 c. rolled oats
3 T. cold butter
Instructions
Preheat oven to 350 F. Grease a 12-cup muffin tin or line with paper liners.

In a medium bowl, whisk together flour, pumpkin pie spice, baking soda, and salt. Set aside.

In a large bowl, whisk together sugar, pumpkin, eggs, oil, Greek yogurt, and apple cider in large mixer bowl until well-combined.

Add flour mixture, and stir until just combined.

Gently stir in cranberries and diced apple.

Spoon batter into prepared muffin tins.

For the topping, stir together oats, brown sugar, and pecans.

Cut in butter (or smoosh it in), and form crumbly clumps, and sprinkle over muffins.

Muffins will be full, so if you're worried about the crumble falling off into your oven, throw the tin on a sheet pan.

Bake for about 25-30 minutes, or until a wooden pick inserted in center comes out clean.

Cool in pan for 10 minutes, and then remove to wire cooling rack to finish cooling.
Notes
*Nutrition values are estimates.
Nutrition Information
Serving: 1muffinCalories: 424kcal (21%)Carbohydrates: 67g (22%)Protein: 8g (16%)Fat: 14g (22%)Saturated Fat: 5g (25%)Cholesterol: 28mg (9%)Sodium: 212mg (9%)Potassium: 243mg (7%)Fiber: 5g (20%)Sugar: 28g (31%)Vitamin A: 3135IU (63%)Vitamin C: 3.1mg (4%)Calcium: 46mg (5%)Iron: 3mg (17%)
More fall recipes!