This Sacher Torte recipe is for the original Austrian cake. This homemade cake has chocolate sponge cake, apricot jam filling, & a chocolate ganache glaze!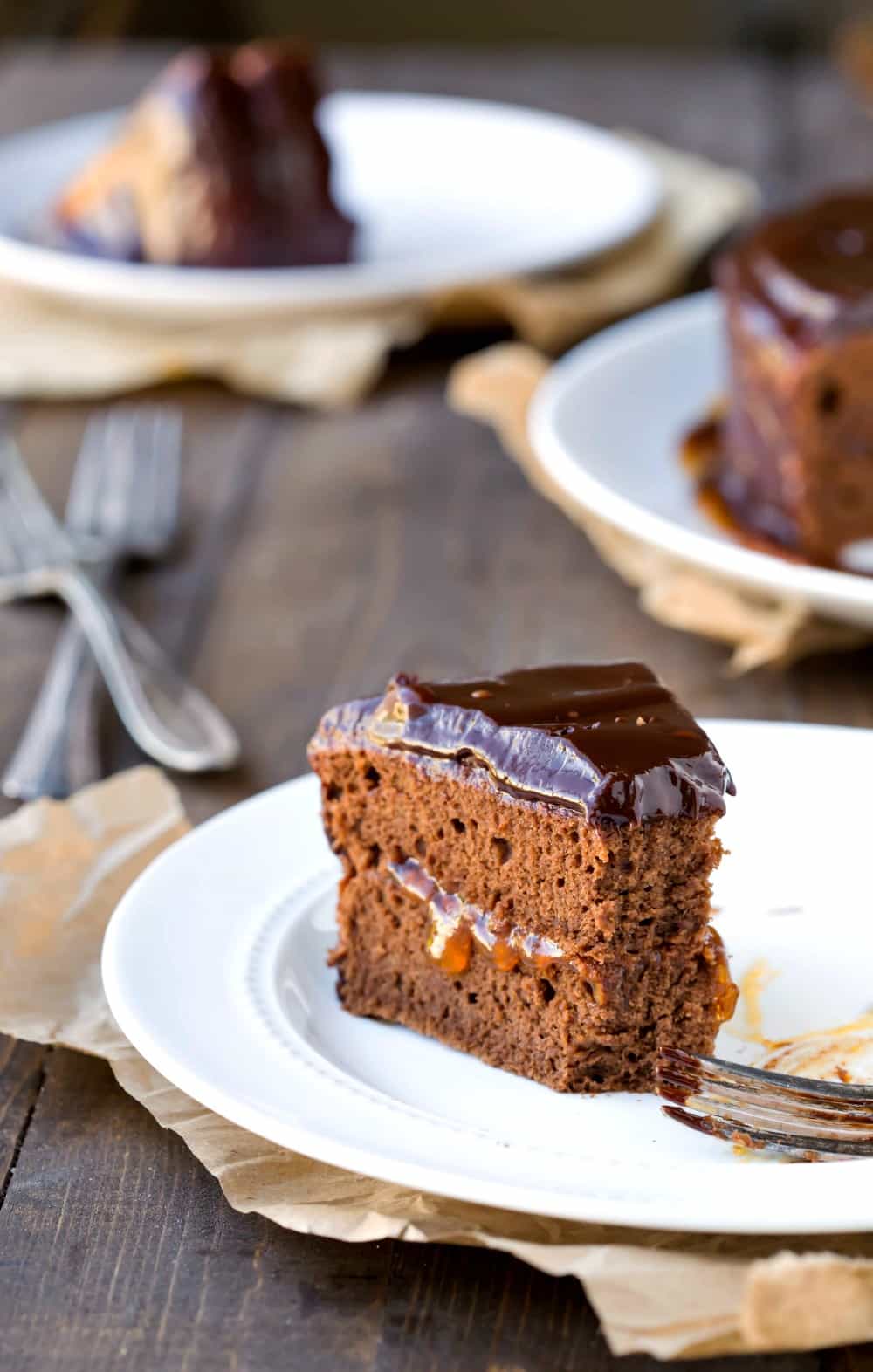 I love a good Sacher Torte! I had my first slice of this delicious chocolate cake when I was visiting Vienna, and I loved it right away.
What is a sacher torte?
Sacher tortes are Austrian chocolate cakes. They have layers of chocolate cake, apricot preserves, and chocolate glaze. The chocolate sponge cake isn't too sweet, and it goes perfectly with the rich, chocolate glaze and apricot filling.
This cake is more of a sponge cake than a typical American chocolate cake. The cake is pretty light and airy. It isn't overly moist, but it isn't dry either.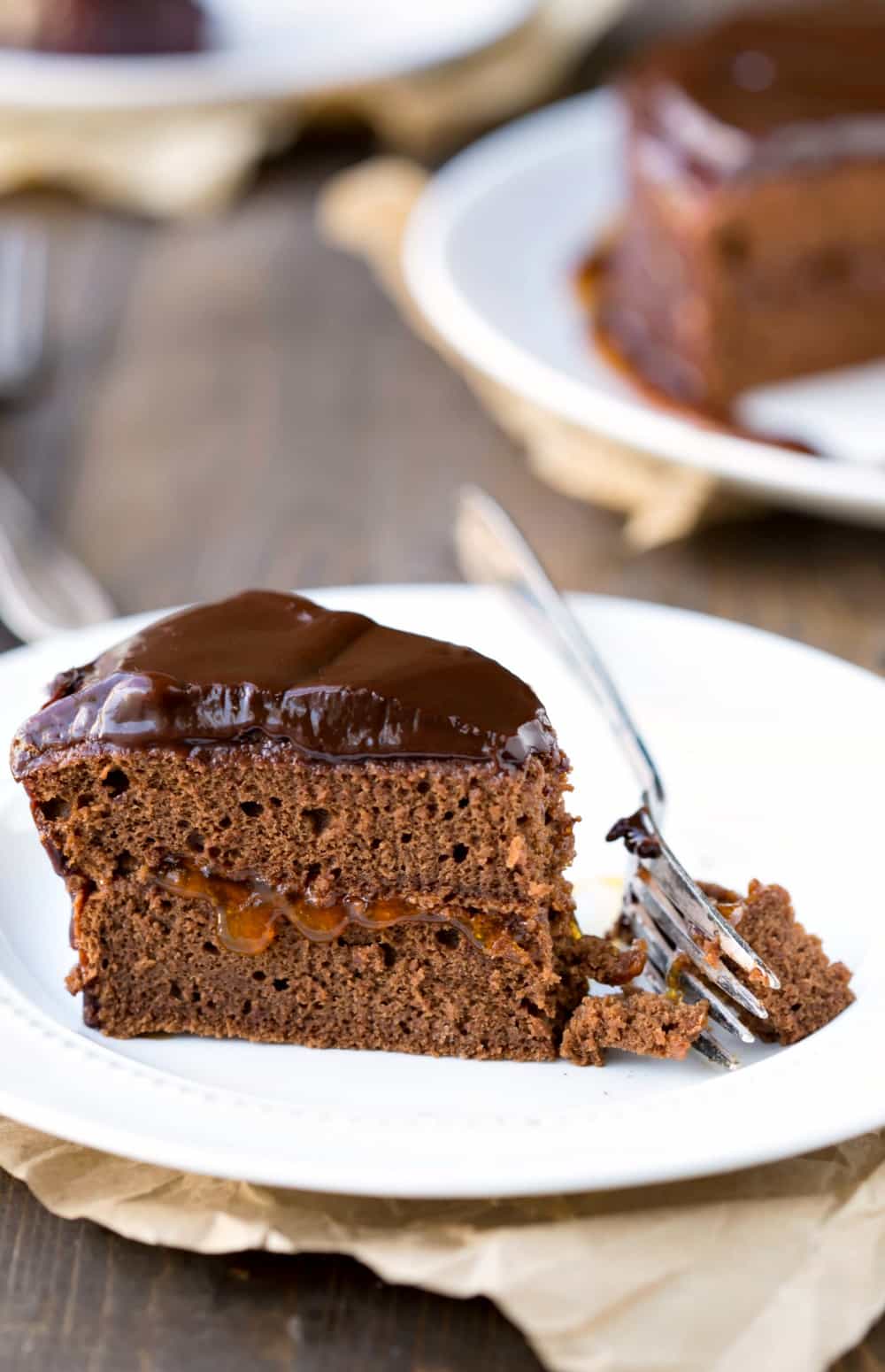 I loved sacher tortes so much that I tried to bring one back from Vienna.
I say "tried" because after I had carried it through multiple airport security checkpoints (pleading my case for why I should be allowed to carry it on the plane along the way), it met an unfortunate end when my luggage and my sacher torte went tumbling down an escalator as I was getting ready to board my last flight to the U.S.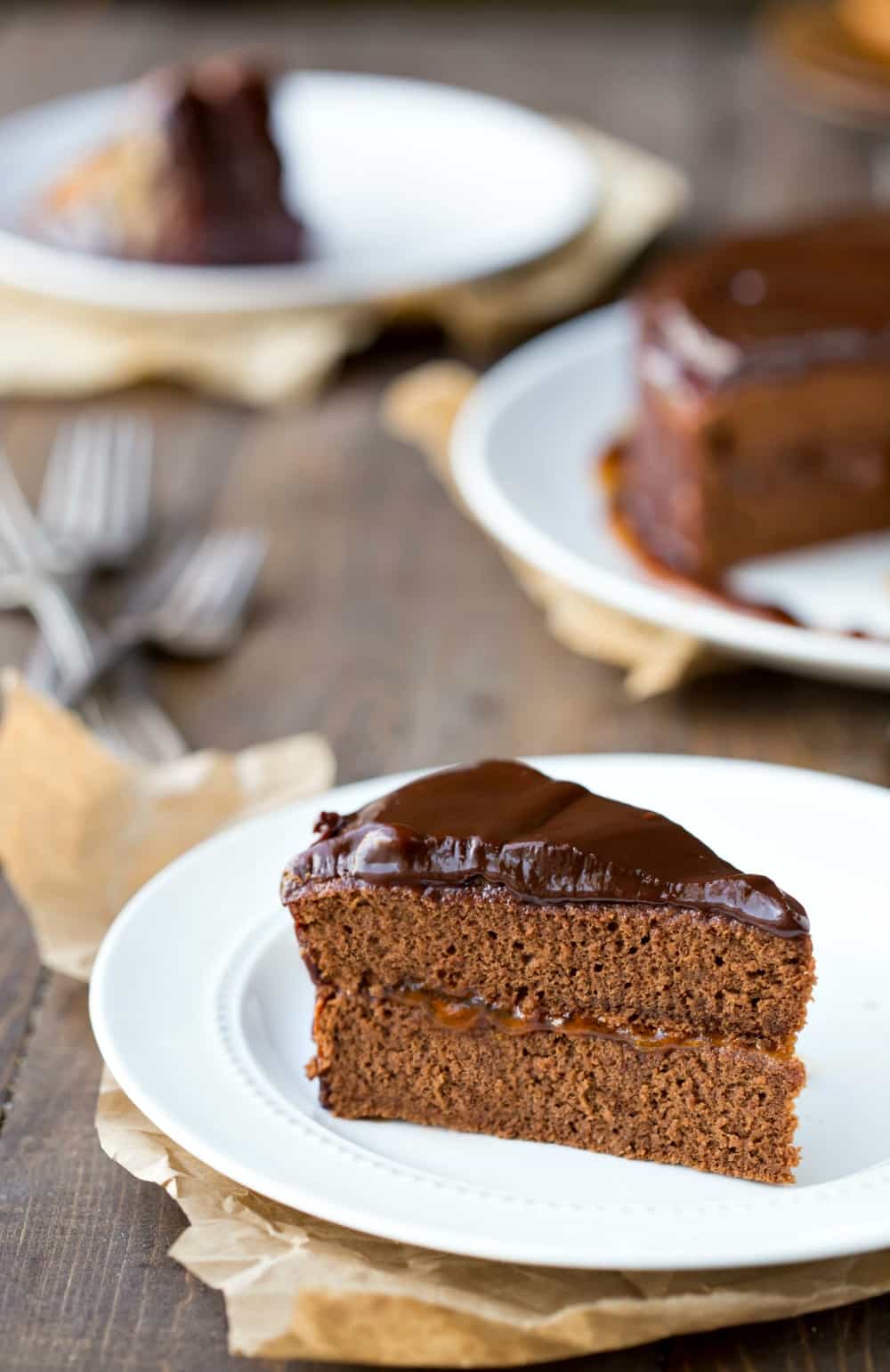 Since this cake isn't available locally, I had to learn to make it when I wanted one.
How do you make a sacher torte?
There are a quite a few steps in this recipe. Since it's a traditional cake, the egg whites are beaten and then folded into the batter to make the cake lighter.
This sacher torte does come together pretty quickly, and it's pretty easy to make.
It is also well worth the extra steps because it is that good.
Sacher Torte Recipe
This Sacher Torte recipe is for the original Austrian cake. This homemade cake has chocolate sponge cake, apricot jam filling, & a chocolate ganache glaze!
Prep Time: 1 hour
Cook Time: 30 minutes
Total Time: 1 hour 30 minutes
Servings:8
Course: Dessert
Cuisine: Austrian
Keyword: chocolate cake
Ingredients
Cake
6 large eggs (separated into whites and yolks)
5 ounces bittersweet baking chocolate (chopped)
1/2 cup butter
1 1/2 teaspoons vanilla extract
1/2 cup granulated sugar
3/4 cup all-purpose flour
Apricot Filling
1 1/4 cups apricot preserves
1 teaspoon rum extract
1 tablespoon water
Chocolate Glaze
2 ounces semisweet baking chocolate (chopped)
2 ounces bittersweet baking chocolate (chopped)
1 tablespoon butter
1/2 cup whipping cream
2 teaspoons light corn syrup
Instructions
To make the cake, let egg whites stand at room temperature in a very large bowl for 30 minutes.

Preheat oven to 375 F. Grease and lightly flour two 8-inch cake pans. Set aside.

Melt chocolate and butter in a medium saucepan over low heat; cool.

Stir egg yolks and vanilla into the cooled chocolate mixture. Set mixture aside.

Beat egg whites with an electric mixer on medium to high speed until soft peaks form (tips curl). Gradually add sugar, about 1 tablespoon at a time, beating about 4 minutes or until stiff peaks form (tips stand straight).

Fold about 1 cup of the egg white mixture into chocolate mixture.

Fold chocolate mixture into remaining egg white mixture.

Sift about one-third of the flour over the egg mixture; gently fold in. (If the bowl is too full, transfer mixture to a larger bowl.) Repeat twice, sifting and folding in one-third of the flour at a time.

Carefully spread batter into the prepared pans. Hold the bowl close to the pans, and avoid dropping the batter into the pans from any greater height than necessary.

Bake for 15-20 minutes or until a wooden toothpick inserted near the center comes out clean. Cool cakes in their pans on a wire rack for about 5-10 minutes.

Remove cakes from pan. Brush crumbs from edges of cakes.

To make the apricot filling, bring the preserves, extract, and water to a boil in a small saucepan over medium heat, stirring often.

Cook, stirring often, for 2-3 minutes.

Strain through a wire sieve into a small bowl, pressing hard on the solids. Set aside.

To make the chocolate glaze, place butter and chocolate in a heat-proof bowl. Set aside.

Bring whipping cream and light corn syrup to a gentle boil in a small, heavy saucepan.

Reduce heat, and simmer for 2 minutes. Remove from heat.

Pour over butter and chocolate.

Let sit for 2-3 minutes, and then stir until melted and well-combined. Cool to room temperature.

Meanwhile, to assemble, place the one of the cake layers upright on a large serving plate.

Spread all but 1/3 cup apricot filling on top of the cake layer on plate.

Top with the second cake layer, inverting if necessary, to give you a flat surface for the top of the cake.

Spread the remaining 1/3 cup apricot filling over the top layer.

Let cake sit for 10-15 minutes to let filling soak and set.

Pour chocolate glaze over torte, spreading as necessary to glaze top and sides completely.

Let torte stand at room temperature for at least 1 hour before serving to let the glaze set up.
Notes
*Nutrition facts are estimates.
Nutrition Information
Serving: 1gCalories: 503kcal (25%)Carbohydrates: 42g (14%)Protein: 7g (14%)Fat: 33g (51%)Saturated Fat: 19g (95%)Cholesterol: 179mg (60%)Sodium: 172mg (7%)Potassium: 250mg (7%)Fiber: 2g (8%)Sugar: 27g (30%)Vitamin A: 805IU (16%)Vitamin C: 0.2mgCalcium: 53mg (5%)Iron: 3.1mg (17%)
Adapted from grouprecipes.com
More international cake recipes!