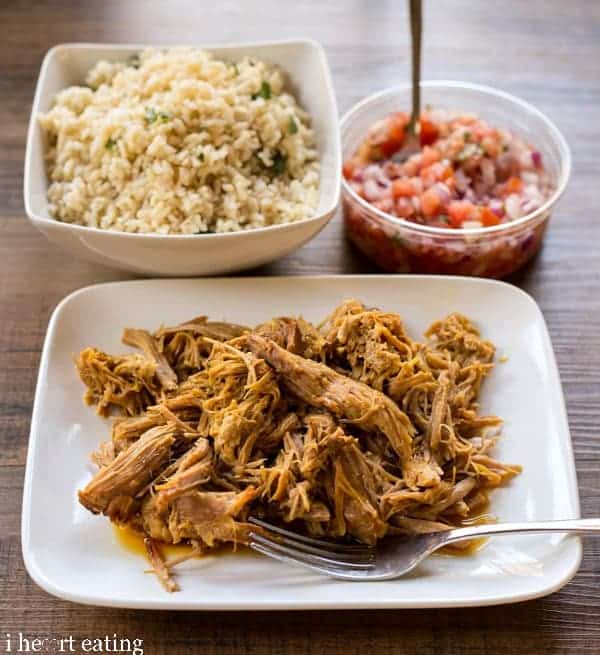 I've shared my love for all things slow cooker, and this Slow Cooker Cuban Pork does not disappoint. Ok, does not disappoint is an understatement. This pork is tender and tasty and full of flavor. It's also really easy to put together. I think it took me between 5 and 10 minutes to get it all together and start it cooking. Another great thing about this pork is that is can be the base for a lot of other recipes (one of which I'll post tomorrow). I chose to serve it as a filling for soft tacos. I topped the pork with fresh salsa, some guacamole, and cheese. I'm not sure how authentic the tacos were, but they tasted so good that I'm not sure that I care.
Slow-Cooker Cuban Pork
Ingredients
1

(3-4 pound) boneless pork shoulder

1

T

. olive oil

1/2

T

. ground cumin

1/2

T

. dried oregano

1/2

T

. fresh ground pepper

1

tsp

. kosher salt

4

cloves

garlic

, minced

2

T

. fresh-squeezed lime juice

(about 1 large lime's worth)

1

c

. orange juice
Instructions
Drizzle the olive oil in the slow cooker bowl.

Place untrimmed pork, fat side down in the bowl. Then turn it so the fat side is up. This coats both sides with olive oil.

Sprinkle the roast with salt, pepper, cumin, and oregano.

Spoon the garlic over the roast.

Pour the lime juice and orange juice around the edges of the roast.

Cover, and cook on low for 8-10 hours, or until meat falls apart when shredded with a fork.