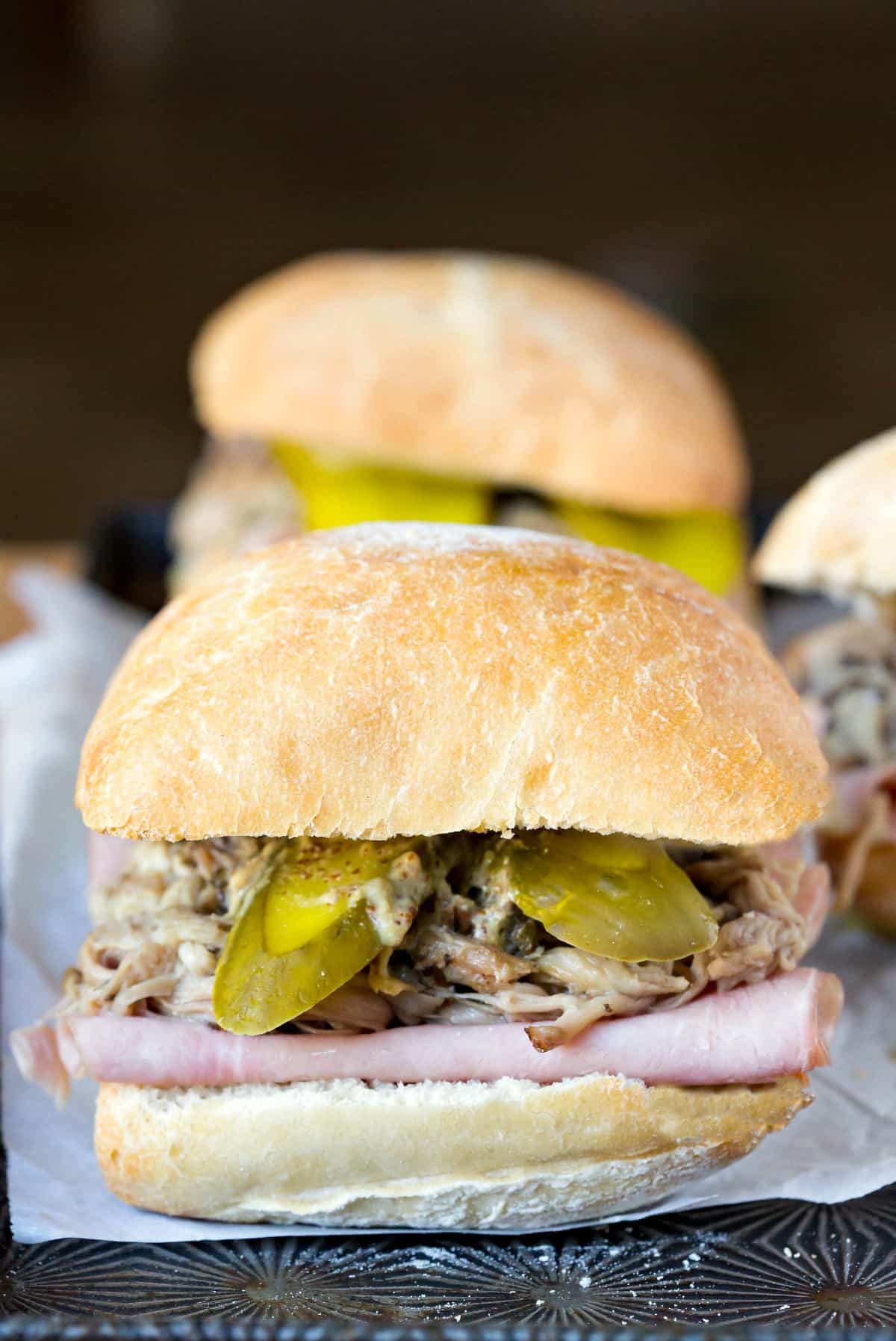 I love big holiday meals!
It's fun to plan the menu and make the food (all of the clean up I could do without, though!).
Then you get to enjoy the meal with family and friends. So, really, what's not to love?!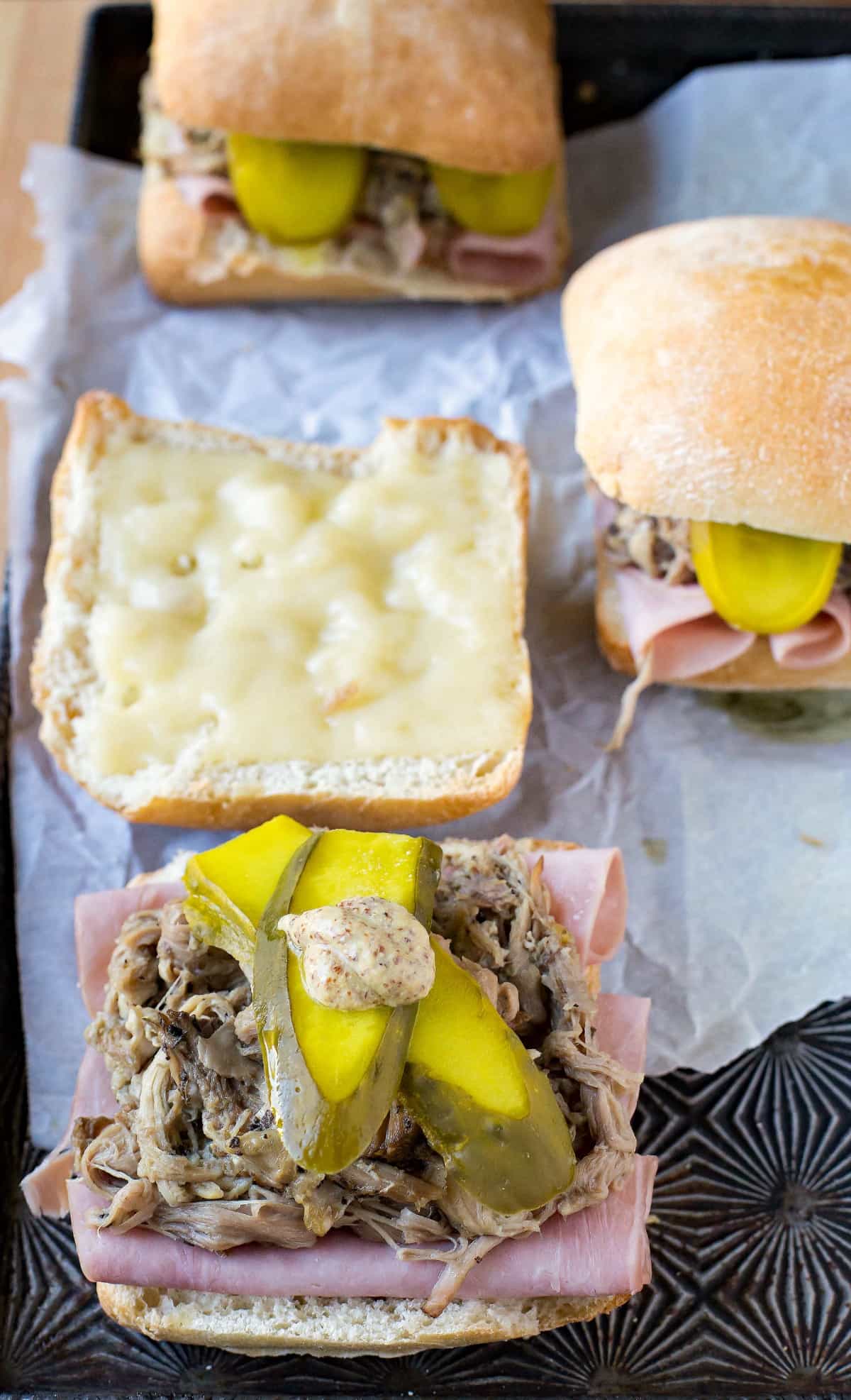 And then there are the leftovers.
Since it was a big meal, and then there are leftovers to enjoy for a few days, which is pretty awesome.
After a day or so, though, I'm ready for something else.
So, the leftovers get repurposed into an entirely new meal.
These Slow Cooker Cuban Sandwiches are an easy way to take leftover ham and turn it into an entirely new meal.
These sandwiches are not authentic, but that's ok because they taste great!
I can't find authentic Cuban bread where I live, so I just use ciabatta rolls, and I like to use mustard with a little horseradish on my sandwiches instead of yellow mustard.
But that's the beauty of cooking – you can take a recipe and adjust it to fit your tastes.
Slow Cooker Cuban Sandwiches
Slow cooker Cuban sandwich recipe
Prep Time: 20 minutes
Cook Time: 8 hours 32 minutes
Total Time: 8 hours 52 minutes
Servings:12 servings
Course: Main Course
Cuisine: Cuban
Keyword: slow cooker Cuban sandwich
Ingredients
3-4 pound boneless pork shoulder
1 T . olive oil
1/2 T . ground cumin
1/2 T . dried oregano
1/2 T . fresh ground pepper
1 tsp . kosher salt
4 cloves garlic minced
2 T . fresh-squeezed lime juice about 1 large lime
1 c . fresh-squeezed orange juice about 3-4 oranges
12 rolls
12 slices Swiss cheese
24 oz . ham leftover or deli sliced
Pickles
Mustard
Instructions
Drizzle the olive oil in the slow cooker bowl.

Place untrimmed pork, fat side down in the bowl. Then turn it so the fat side is up. This coats both sides with olive oil.

Sprinkle the roast with salt, pepper, cumin, and oregano.

Spoon the garlic over the roast.

Pour the lime juice and orange juice around the edges of the roast.

Cover, and cook on low for 8-10 hours, or until meat falls apart when shredded with a fork.

I let it continue to cook for about another 30 minutes after I shred it to let it absorb more of the juices.

To assemble the sandwiches, preheat broiler.

Cut sandwich rolls in half.

Place half of sandwich rolls (either tops or bottoms) on a baking sheet.

Place a slice of Swiss cheese on that half of the roll.

Broil for about 2-3 minutes, or until cheese has melted.

Layer ham, slow cooked pork, pickles, and mustard on bun.

Enjoy!
Notes
Nutrition values are estimates. 
Nutrition Information
Serving: 1servingCalories: 585kcalCarbohydrates: 37g (12%)Protein: 51g (102%)Fat: 24g (37%)Saturated Fat: 9g (45%)Cholesterol: 128mg (43%)Sodium: 1275mg (53%)Potassium: 665mg (19%)Fiber: 1g (4%)Sugar: 6gVitamin A: 5.5%Vitamin C: 13.8%Calcium: 25.1%Iron: 69.6%