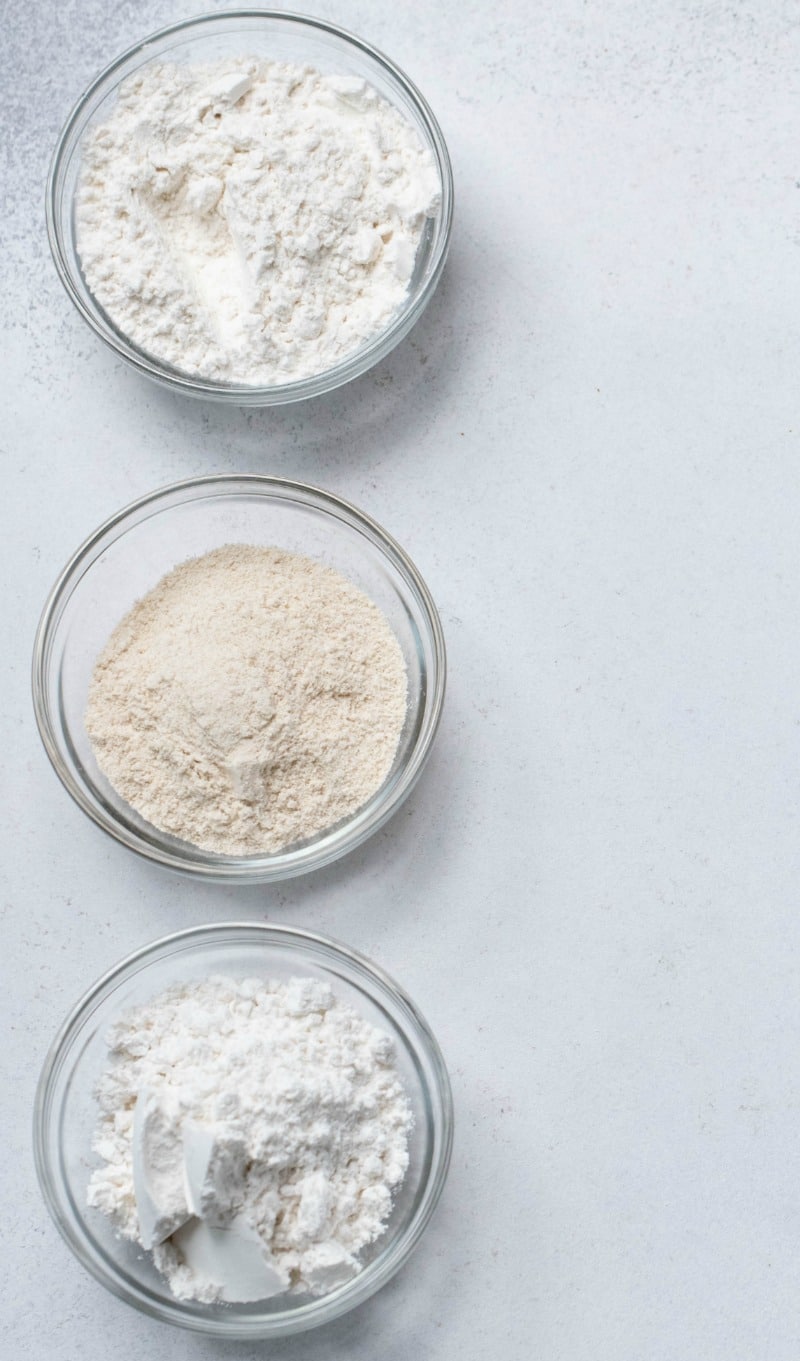 There are so many types of flour!
I regularly get questions about which types of flour are best to use in which types of recipes.
I also regularly get questions about substituting one type of flour for another.
So, I put together this overview that explains differences in the most common types of flours used in baked goods.
All-Purpose Flour
All-purpose flour is the most versatile flour.
It's commonly used in cookies, cakes, and other baked goods.
All-purpose flour is also used as a thickener in sauces.
It's a medium protein flour that has about 10-12% protein.
All-purpose flour comes in both bleached and unbleached varieties.
Bread Flour
Bread flour is a high protein flour that has about 12-14% protein.
The high protein content in bread flour helps to create structure and helps to create a chewier baked good.
Bread flour is commonly used in rolls, pizza crust, and bread.
Cake Flour
Cake flour is the lowest protein flour (5-8%).
The low protein content in the flour helps to create moist, tender baked goods with a finer crumb.
It's commonly used in cakes and sometimes used in muffins, cookies, and biscuits.
You can make your own homemade cake flour substitute with this recipe.
Whole Wheat Flour
Whole wheat flour is a high protein flour.
It creates a heavier, denser baked good.
Since it can give a heavier result, it's recommended to substitute no more than half of the all-purpose flour in a recipe with whole wheat flour.
Pastry Flour
Pastry flour is a lower protein flour (about 9%), and it falls in between cake flour and all-purpose flour protein-wise.
Pastry flour comes in bleached, unbleached, and whole wheat varieties.
It's a good choice to create more tender baked goods like muffins or cookies that still have good structure to them.
Pastry flour can be used in place of all-purpose flour at a 1:1 ratio in baked good such as muffins and cakes.
Self-Rising Flour
Self-rising flour is a flour blend that has a lower protein flour along with baking powder and salt in it.
It's often used in Southern recipes to make biscuits, pancakes, or muffins.
You can make your own self-rising flour blend with this recipe.
If you found this explanation on types of flour useful, don't forget to leave me a comment below.
You can SUBSCRIBE to receive my latest recipe newsletters or FOLLOW ME on FACEBOOK, INSTAGRAM and PINTEREST for even more delicious food.