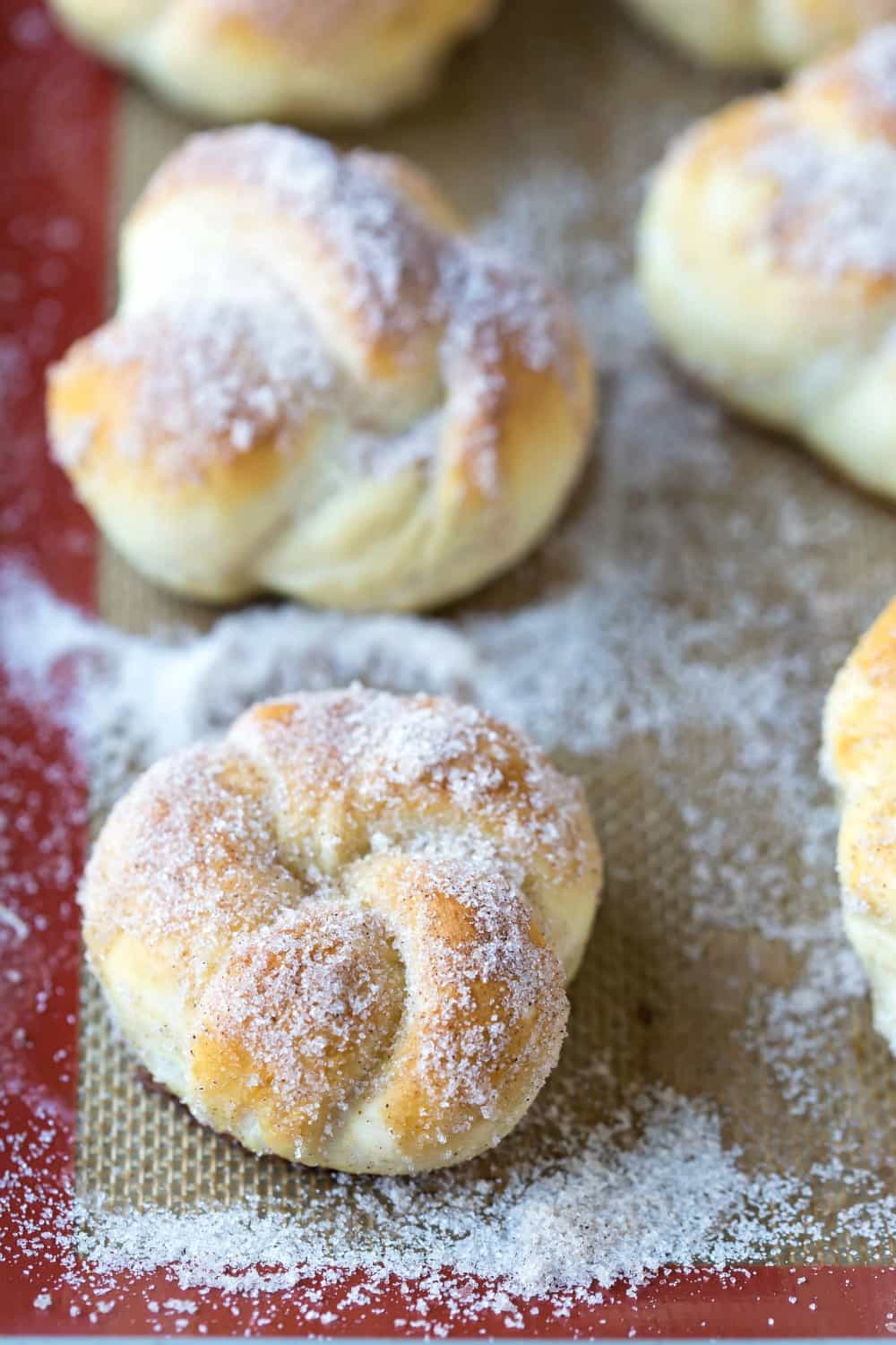 These cinnamon sugar pretzels are pretty much amazing. I mean, they're bread dipped in butter and rolled in cinnamon sugar, which is why my son loves them so much.
The kid adores butter. I have to watch him when I set a stick of butter out to soften.
If I'm not careful, I'll find it with a bites out of it when I go to use it. And it's hard to get too mad about it because I did the same thing when I saw his age.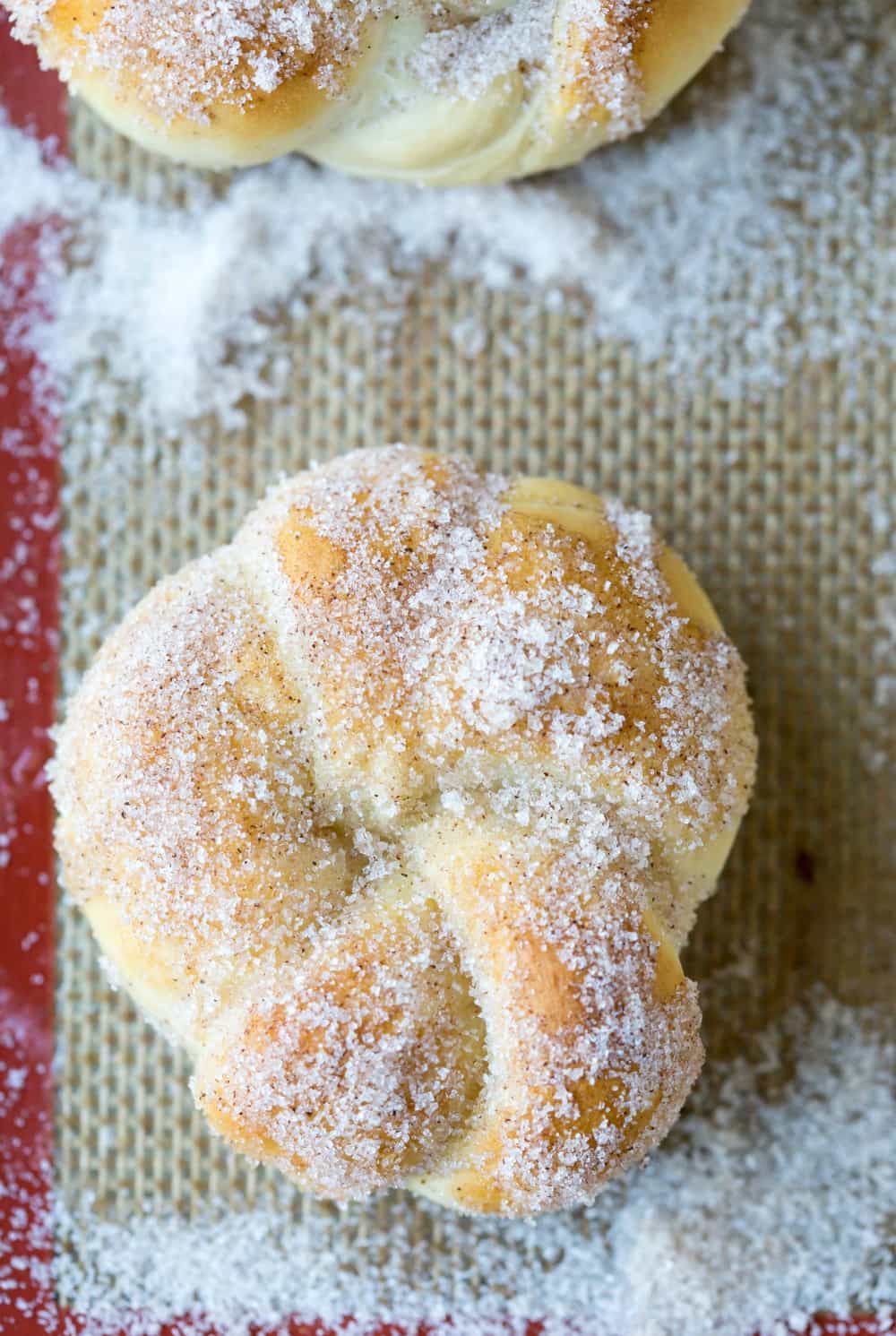 Now, if you've made your own pretzels before, there are a couple things you might notice about this recipe.
First, there is no butter or oil in the dough. The pretzels are still really soft, and it means that you can save the butter for the outside (where you'll actually taste it!).
MY LATEST VIDEOS
Second, these pretzels are dipped in the water bath, not boiled. I've tried making them both ways, and I prefer dipping because I like the outside to have a little chew but still be fairly soft.
I found that when I boiled my soft pretzels they ended up with a harder crust, which I didn't love.One more thing to note – these pretzels are best eaten the day they're made. They just don't taste as good the next day.
However, you can cover and chill the dough after it has risen. I've refrigerated mine for up to 2 days after I made it, and the pretzels were still good when I baked them.
Just make sure that you leave some extra room in your container because the dough will continue to rise in the fridge.
Also, if you'd like to see a step-by-step tutorial for shaping the knots, check out the video below!
How to Shape Knots Video
Cinnamon Sugar Pretzel Knots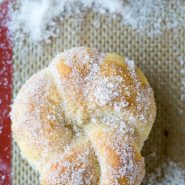 Ingredients
Pretzels
1 ½ cups warm water about 85 F
1 ¼ teaspoons active dry yeast
2 tablespoons brown sugar
1 teaspoon ground cinnamon
1 teaspoon salt
2 cups bread flour
1-2 cup(s) all-purpose flour
Water Bath
2 cups warm water about 85 F
2 tablespoons baking soda
Topping
1/4 cup butter
1 cup granulated sugar
1 tablespoon ground cinnamon
Instructions
In the bowl of a stand mixer fitted with a paddle attachment (or in a large bowl if mixing by hand), stir together warm water, yeast, and brown sugar. Let yeast mixture stand for 5-10 minutes or until foamy.

Once the yeast is foamy, stir in cinnamon, salt, and bread flour.

Stir in all-purpose flour 1/2 cup at a time until dough comes together. Dough will still be a little sticky. If you touch the dough, it should pull with your finger but shouldn't come off on your finger.

Cover the dough with plastic wrap, and let it rise for about 1 1/2 hours or until doubled.

Toward the end of the rising time, preheat oven to 425 F. Line baking sheets with parchment paper or silicone baking mats and spray with nonstick cooking spray.

To prepare the water bath, stir together remaining 2 cups warm water and 2 tablespoons of baking soda in a medium bowl.

Shape dough into knots, bites, or other desired shape.

Submerge dough in waterbath, and then place dough on prepared baking sheets.

Bake for 8-10 minutes for a 2-inch knot.

Toward the end of the baking time, melt butter in a small dish.

In a separate small dish, stir together sugar and cinnamon.

Remove pretzels from oven.

Immediately dip pretzels in melted butter and then into cinnamon sugar mixture.

Place on wire rack to cool.