30 Minute Cinnamon Sugar Knots taste like homemade cinnamon rolls, but they're made from scratch in just half an hour! Great breakfast or dessert recipe.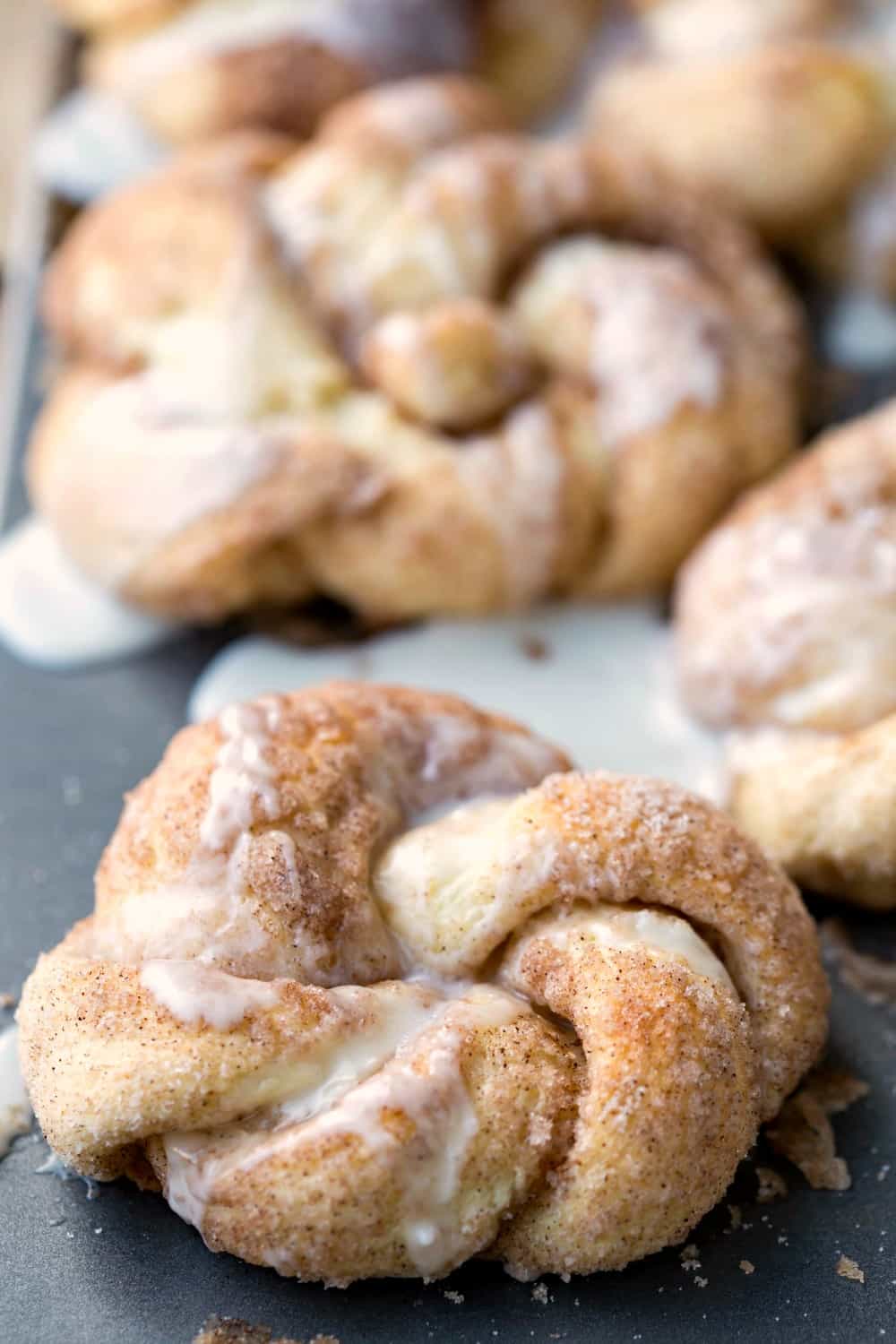 One of my favorite things to do is to bake fresh bread. And when that fresh bread is covered in a buttery cinnamon-sugar mixture, it's that much better!
These 30 Minute Cinnamon Sugar Knots can be made from scratch in just half an hour, so they're perfect for times when you want want a fresh cinnamon roll but don't want to spend hours making them.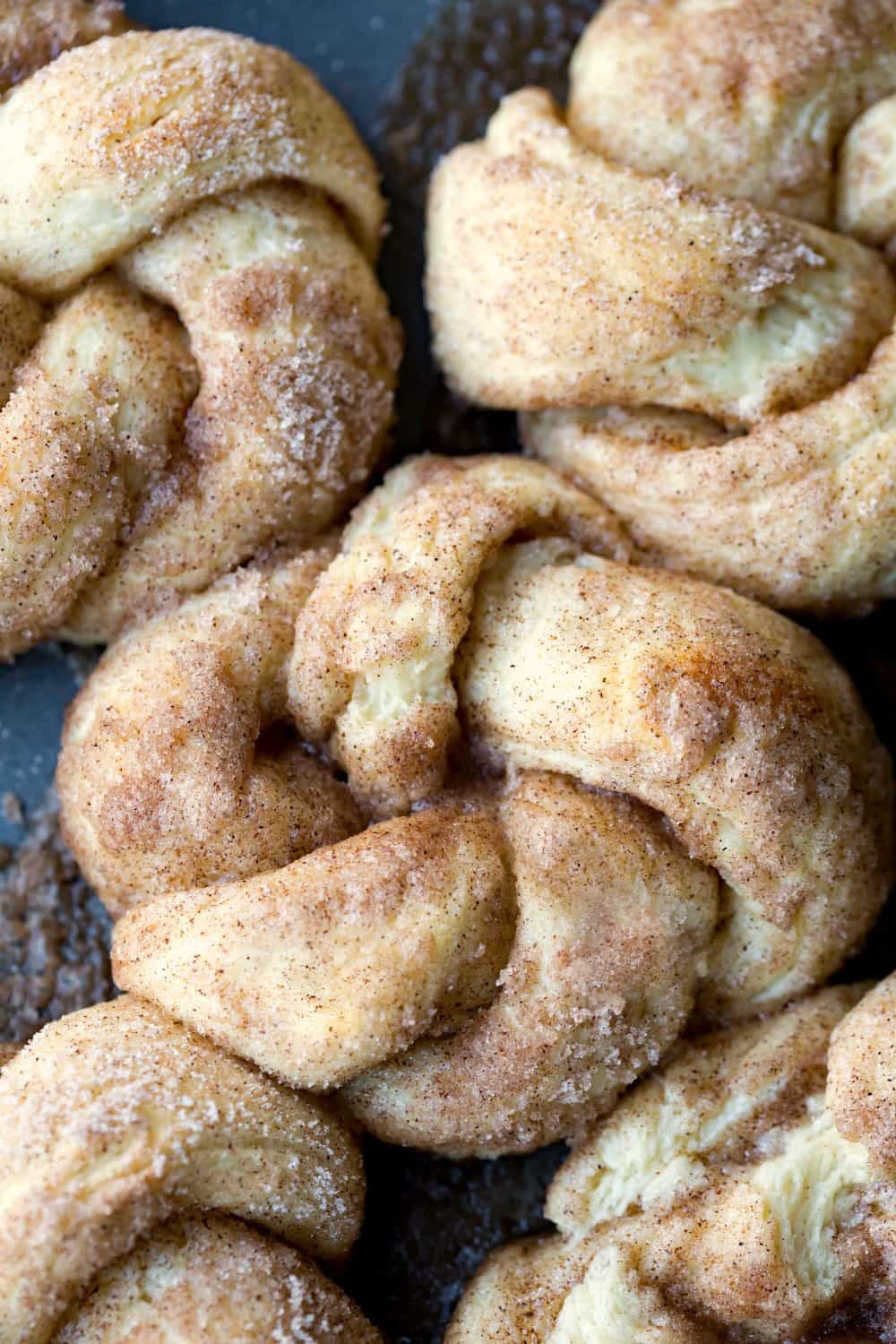 I thought for a long time about making a sweet version of my 30 Minute Garlic Knots, and once I did, these guys quickly became one of my favorite recipes.
Since these cinnamon sugar knots are so easy to make, they are an easy weekend or holiday breakfast, after-school treat, or dessert!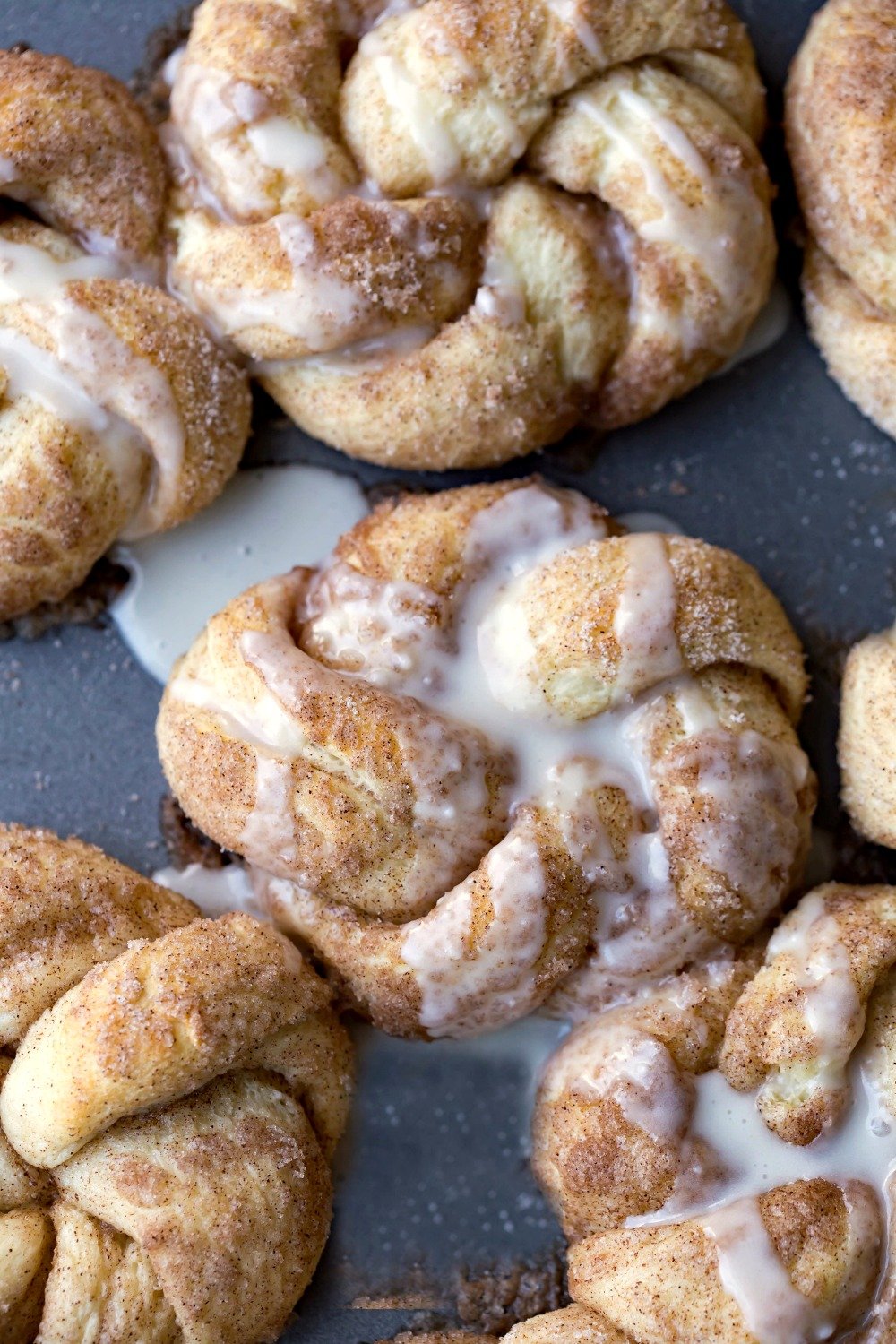 This post may contain affiliate links. Read my disclosure policy here.
Tools used to make 30 Minute Cinnamon Sugar Knots:
Kitchen Thermometer: Kitchen thermometers are so useful! They're one of my fave inexpensive kitchen tools, and you can use it to check the temperature of the liquid to make sure that they don't kill your yeast.
Silicone Baking Mat: Silicone baking mats are another versatile, inexpensive kitchen tool. I use mine to line pans when I make everything from cookies or sheet pan dinners.
More easy knot, roll, and breadstick recipes!
Check out this video for step-by-step instructions for making 30 minute cinnamon sugar knots.
And if you'd like a how-to guide to shaping the knots, check out my video to see how easy it can be.
If you've tried this 30 minute cinnamon sugar knot recipe, don't forget to rate the recipe and leave me a comment below. I love to hear from people who've made my recipes! You can SUBSCRIBE to receive my latest recipe newsletters or FOLLOW ME on FACEBOOK, INSTAGRAM and PINTEREST for even more delicious food.
30 Minute Cinnamon Sugar Knots
30 Minute Cinnamon Sugar Knots taste like homemade cinnamon rolls, but they're made from scratch in just half an hour!
Prep Time: 21 minutes
Cook Time: 9 minutes
Total Time: 30 minutes
Servings:12 knots
Course: Breakfast
Cuisine: American
Keyword: cinnamon sugar, knots
Ingredients
Cinnamon Sugar Knots
1/4 cup butter
1 cup milk
2 tablespoon instant yeast*
2 tablespoons honey**
1/2 teaspoon salt
1 large egg
3-3 ½ cups all-purpose flour***
Butter and Sugar
1/4 cup butter (melted)
1 cup granulated sugar
1 heaping tablespoon ground cinnamon
Icing
1 tablespoon butter (melted)
1 cup powdered sugar
1/2 teaspoon vanilla extract
1-3 tablespoons milk
Instructions
In a small saucepan, melt butter.

When butter is mostly melted, stir in milk, and heat mixture to 100-110 F.

Meanwhile, add yeast and honey to the bowl of a stand mixer fitted with a paddle attachment (or a large mixing bowl if mixing by hand).

When milk mixture is at temperature, add to yeast and honey; stir to combine.

Add salt and egg, and stir until combined.

Stir in 2 ½ cups of flour.

Add remaining flour until dough clings to paddle and cleans the sides of the bowl.

Switch to the dough hook, and knead for 2 minutes (or by hand for about 5 minutes).

While dough it kneading, stir together granulated sugar and cinnamon in a wide, shallow dish.

Preheat oven to 400 Line a 9x13-inch rimmed cookie sheet with parchment paper or a silicone baking liner. Set aside.

Divide dough into 12 pieces.

Roll piece of dough into rope 8 inches long.

Dip in butter, and then roll in cinnamon-sugar mixture.

Tie dough into knots, and place dough on prepared baking sheet. If you'd like a how-to on shaping the knots, check out the video just above the recipe.

Repeat process with remaining dough.

Cover, and let dough rest for 10 minutes.

Bake for about 9-12 minutes, or until lightly golden brown.

While the knots are baking, prepare the icing.

Stir together melted butter, powdered sugar, and vanilla.

Add 1 tablespoon milk, and stir in. Continue adding milk until icing reaches desired consistency. I use about 1 1/2-2 tablespoons for a thicker icing.

Remove knots from oven, and let cool for 5-10 minutes.

Drizzle icing over knots, and serve warm.
Notes
*If you would prefer to use active dry yeast, substitute an equal amount for the instant yeast. Let the mixture sit for 5-10 minutes, or until foamy. Then, continue with the recipe as written.
**The honey is slightly detectable in the finished knots. If you would prefer not to have any honey flavor, substitute 1/4 cup granulated sugar for the honey.
***Be sure that your flour isn't packed when you measure it. I fluff mine first to make sure that I'm not getting too much flour. Too much flour can make the knots heavy or dry.
****I've tried forming a knot and then dipping in butter and sugar. The knots didn't work nearly as well that way. 
*****Nutrition facts are estimates.
Nutrition Information
Serving: 1knotCalories: 344kcal (17%)Carbohydrates: 58g (19%)Protein: 5g (10%)Fat: 10g (15%)Saturated Fat: 6g (30%)Cholesterol: 38mg (13%)Sodium: 188mg (8%)Potassium: 77mg (2%)Fiber: 1g (4%)Sugar: 30g (33%)Vitamin A: 320IU (6%)Calcium: 34mg (3%)Iron: 1.8mg (10%)