Slow Cooker Overnight Pecan Pie Oatmeal Recipe is a yummy, healthy, make-ahead breakfast that takes maple & brown sugar oatmeal up a few notches!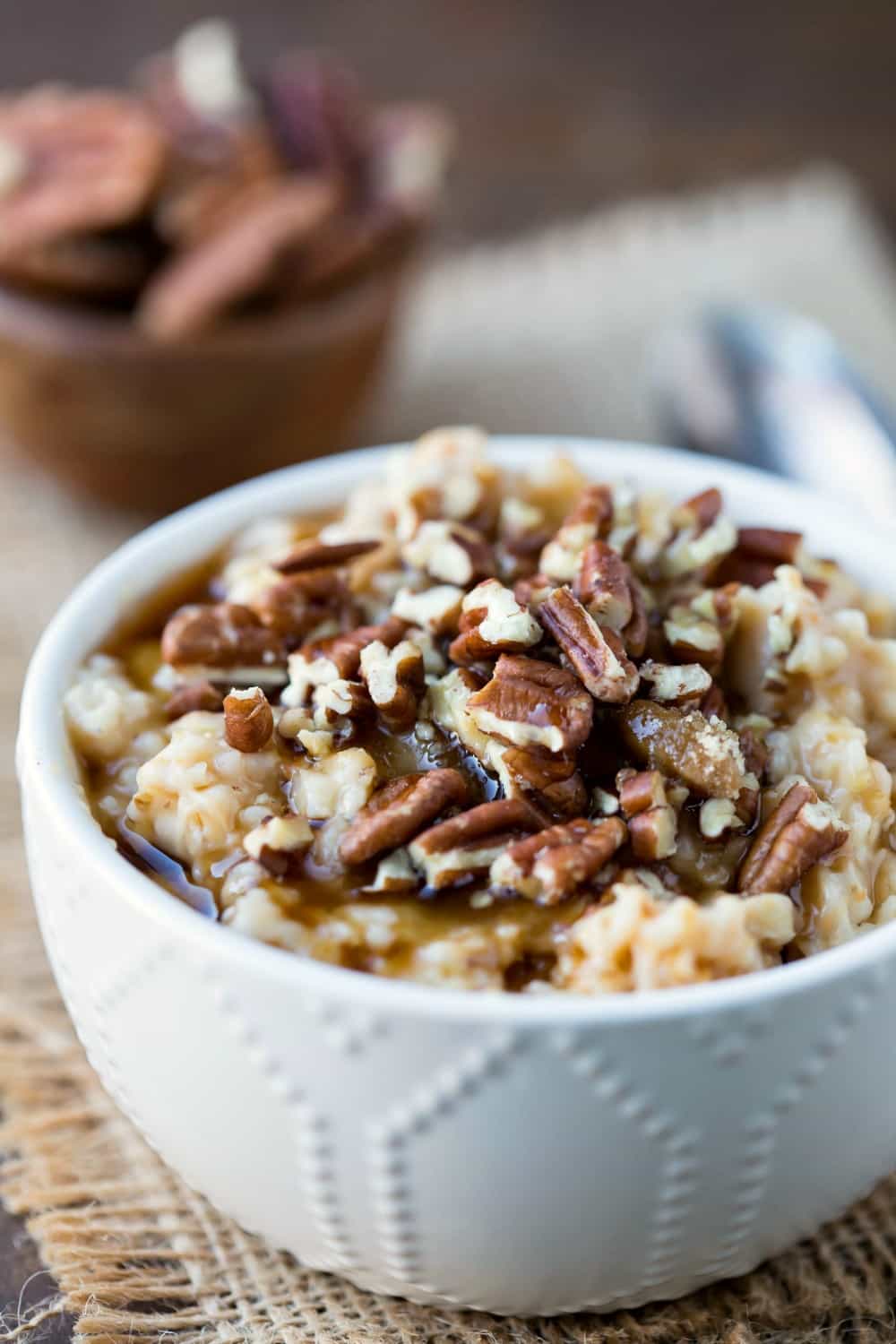 Poor oatmeal! It's so often thought of as a boring breakfast. But it doesn't have to be!
Oatmeal makes a great blank canvas for your favorite flavor combos. I really like to do desert-y flavors for my oatmeal. It's a healthier way to indulge!
This Slow Cooker Overnight Pecan Pie Oatmeal takes the flavors of maple and brown sugar (think maple + brown sugar oatmeal x100) and pairs them with creamy, steel cut oats.
Add in crunchy pecans on top for some texture and crunch, and you have a yummy breakfast that you can prep the night before and enjoy in the am!
Slow Cooker Overnight Pecan Pie Oatmeal Recipe
Hearty oatmeal with a sweet and crunchy topping.
Prep Time: 5 minutes
Cook Time: 6 hours
Total Time: 6 hours 5 minutes
Course: Breakfast
Servings: 6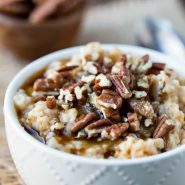 Ingredients
1 c. steel cut oats
3 3/4 c. water
12 oz. can evaporated skim milk
1/4 c. brown sugar
1/2 tsp. maple flavor
Topping
Brown sugar
Maple syrup
Chopped pecans
Instructions
Grease slow cooker.

In a large bowl, stir together oats, water, milk, brown sugar, and maple flavor.

Pour into slow cooker (I used a 2 quart).

Cover, and cook on low for 6-8 hours.

To serve, top with additional brown sugar, real maple syrup, and chopped pecans.
Recipe Notes
*Nutrition facts are estimates.
Nutrition facts per serving (1g)
Calories: 233kcal
Fat: 2g
Cholesterol: 2mg
Sodium: 75mg
Potassium: 201mg
Carbohydrates: 42g
Fiber: 4g
Sugar: 15g
Protein: 10g
Vitamin A: 4.5%
Vitamin C: 0.8%
Calcium: 19.7%
Iron: 10.4%
More overnight oatmeal recipes!