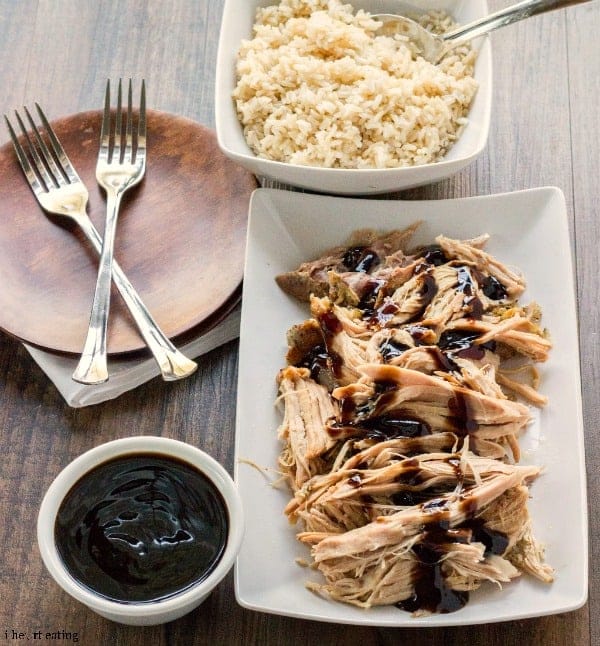 I love my slow cooker. Even if I don't get much else done that day, it makes me feel like I've accomplished a lot when I have dinner going by 9 am. I also like that you can make just about anything in a slow cooker, even food that looks pretty darn fancy (if I do say so myself). And don't pack it away just because the weather is starting to warm up. In the summer it's my go-to appliance when I want to make a piece of meat but don't want to heat up the whole kitchen.
Now, that I've probably overshared about how much I love my slow cooker, let's talk about this pork. This pork was goooood! It was tender and flavorful. But, truly, what makes this pork so amazingly good was the sauce. This sauce was quite possibly the best sauce I've ever had. I love balsamic vinegar, and this sauce was the perfect mix of sweet and salty and sour. Really, it's beyond fantastic!
Slow Cooker Balsamic Pork Loin
Ingredients
Pork
2 ½

pound

boneless pork loin roast

, trimmed of large fat pockets

1

tsp

. poultry seasoning

1

tsp

. kosher salt

1/2

tsp

. pepper

1

clove

garlic

, finely minced

1/2

c

. water
Balsamic Glaze
1

c

. brown sugar

2

T

. cornstarch

2/3

c

. balsamic vinegar

1

c

. water

1/4

c

. soy sauce
Instructions
Place the pork loin in the slow cooker.

Rub the poultry seasoning, garlic, salt, and pepper over the pork.

Pour the water around the pork.

Cover, and cook on low for 6-8 hours.

Towards the end of the cooking time, whisk the brown sugar, balsamic vinegar, water, soy sauce, and cornstarch together in a small saucepan.

Bring the balsamic glaze to a boil, and then reduce heat and simmer, stirring occasionally, until glaze thickens (about 10-15 minutes).

Remove the pork from the slow cooker and shred.

To serve, drizzle glaze over pork.
adapted from Mel's Kitchen Cafe