Vanilla bean whipped buttercream frosting is a light and airy frosting that's made with granulated sugar. The frosting has the texture of whipped cream and is made without powdered sugar.
Originally published 4/13/15. Updated with new pictures and information 5/7/18.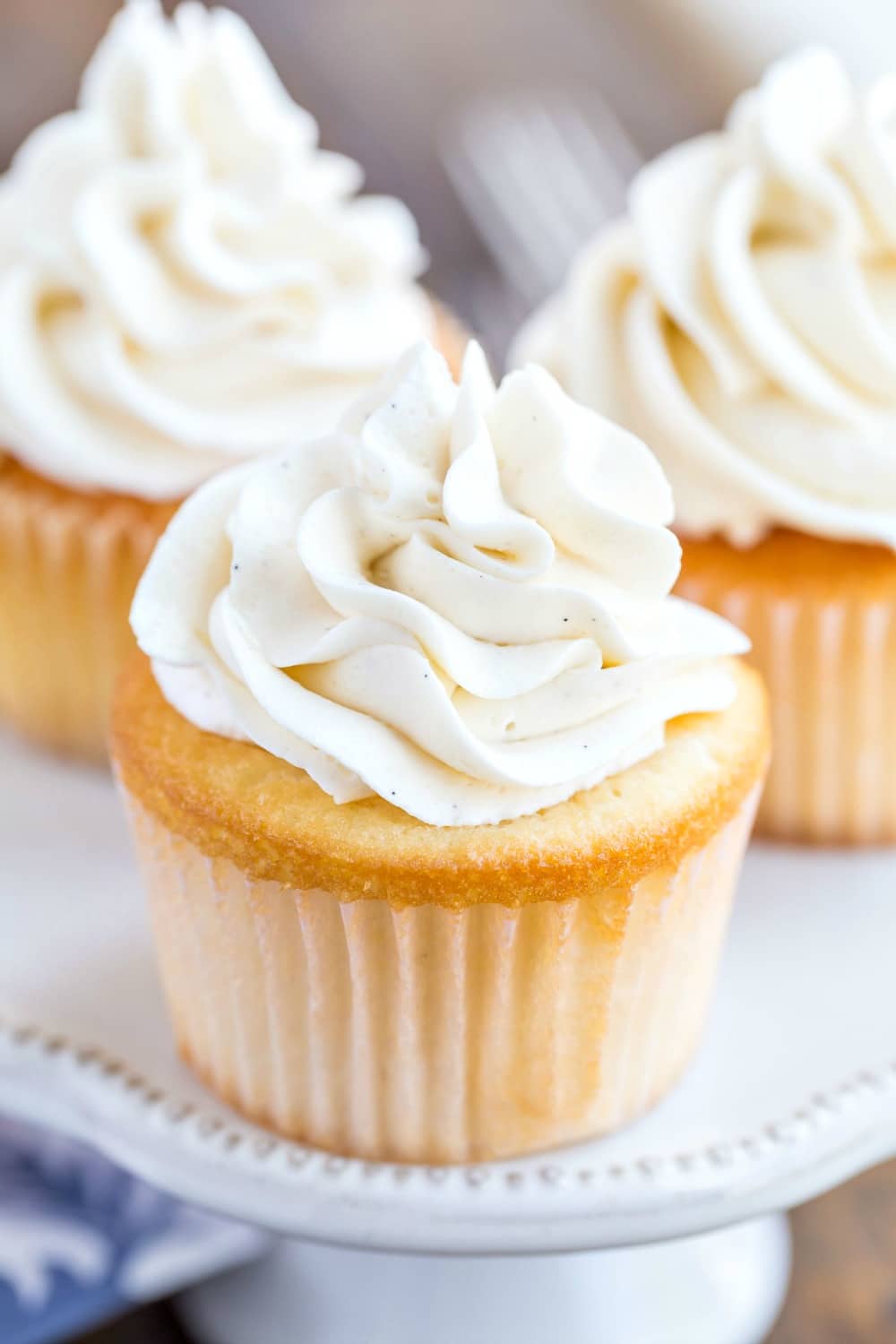 I'm a sucker for anything that has vanilla beans in it. Vanilla is great, but vanilla beans just make everything so much better.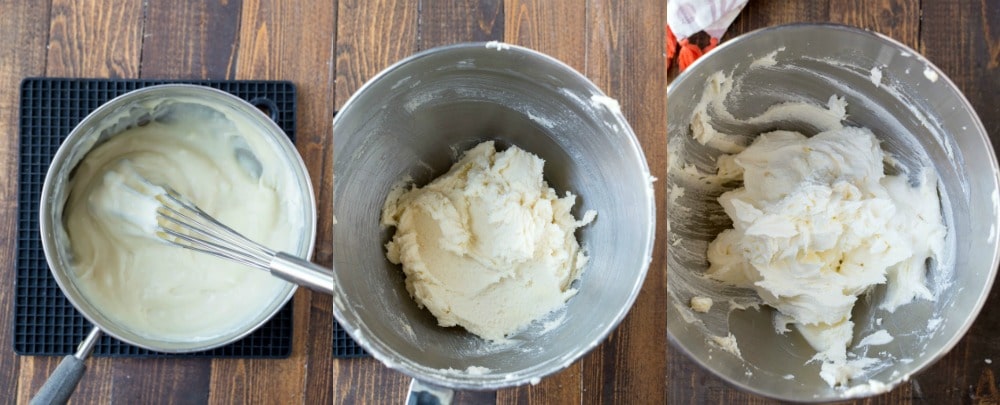 This Vanilla Bean Whipped Buttercream Frosting is based on my Whipped Buttercream Frosting.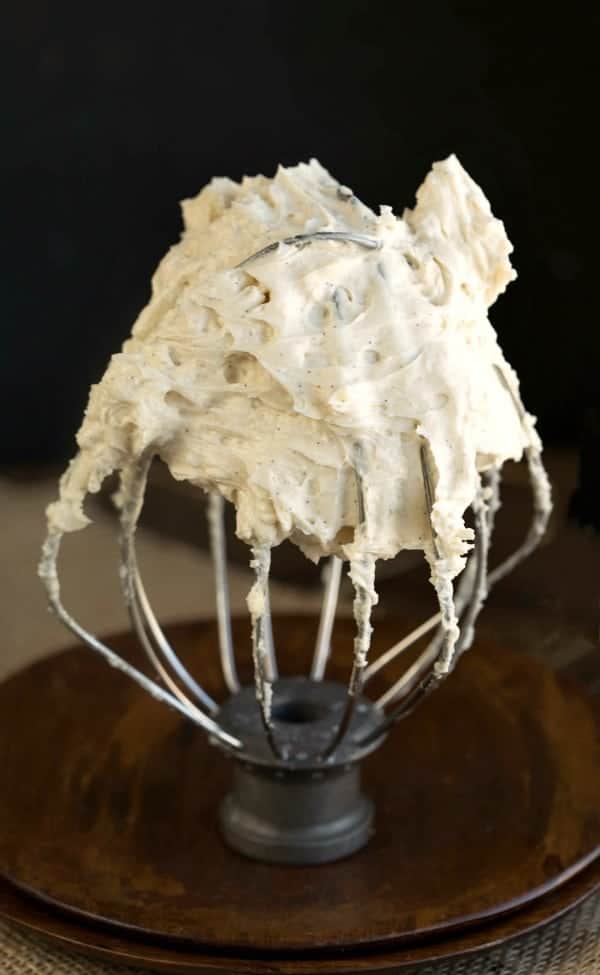 This frosting is a kicked up version of that frosting with a more intense vanilla flavor. It is light and smooth and rich without being heavy or greasy.
This recipe makes enough to generously frost 24 cupcakes or a 9-inch 2 layer cake.

Tips for making vanilla bean whipped buttercream frosting
There are a few places where things could go wrong in this recipe.
First, not cooking the milk mixture long enough. The mixture should be a thick paste. If it's too wet, the frosting will be too loose.
Second, the cooked milk mixture needs to cool completely. If it's too warm, it will melt the butter, and you'll end up with loose frosting that doesn't come together.
Third, using butter that's too warm. The butter should be at cool room temperature. It should dent if pushed, but it shouldn't be too warm and certainly not beginning to melt.
Fourth, not whipped the frosting long enough. The frosting needs to be whipped to get the right light and airy texture. Cutting the time short could leave you with a grainy frosting or a frosting that separates.
More frosting recipes!
If you've tried this vanilla bean whipped buttercream frosting recipe, don't forget to rate the recipe and leave me a comment below. I love to hear from people who've made my recipes! You can SUBSCRIBE to receive my latest recipe newsletters or FOLLOW ME on FACEBOOK, INSTAGRAM and PINTEREST for even more delicious food.
Vanilla Bean Whipped Buttercream Frosting
Creamy whipped vanilla bean buttercream frosting recipe
Prep Time: 15 minutes
Cook Time: 15 minutes
Total Time: 30 minutes
Course: Dessert
Cuisine: American
Keyword: frosting, vanilla
Servings: 24 cupcakes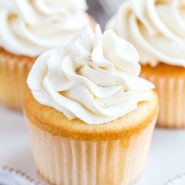 Ingredients
1/2 cup all-purpose flour
1 ½ cups milk
2 tablespoons vanilla bean paste
1 ½ cups salted butter at cool room temperature
1 ½ cups granulated sugar
Pinch of salt
Instructions
In a small saucepan, whisk flour into milk and heat, stirring constantly, until it thickens. It will be the consistency of a thick pancake batter. It should be like a thick paste, but it should still be wet and stir-able.

Remove from heat, and let it cool to room temperature. This step is key. If the milk mixture is warm, it won't come together properly.

Stir in vanilla bean paste.

While the mixture is cooling, cream the butter, sugar, and salt together until light and fluffy on medium high, about 5 minutes.

Then add the completely cooled milk mixture.

Beat it for about 5 minutes on medium-high to high until it looks like whipped cream. It may look separated at first, so keep beating it until it comes together and looks like a whipped cream.
Recipe Notes
*Nutrition values are estimates. 
Nutrition facts per serving (1cupcake)
Calories: 169kcal
Fat: 11g
Saturated fat: 7g
Cholesterol: 30mg
Sodium: 107mg
Potassium: 30mg
Carbohydrates: 16g
Sugar: 14g
Vitamin A: 7.7%
Calcium: 2.2%
Iron: 0.7%