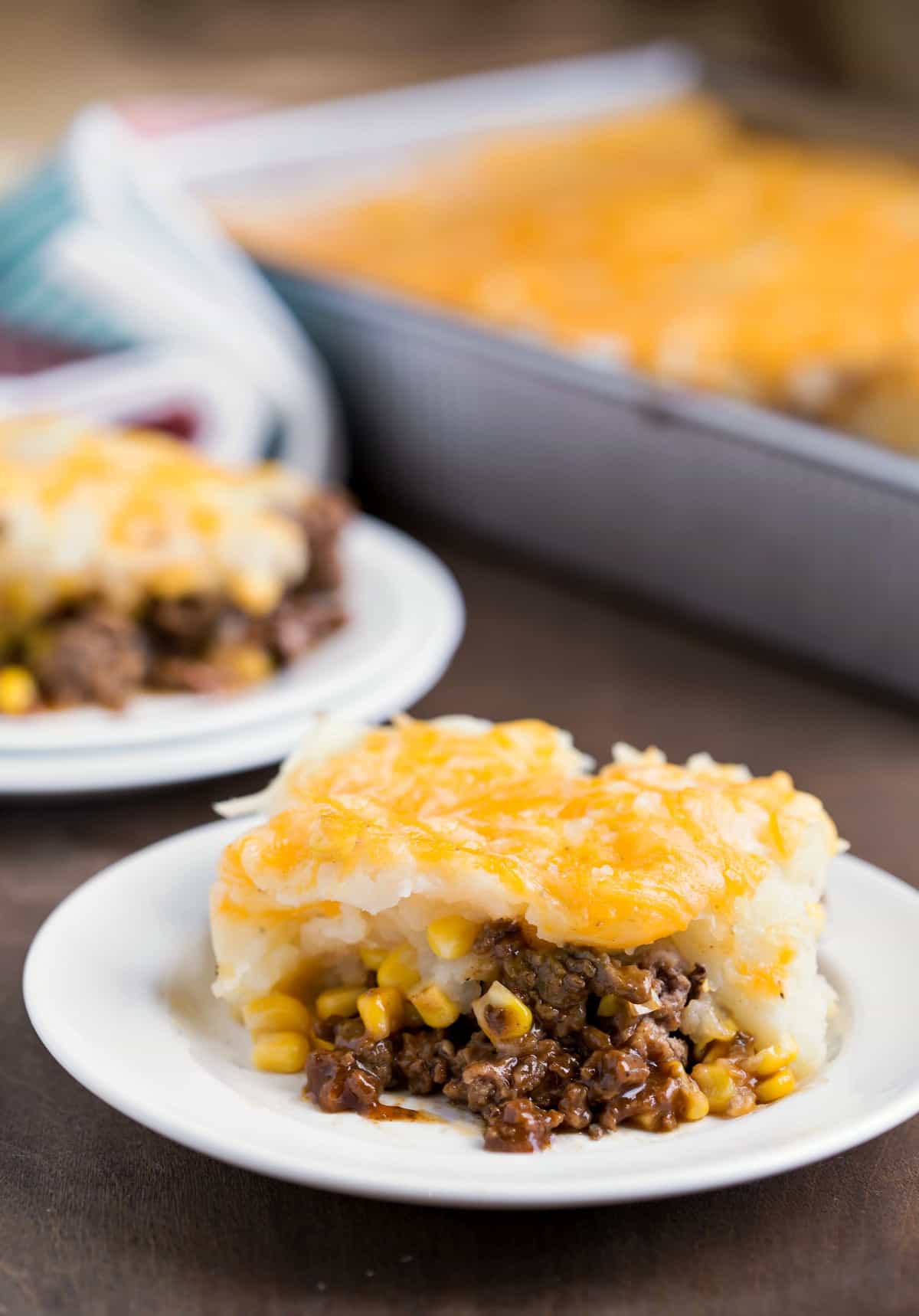 Double duty meals are the best. How great is it to make one dinner and get multiple meals out of it! This casserole can be split into two pans – one for dinner tonight and one that can be put into the freezer for dinner another night.
Since I'm pregnant, I've been making a lot of slow cooker, casserole, and make-ahead meals. However, this sort of make-ahead meal is good for anyone who is busy and wants to get a bonus meal for their efforts.
If you have a larger crowd to feed, simply double the recipe, and you'll still be able to put away a casserole for later.
Barbecue Beef and Cheesy Potato Casserole
Prep Time: 20 minutes
Cook Time: 30 minutes
Total Time: 50 minutes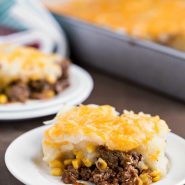 Ingredients
3 pounds russet potatoes peeled and cut into 1-inch pieces
1 c. low-fat milk
2 T. butter
1 tsp. salt
1/2 tsp. pepper
2 pounds lean ground beef or turkey
1 large onion chopped
2 cloves garlic minced
1 c. barbecue sauce
1 T. yellow mustard
1 T. brown sugar
1/2 tsp. liquid smoke
3 c. frozen corn kernels thawed
1 ½ - 2 c. grated sharp cheddar cheese
Instructions
Preheat the oven to 350 F. Grease a 9×13-inch baking dish or two 9x9 pans if you're making one for now and one for later.

Place potatoes in a large pot of cold water over medium-high heat. Bring to a boil, reduce heat, and simmer. Cook potatoes for 15 minutes, or until tender.

Drain potatoes. Then mash with milk and butter; add salt and pepper and set aside briefly.

Meanwhile, in a large, deep skillet, cook meat until just about cooked through. Drain and return to skillet. Add onion and garlic. Cook until onion is tender, about 5 minutes

Stir in barbecue sauce, mustard, brown sugar, and liquid smoke.

Transfer meat mixture to prepared casserole dish.

Top with corn, scattering evenly over the top.

Carefully spread the mashed potatoes over the top and sprinkle with cheese.

Bake for 30-40 minutes, or until potatoes are nicely browned and meat mixture is bubbling.

Serve warm or cool completely and wrap tightly to freeze for later.

Reheat thawed casserole at 350 F for 25-30 minutes.