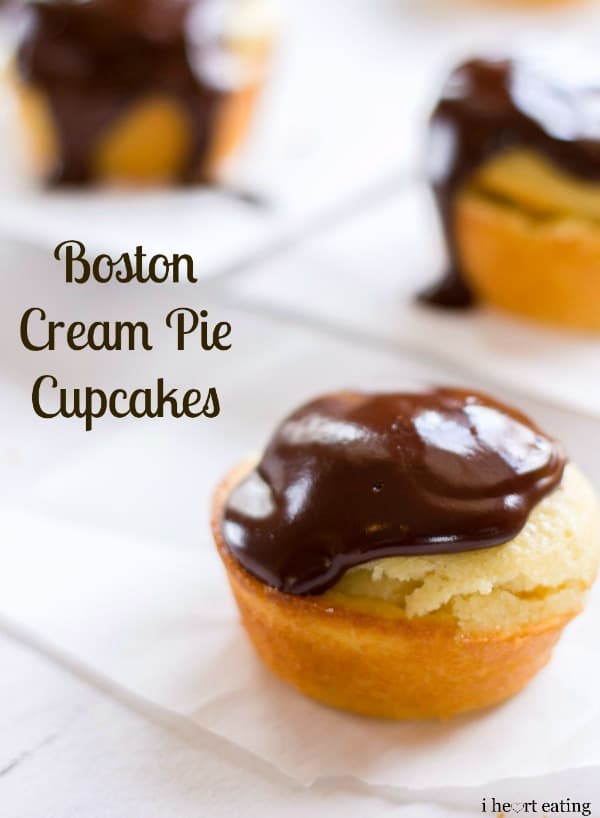 Boston cream pie cupcakes are delicious! I mean, what's not to love? There's sweet yellow cake, vanilla pastry cream, and rich chocolate ganache. It's hard to go wrong with a combo like that.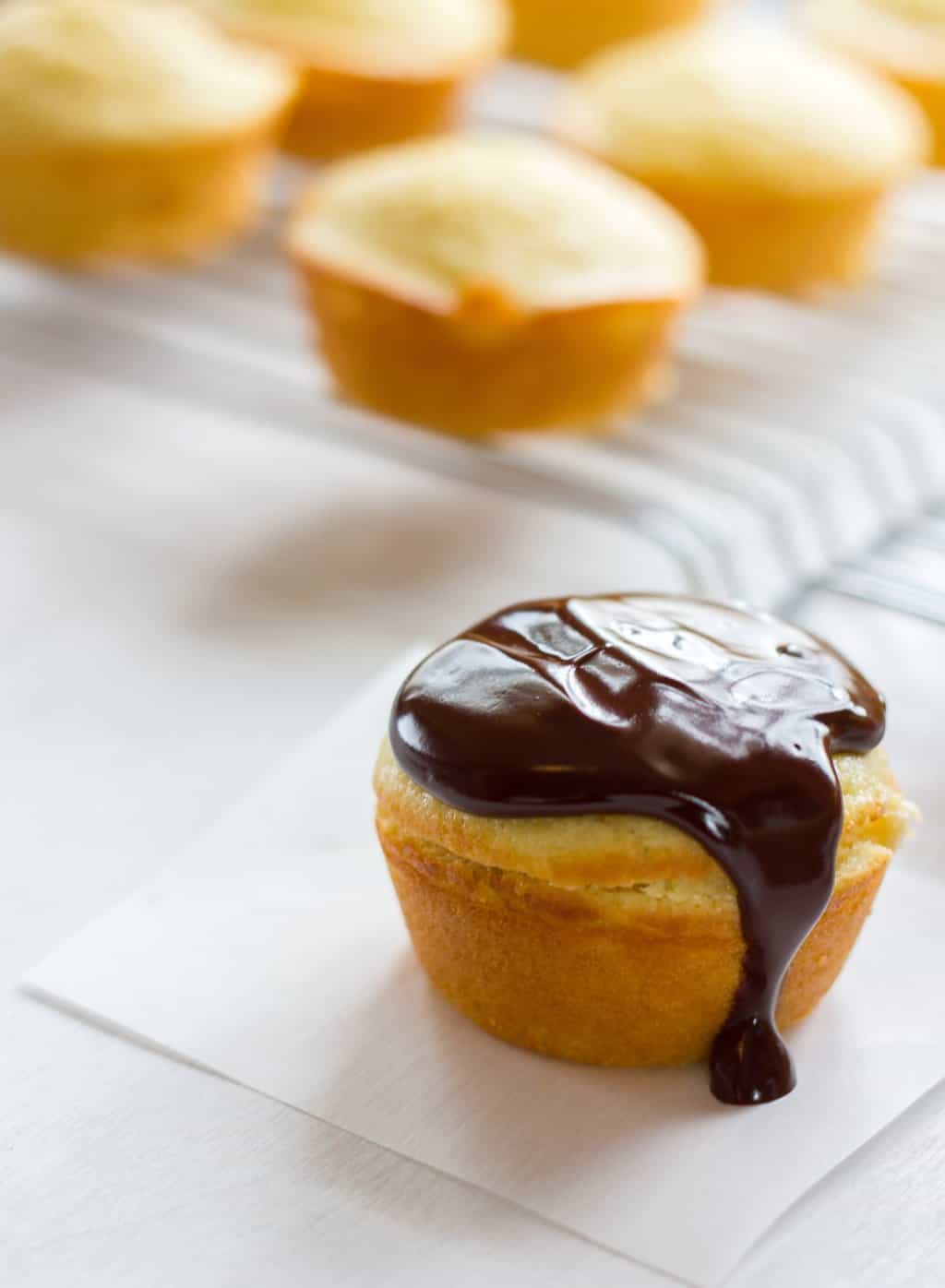 This recipe will leave you with some extra pastry cream and several extra egg whites. So, come back tomorrow Friday, and I'll have a recipe (or two) for you that will use both the pastry cream and the extra egg whites.
Boston Cream Pie Cupcakes
Make Boston Cream Pie Cupcakes from scratch with this recipe.
Prep Time: 40 minutes
Cook Time: 40 minutes
Total Time: 1 hour 20 minutes
Servings:12
Course: Dessert
Cuisine: American
Keyword: cupcake
Ingredients
Pastry Cream
2 ½ c . milk
1 c . granulated sugar
1/2 c . cake flour
1 tsp . kosher salt
8 egg yolks from large eggs
1 T . vanilla extract
Cupcakes
1 ¾ c . all-purpose flour
1 ½ tsp . baking powder
1 tsp . kosher salt
6 T . butter (, softened)
1/4 c . plain non-fat Greek yogurt
1 c . granulated sugar
3 large eggs
3/4 c . milk ((low-fat is ok))
2 tsp . vanilla extract
Chocolate Ganache
10 oz . semisweet chocolate (, chopped in small pieces)
1 ¼ c . cream or whole milk
Instructions
For the Pastry Cream
Heat milk until hot and bubbly at the edges but not boiling.

While the milk it heating, whisk together sugar, flour, and salt in a small bowl.

In a medium bowl, whisk together egg yolks.

Gradually add the flour mixture to the egg yolks, whisking until incorporated before the next addition.

Stream milk into egg yolk mixture, whisking as you go (otherwise you will end up with scrambled eggs if you add it too quickly or all at once).

Once all of the milk is incorporated, return mixture to saucepan.

Cook, whisking continually, until it bubbles when you stop whisking it, about 4-5 minutes.

Remove from heat, and stir in vanilla extract.

Place pastry cream in a dish, and cover with plastic wrap. Press plastic wrap to the pastry cream (otherwise you'll get a pudding skin on it).

Refrigerate at least 2 hours.
For the Cupcakes
Preheat oven to 350 F. Generously grease and flour a 12-cup muffin tin or use a cooking spray like Baker's Joy that is a combo nonstick spray and flour.

In a medium bowl, whisk together flour, baking powder, and salt.

In the bowl of a stand mixer fitted with a paddle attachment, beat together butter, yogurt, and sugar until well-combined.

Add the eggs one at a time, beating well after each addition. Scrape down the bowl as needed.

Beat in milk and vanilla until well-combined.

Add flour mixture, and stir until just incorporated.

Divide batter between prepared muffin tins.

Bake 15-20 minutes, or until the cupcakes spring back when lightly pressed.

Cool cupcakes in the pan about 5 minutes, and then remove to wire rack to cool completely.

Once you're ready to assemble the cupcakes, make the chocolate ganache.
For the Chocolate Ganache
Place chopped chocolate in a medium, heatproof bowl.

In a small saucepan, heat cream or milk until hot (not boiling).

Starting with about 1/2-3/4 cup cream or milk, stream hot cream or milk into chopped chocolate, whisking as you stream.

Continue to stream and whisk until chocolate has melted and ganache is smooth and spreadable.
To Assemble
Cut top off of cupcake (the domed muffin top).

Using a small (1 tablespoon) cookie scoop, scoop out a piece of cake. Discard, eat, or otherwise use the cake.

%https://ihearteating.com/2013/04/03/boston-cream-pie-cupcakes/boston-cream-pie-cupcakes3/

Using the cookie scoop, scoop out a scoop of pastry cream, and place it in the scooped out portion of the cupcake.

Replace top of the cupcake, gently pressing the top onto the cream.

Top cupcake with some chocolate ganache.
Notes
*Nutrition facts are estimates. 
Nutrition Information
Serving: 1gCalories: 520kcal (26%)Carbohydrates: 68g (23%)Protein: 10g (20%)Fat: 22g (34%)Saturated Fat: 12g (60%)Cholesterol: 197mg (66%)Sodium: 504mg (21%)Potassium: 376mg (11%)Fiber: 2g (8%)Sugar: 47g (52%)Vitamin A: 570IU (11%)Calcium: 176mg (18%)Iron: 3mg (17%)
Pastry cream adapted from Flour: Spectacular Recipes from Boston's Flour Bakery + Cafe