Chocolate Boston Cream Pie Cupcakes are moist chocolate cupcakes filled with an easy homemade pastry cream and topped a quick chocolate ganache.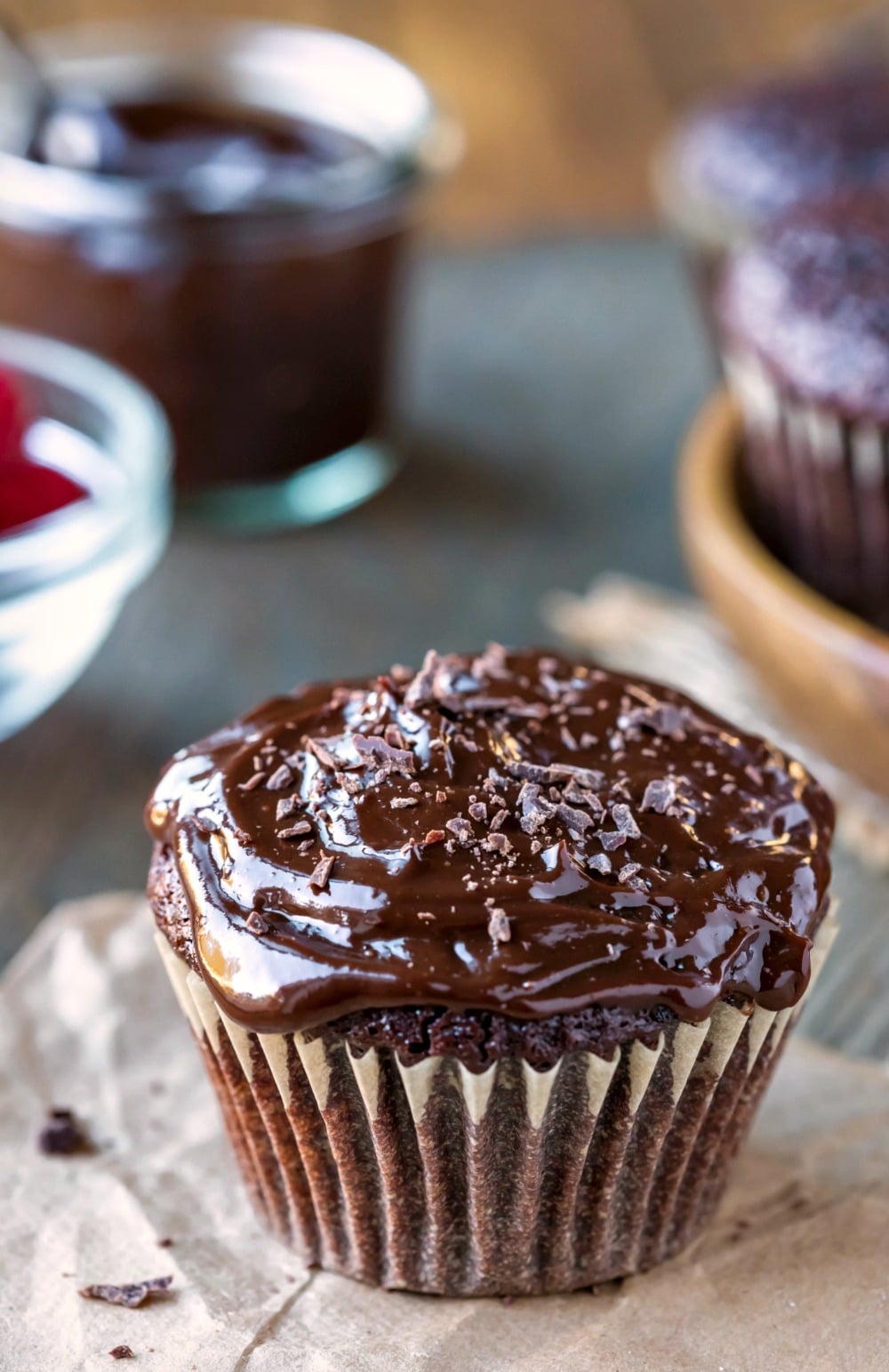 One of the best ways to make a dessert recipe better is to add a little chocolate to it.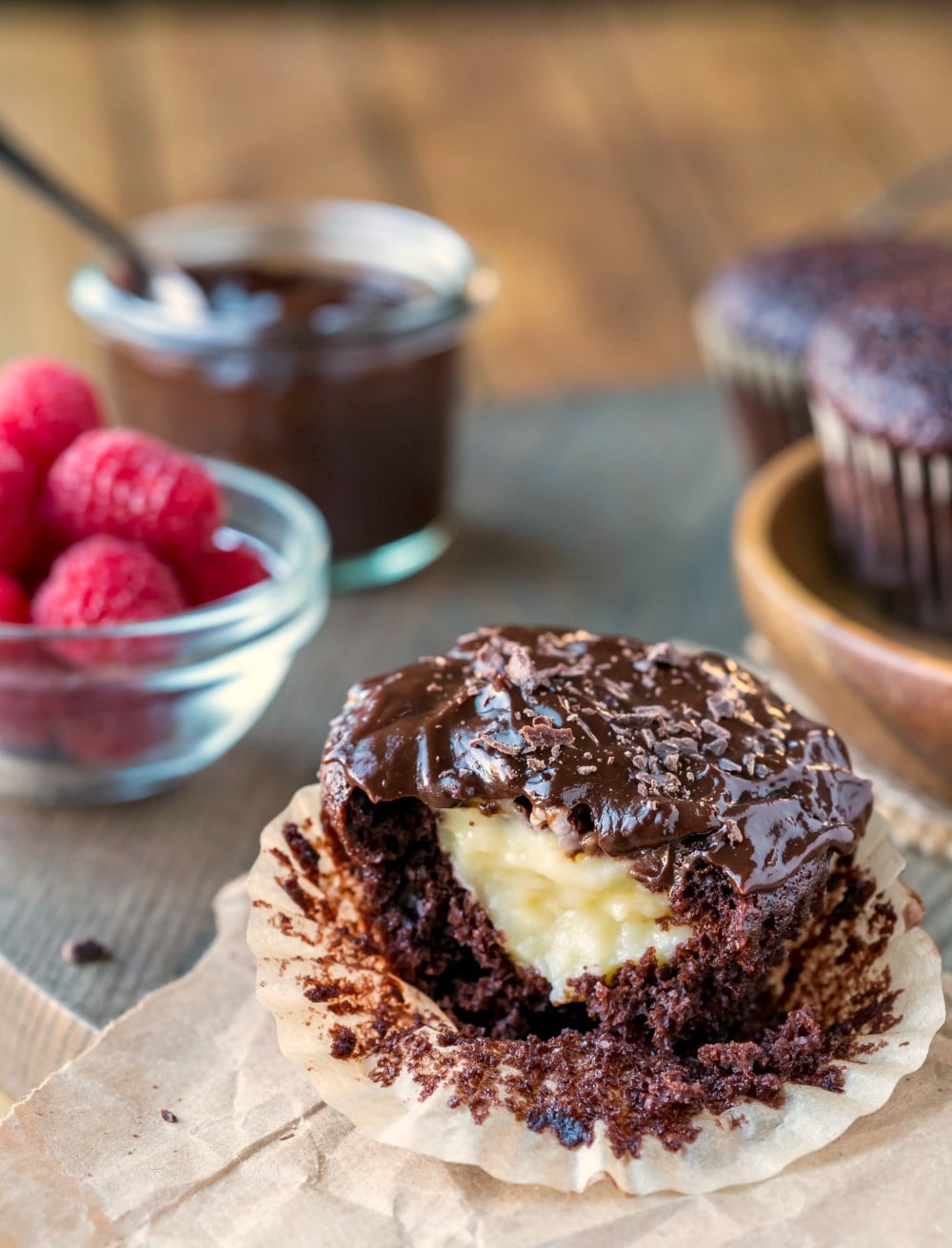 This chocolate Boston cream pie cupcake recipe swaps out the usual vanilla cake found in traditional Boston cream pie cupcakes for moist chocolate cake. The chocolate cupcakes are filled with homemade pastry cream and topped with an easy chocolate ganache.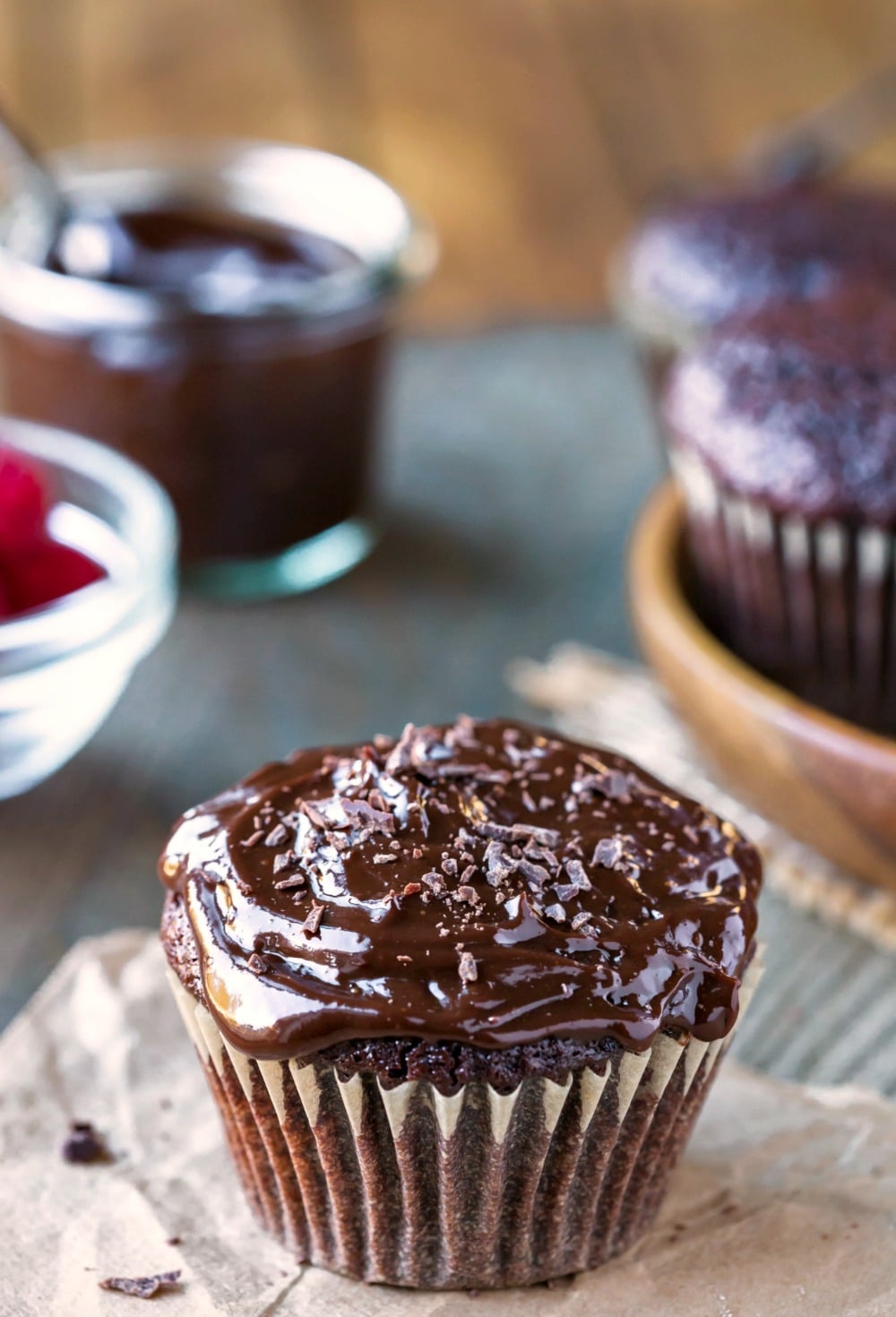 Chocolate ganache can be a bit temperamental, but this is a pretty fool-proof method. If, for some reason, your chocolate doesn't melt completely. Set the bowl over some simmering water, and whisk until melted and smooth.
More chocolate cake recipes!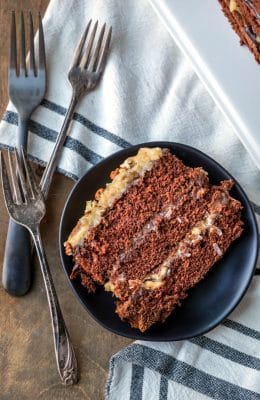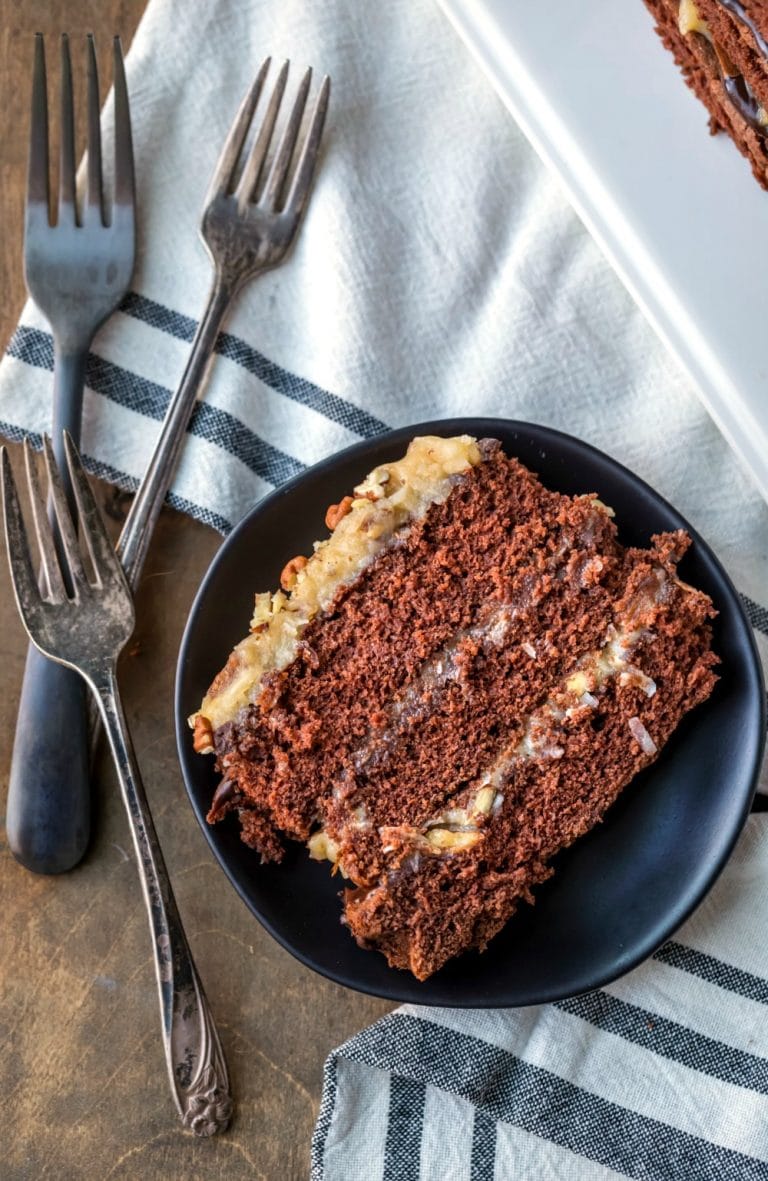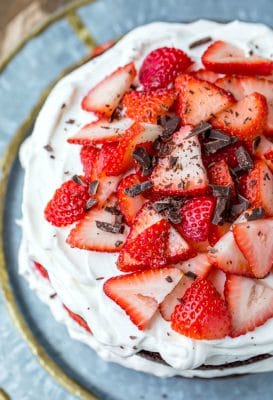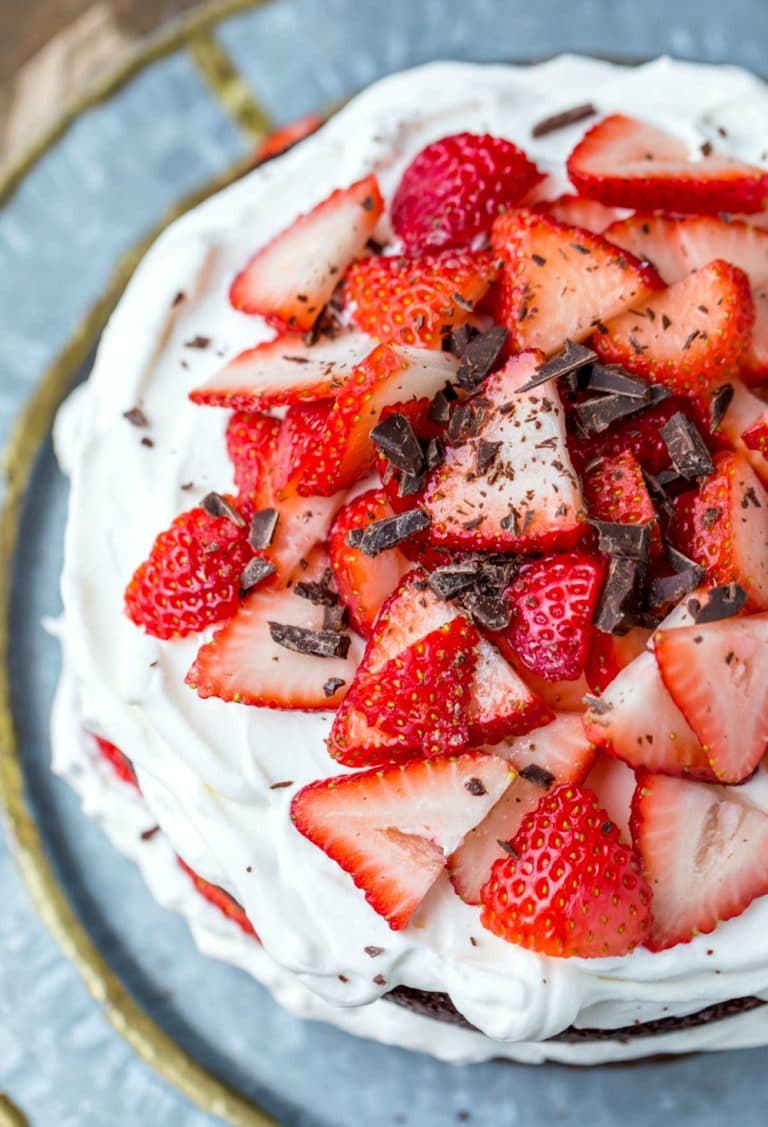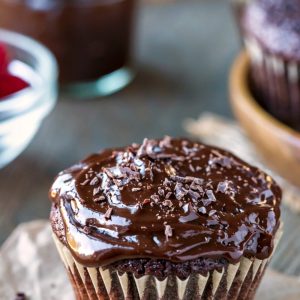 Chocolate Boston Cream Pie Cupcakes
Chocolate Boston Cream Pie Cupcakes are moist chocolate cupcakes filled with an easy homemade pastry cream and topped a quick chocolate ganache.
Ingredients
Pastry Cream
2 cups (454 g) milk
1/4 cup (50 g) granulated sugar
2 egg yolks from large eggs
1 large egg
1/4 cup (28 g) cornstarch
1/3 cup (66 g) granulated sugar
2 tablespoons (28 g) butter
1 teaspoon vanilla extract
Chocolate Cupcakes
1 cup (120 g) all-purpose flour
1/2 cup (42 g) Dutch-processed cocoa powder
1 teaspoon baking powder
1/4 teaspoon baking soda
1/4 teaspoon salt
1 large egg
1 cup (198 g) granulated sugar
1/3 cup (61 g) vegetable oil
1 teaspoon vanilla extract
1/2 cup (114 g) milk
1/3 cup (74 g) warm water
Chocolate Ganache
2 ounces semisweet baking chocolate chopped
1/4 cup (57 g) heavy cream
Instructions
To make the pastry cream, whisk milk and 1/4 cup sugar together in a large saucepan.

Bring to a boil over medium heat, whisking regularly.

In a medium bowl, whisk together the egg yolks and egg.

Whisk the remaining sugar and cornstarch into the eggs.

Once the milk comes to a boil, slowly stream it into the egg mixture while whisking constantly so that you do not cook the eggs.

Pour the mixture back into the saucepan, and slowly bring to a boil, whisking constantly.

Once the mixture comes to a boil, continue to cook until it thickens.

Remove from the heat, and whisk in the butter and vanilla.

Pour into a heat-proof container, and press a piece of plastic wrap directly on the surface to prevent a skin from forming.

Refrigerate until chilled before using.

To make the cupcakes, preheat the oven to 325 F. Line 12 muffin tins with cupcake liners. Set aside.

Whisk the flour, cocoa powder, baking powder, baking soda, and salt together in a large bowl until well-combined. Set aside.

In a medium bowl, whisk together eggs, sugars, oil, and vanilla together until well-combined.

Whisk the wet ingredients into the dry ingredients.

Add the buttermilk and whisk until just incorporated. The batter will be thin.

Divide the batter among the prepared muffin tins, filling each tin half full.

Bake for 15-20 minutes, or until a toothpick inserted in the center comes out clean.

Remove from pan and let cool to room temperature on a wire cooling rack.

To make the ganache, add the chocolate to a heat-proof bowl.

Heat the cream until it simmers.

Pour the cream over the chocolate, and cover.

Let the mixture sit for 5 minutes without stirring.

Uncover, and whisk until smooth and well-combined.

To put it all together, cut top off of cupcake (the domed muffin top).

Using a small (1 tablespoon) cookie scoop, scoop out a piece of cake. Discard, eat, or otherwise use the cake.

Using the cookie scoop, scoop out a scoop of pastry cream, and place it in the hollowed out portion of the cupcake.

Replace top of the cupcake, gently pressing the top onto the cream.

Top cupcake with some chocolate ganache.
Notes
*Nutrition facts are estimates. 
Nutrition
Serving: 1g | Calories: 325kcal | Carbohydrates: 44g | Protein: 5g | Fat: 15g | Saturated Fat: 10g | Cholesterol: 77mg | Sodium: 126mg | Potassium: 210mg | Fiber: 1g | Sugar: 30g | Vitamin A: 295IU | Calcium: 92mg | Iron: 1.5mg
Reader Interactions
Love this recipe?
Share your thoughts below and let's chat! Make sure to connect with me on your favorite social platform below and show me what you made!