Best braided homemade cinnamon bread recipe! This simple recipe includes step-by-step pictures so you can make perfect braided cinnamon bread.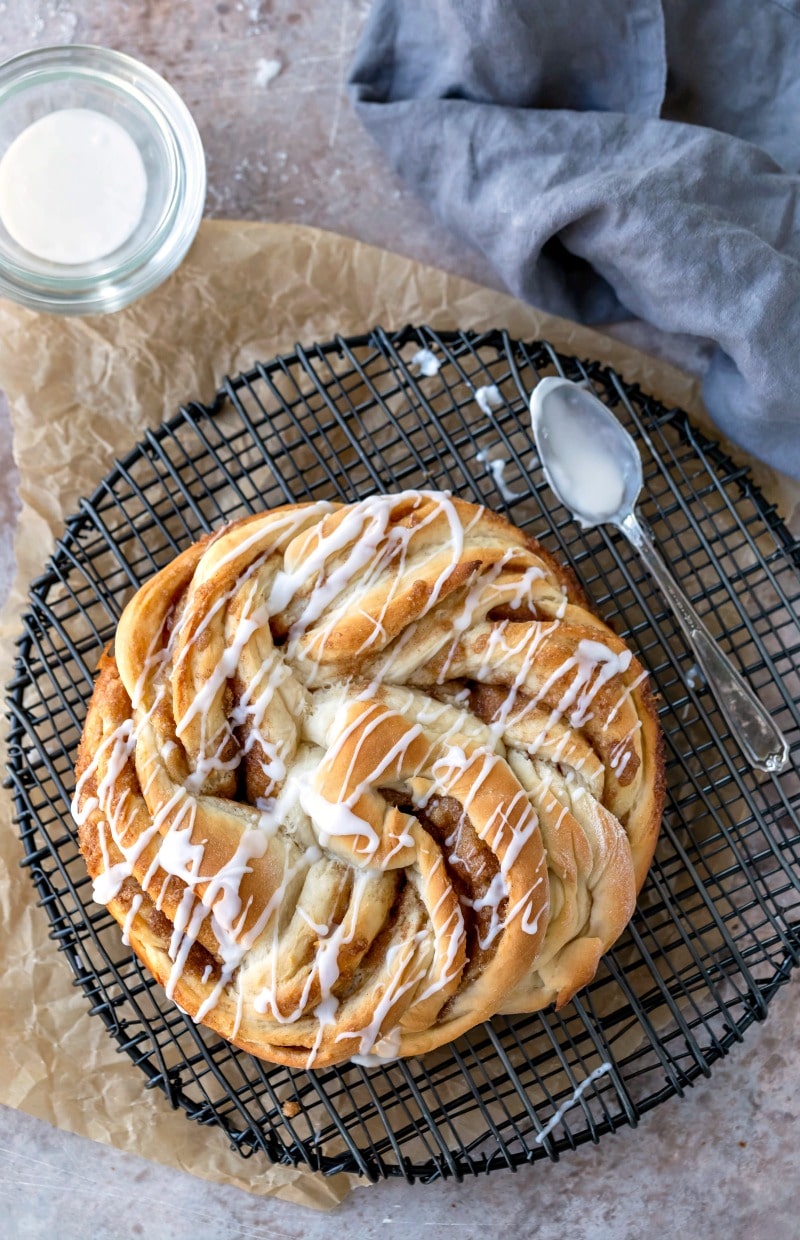 It's no secret that I love cinnamon sugar everything!  My family and I can't get enough monkey bread, cinnamon roll bites, maple cinnamon rolls, and even cinnamon roll poke cake.
This braided cinnamon bread is fun way to get that cinnamon sugar fix.
It looks like it's much more complicated than it is, and with the easy homemade dough, it can be made in less time than it takes for traditional bread dough to rise. 
How to make braided cinnamon bread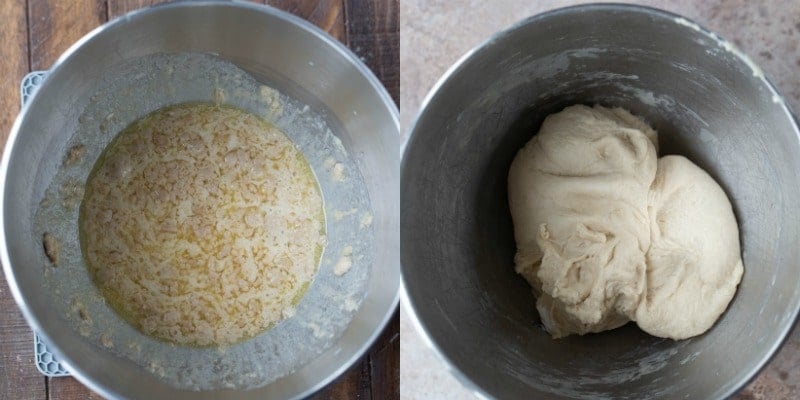 Begin by warming the butter, milk, and sugar to temperature, and then add the butter mixture, yeast, and warm water to a mixing bowl.
Mix in salt and enough flour to form a soft, slightly sticky dough. The dough should feel a little sticky to the touch but shouldn't come stick to your finger if you poke it.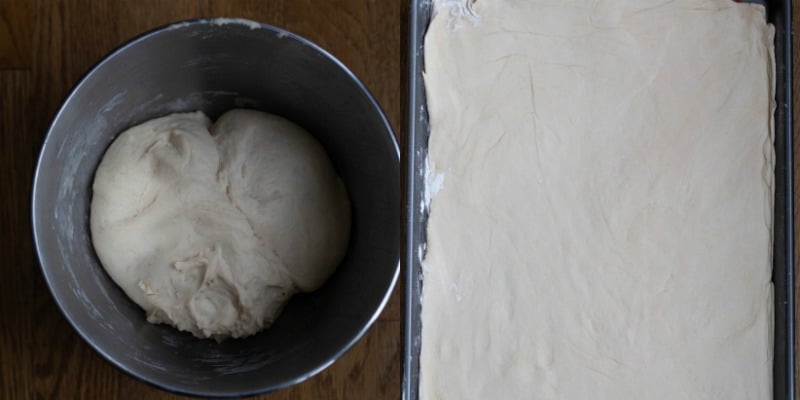 Let the dough rest, and then divide the dough into two equal pieces. Next, working one piece at a time, roll out dough into an 8×12 inch rectangle. Keep the other piece of dough covered while you work.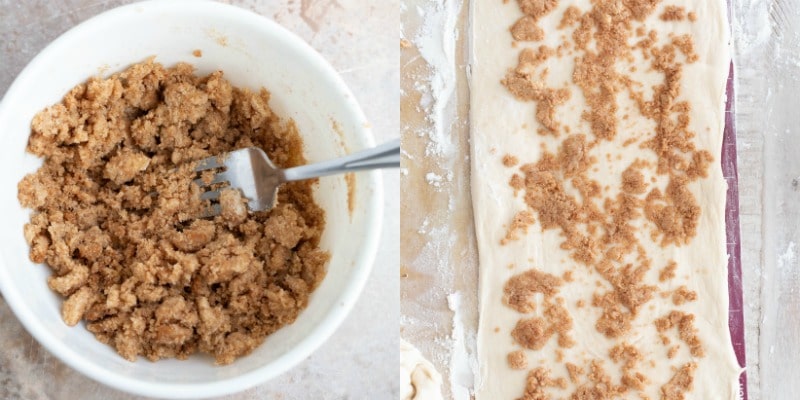 Mix the filling ingredients, and then sprinkle half of the filling ingredients over each rectangle, leaving a 1/2-inch border around the edges.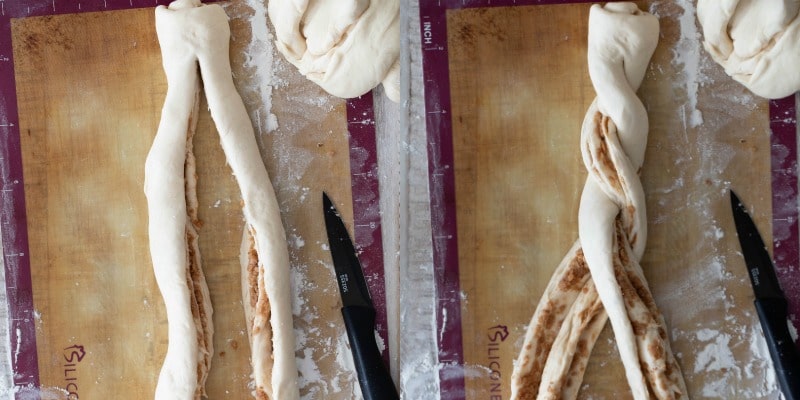 Roll up the dough lenghtwise and pinch the seal together to seal. Using a sharp knife, cut the dough in half lengthwise, leaving a 1/2-inch section at one end uncut.
Twist the sections of the dough over each other and pinch the ends together.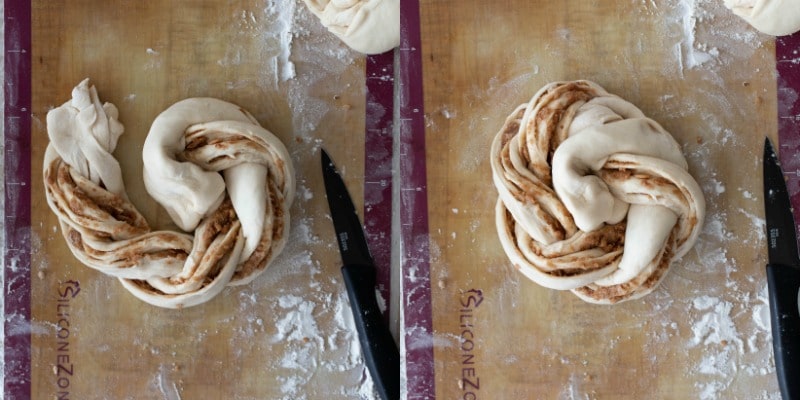 Starting at the uncut end, coil the twisted bread around on each other. Tuck the ends under to seal.
Repeat with the remaining dough and filling.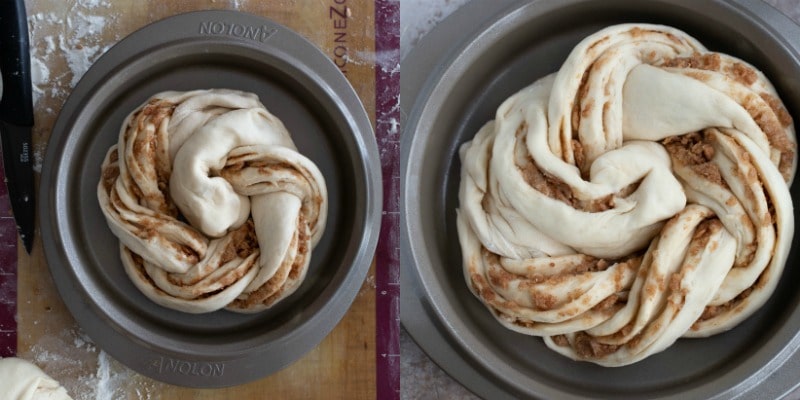 Place each piece of dough in a greased cake pan. Cover with a clean dry towel and let dough rise in a warm, draft-free spot for 15 minutes.
Then bake!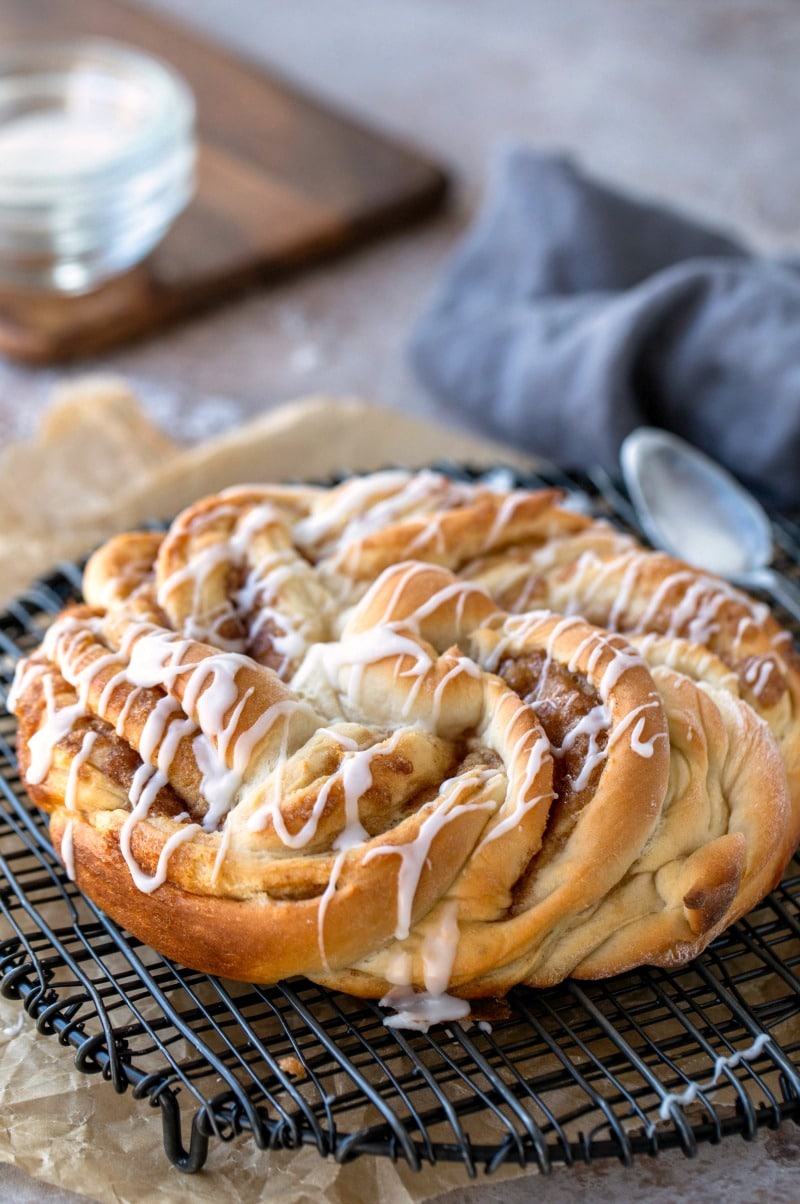 How long will the bread keep?
I think the bread is best eaten fresh. However, the bread will keep for 2-3 days if stored covered in a resealable container.
How do I serve the bread?
I cut it into wedge slices to serve.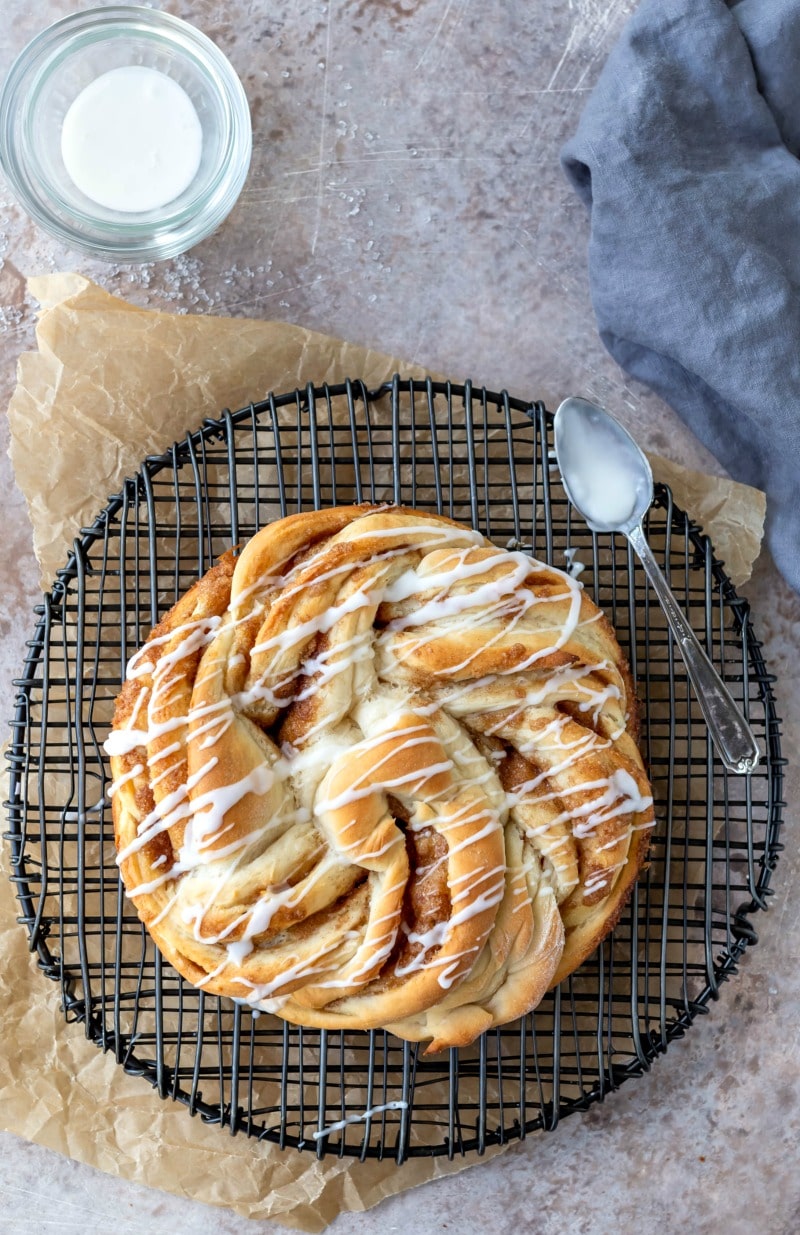 More cinnamon bread recipes!
If you've tried this cinnamon twist recipe, don't forget to rate the recipe and leave me a comment below. I love to hear from people who've made my recipes! You can SUBSCRIBE to receive my latest recipe newsletters or FOLLOW ME on FACEBOOK, INSTAGRAM and PINTEREST for even more delicious food.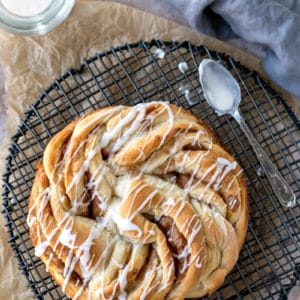 Braided Cinnamon Bread
Braided cinnamon bread. Check out the step-by-step photos and tips above the recipe.
Ingredients
Dough
1/3 cup milk¹
3 tablespoons granulated sugar
1/4 cup butter
3 1/2 teaspoons instant yeast²
3/4 cup warm water 105F – 115F
3 cups all-purpose flour³
1/2 teaspoon salt
Filling
1/2 cup butter softened
2/3 cup granulated sugar
2 tablespoons cinnamon
Icing
3/4 cups sifted powdered sugar
2 tablespoons butter melted
1/2 tsp vanilla extract
2-4 tablespoons milk
Instructions
Grease two 9-inch round cake pans; set aside.

In a small saucepan, stir milk, sugar, and butter together. Heat over low heat just until butter melts and sugar dissolves. Cool to about 100-105 F.

Pour the milk mixture into the bowl of a stand mixer.

Add the yeast and warm water.

Add 2 cups flour and salt to yeast mixture. Using a dough hook, mix on low speed for about 1 minute.

With the mixer still going, add remaining flour, 1/2 cup at a time. Mix about 1 ½ minutes, or until dough starts to clean the sides of the bowl.

Knead on low speed for about 2 more minutes, or until dough is smooth and elastic. The dough should feel soft and slightly sticky, but it shouldn't stick to your finger if you pinch it.

Place dough in a greased bowl, turning it to grease the top. Cover the dough with a clean, dry dish towel.

Let it rise in a warm place, free from draft, for about 10 minutes.

Turn the dough onto a floured surface, and divide dough into two equal pieces.

Roll each piece into a 12x8-inch rectangle.

Stir filling ingredients together, and spread 1/2 of the filling ingredients over each piece of dough, leaving a 1/2-inch border around the edges.

Roll up lengthwise, pinching seam to seal.

Cut the dough in half lengthwise, leaving a 1/2-inch uncut section at the end.

Twist the pieces of dough over each other to form a long twist, and pinch cut ends together.

Starting at the uncut end, coil the twist around, tucking in the ends.

Place 1 braid in each pan.

Cover the pans with the dish towel, and let the dough rise for about 15 minutes.

Meanwhile, preheat oven to 350 F.

Bake at 20-25 minutes, or until the bread is golden brown.

While the bread is baking, prepare the frosting.

To prepare the frosting, whisk powdered sugar, butter, and vanilla together in a medium bowl.

Whisk in enough milk to make desired consistency. I leave the frosting on the thicker side because it melts when it's drizzled over the warm bread.

Let bread cool in pan for 10 minutes.

Remove bread from pans and place on a wire cooling rack. I put a baking mat or a piece of parchment underneath to catch any drips.

Drizzle bread with frosting while warm.
Notes
Anything from skim to whole milk will work. Whole milk will make the dough richer, and skim milk will give you a leaner dough.
If you're using active dry yeast, let the yeast sit for 5-10 minutes, or until foamy, after step 4. Then, continue with the recipe as-written.
I recommend either weighing the flour or aerating, spooning, and leveling the flour. Too much flour will give you a dry, heavy dough. 
Nutrition values are estimates. 
Nutrition
Serving: 1serving | Calories: 251kcal | Carbohydrates: 36g | Protein: 3g | Fat: 10g | Saturated Fat: 6g | Cholesterol: 27mg | Sodium: 166mg | Potassium: 64mg | Fiber: 1g | Sugar: 16g | Vitamin A: 320IU | Calcium: 25mg | Iron: 1.2mg
Reader Interactions
Love this recipe?
Share your thoughts below and let's chat! Make sure to connect with me on your favorite social platform below and show me what you made!