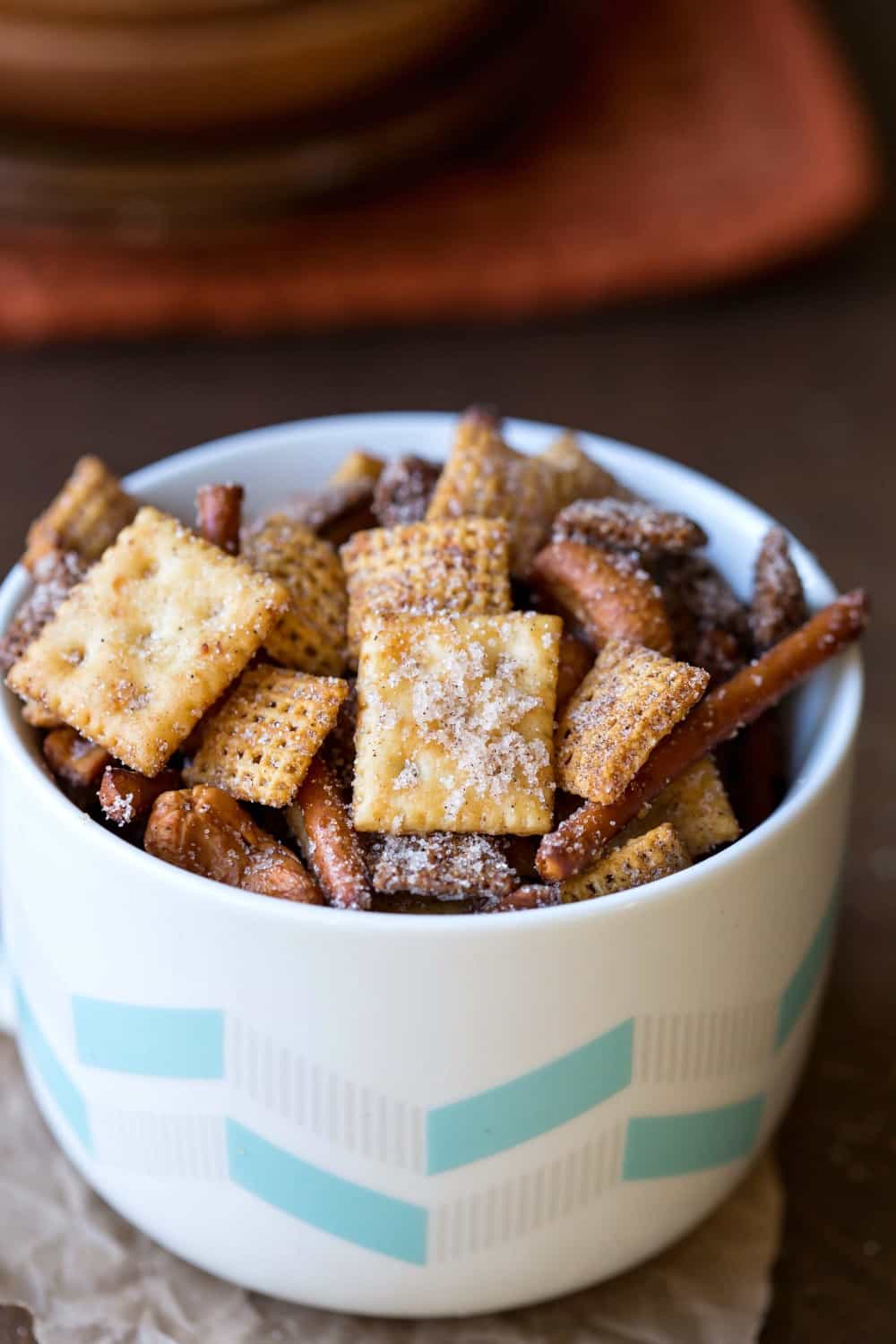 I'm always a little sad when Christmas is over.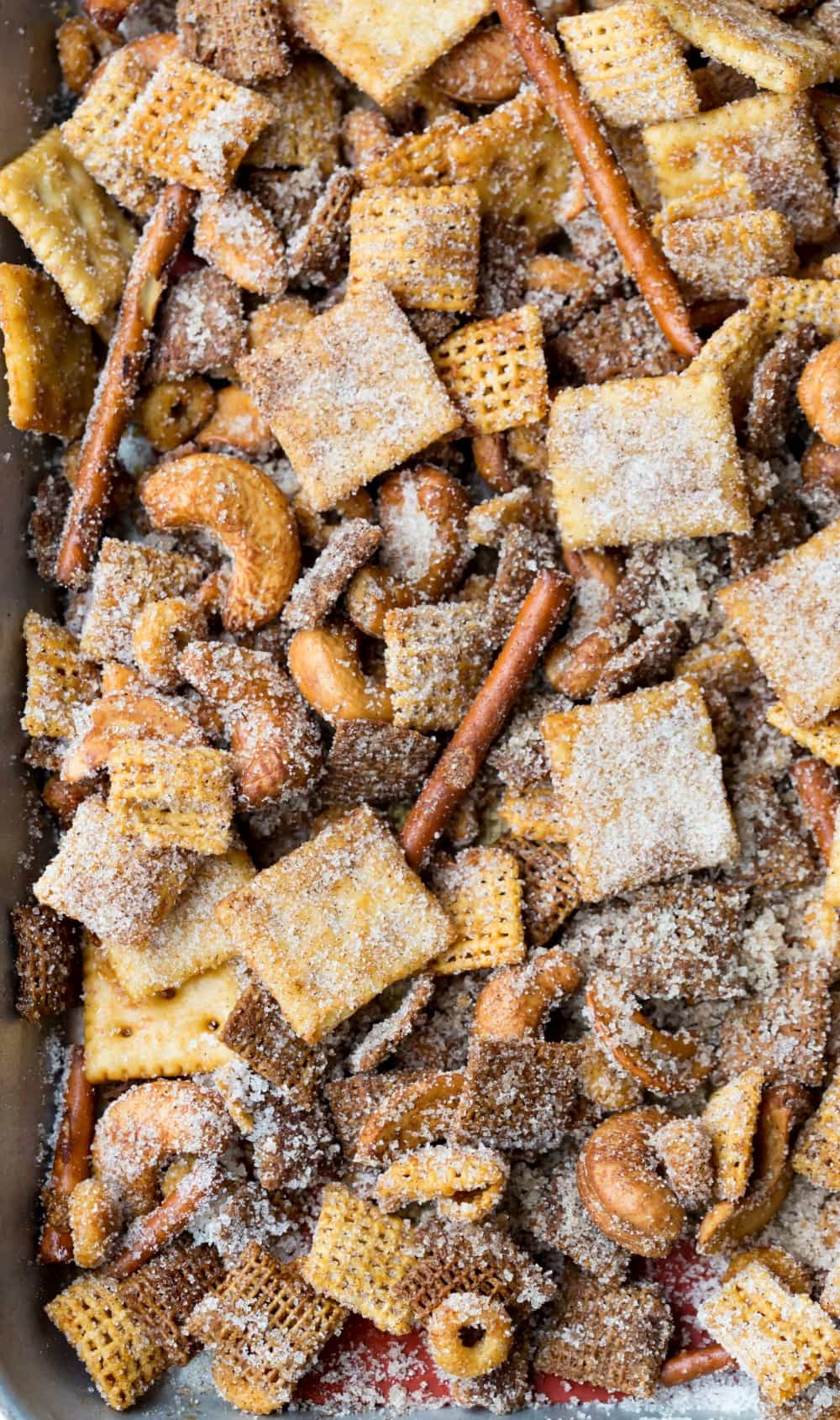 I love the Halloween to Thanksgiving to Christmas season. We don't do very much in the way of celebrating New Year's Eve/Day, so, for us, it feels like the holidays are pretty much over.
So, this time of year has sort of become our hang out time – time to just spend relaxing and recouping together before school and the rest of real life kicks back in again. We watch movies and the kids play outside and we just sort of try to slow down and enjoy life.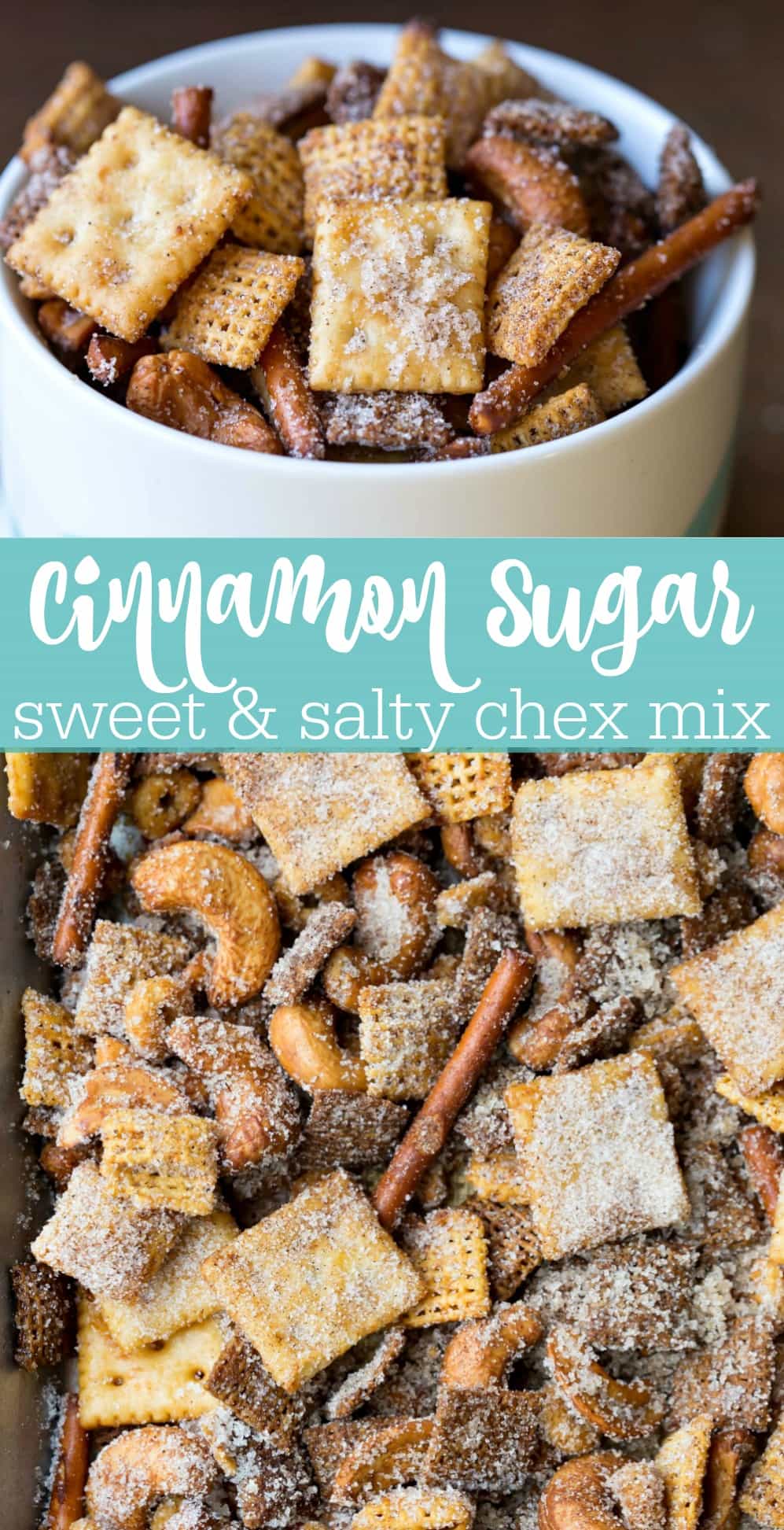 We also make lots and lots of snacks – like this Cinnamon Sugar Sweet and Salty Chex Mix. It's a mix of crackers and nuts and cereal that's topped with a sweet and salty glaze and then dusted with cinnamon sugar. It's perfect for get-togethers or just lazy afternoons spent at home!
Cinnamon Sugar Sweet and Salty Chex Mix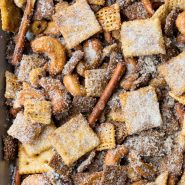 Ingredients
3 cups Corn Chex
2 cups Cheerios
1 cup Wheat Chex
2 cups Mini or Round Saltine Crackers
2 cups unsalted whole cashews*
2 cups pretzel sticks
1/2 cup butter
1/2 teaspoon vanilla extract
1/4 teaspoon kosher salt
2 tablespoons honey
1/2-3/4 cup granulated sugar
1 tablespoon ground cinnamon
Instructions
Preheat oven to 275 F. Line a half sheet pan with silicone baking mat. If you don't have a half sheet pan, line two smaller pans.

Combine Chex cereals, Cheerios, pretzels, crackers, and nuts in a large bowl.

In a microwave safe bowl, melt butter.

Stir honey, vanilla, and salt into melted butter.

Pour honey butter mixture over snack mix, and toss to evenly coat.

Transfer snack mix to prepared baking sheet(s).

Spread snack mix out in an even layer.

Bake for 15 minutes. Stir.

Bake for another 15 minutes. Stir.

Bake for another 10 minutes. Stir.

Mix sugar and cinnamon together.

Sprinkle over snack mix, tossing to coat.

Bake for 10 more minutes.

Remove from oven and allow to cool before serving.

Store in an airtight container.
Recipe Notes
*Can substitute a different whole nut or extra cereal
Adapted from Real Housemoms.