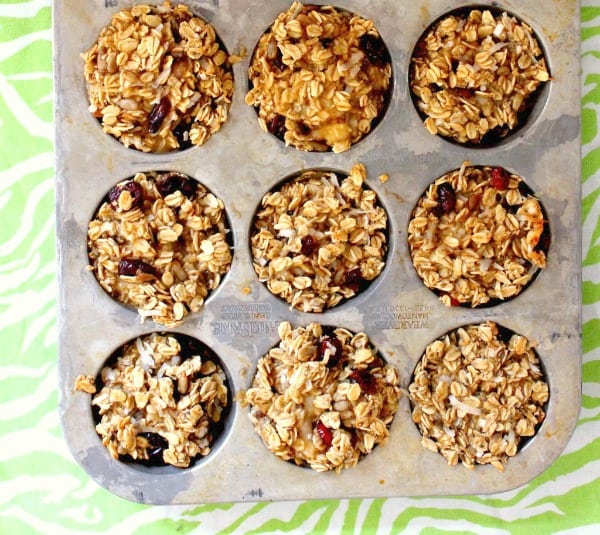 Mornings are a busy time (news flash, right). I love making breakfast the night before and having it ready to pop in the oven in the morning, and I made these with my youngest sister in mind. Between going to college and working, she's a very busy girl. A busy girl who sometimes skips breakfast because she doesn't have time to eat. These individual oatmeals, or oatmeal "cupcakes" as my two year-old calls them, are a great solution to breakfast on the go. Since you make them the night before, just bake them while you're getting ready, and breakfast will be ready by the time you are. If you don't have 25 minutes to spare in the morning, make a big batch on the weekend because these oatmeals reheat very well. Just store them in a ziploc in the fridge, and then pop them in the microwave for about 25 seconds.
Ingredients
2 large eggs
1/4 c . brown sugar
1 ½ tsp . baking powder
1 ½ tsp . vanilla
1 tsp . cinnamon
1/2 tsp . ground nutmeg
1/4 tsp . salt
1 c . skim milk ((I used unsweetened almond milk))
1/3 c . unsweetened applesauce
1 ripe banana (, mashed)
3 c . oatmeal ((regular or quick))
1/3 c . sunflower seeds
1/4 c . shredded coconut
1/4 c . raisins or dried cranberries
1 T . chia seeds
Instructions
Grease a 12-cup muffin tin with nonstick cooking spray.

In a large bowl, beat eggs.

Add brown sugar, baking powder, vanilla, cinnamon, nutmeg, and salt. Mix well.

Whisk in applesauce, banana, and milk.

Stir in oats, sunflower seeds, coconut, raisins or dried cranberries, and chia seeds.

Pour into prepared muffin tin.

Cover and refrigerate overnight.

Bake, uncovered, at 350 for 20-25 min.