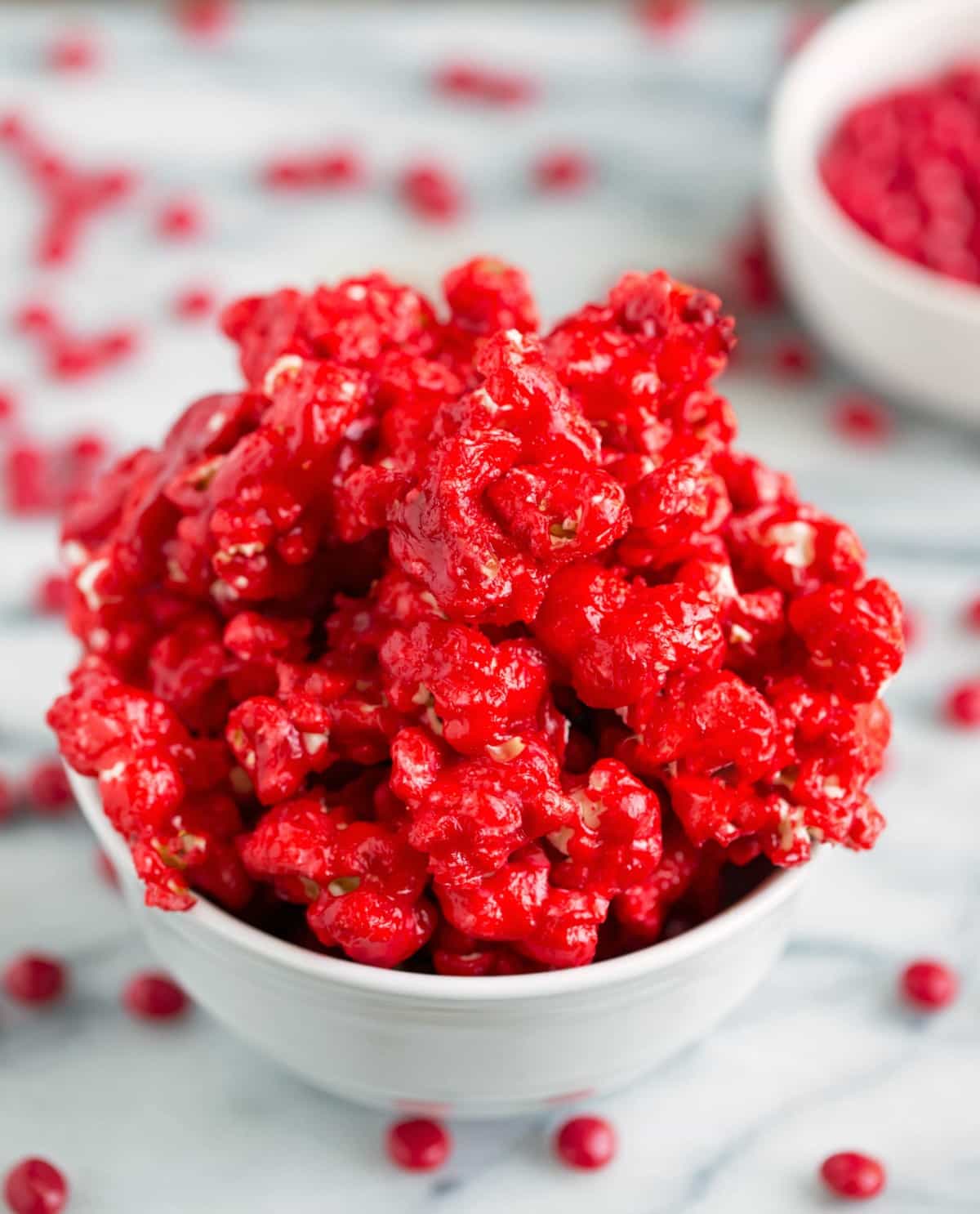 We didn't go to the mall very often while I was growing up. Even less frequent were the trips that involved a snack. Every once in a while, though, my mom would stop at the popcorn shop in the mall, and we would get popcorn and limeades.
I've always liked cinnamon flavored things, so I always picked the cinnamon popcorn. I still crave that cinnamon popcorn, but I can't get it where I live now. So, I've had to learn to make my own version.
This popcorn has a good, strong cinnamon flavor, but it isn't too spicy. It's crunchy, candy coating sets up quickly, so make sure you work fast when stirring it, and, unless you want chunks of popcorn, break it apart while it's still a little warm.
Red Hot Cinnamon Popcorn
Ingredients
1

(3.3 oz.) bag plain microwave popcorn, popped (about 6-7 cups, popped)

1/4

c

. butter

8

oz

. red cinnamon candies

(red hots)

1/4

c

. granulated sugar

1/4

c

. corn syrup

1/2

tsp

. salt

1/4

tsp

. baking soda

1/2

tsp

. cinnamon extract
Instructions
Preheat oven to 225 F.

Spread popcorn in a lightly buttered roasting pan.

Start baking popcorn while you prepare the syrup.

In a heavy pan, melt butter most of the way.

Add the red hots, sugar, corn syrup, and salt. Bring to a boil and boil for 5 minutes.

Remove from heat; carefully stir in baking soda and cinnamon extract.

Working quickly, pour over popcorn stirring to coat.

Bake for 45 minutes, stirring every 15 minutes.

Remove from oven, and stir one last time.

Let cool.

Break into pieces; store in an airtight container.
Adapted from thesisterdish.blogspot.com