Make your own red hot cinnamon popcorn with this easy recipe! This recipe makes popcorn that's coated with a red hot candy coating.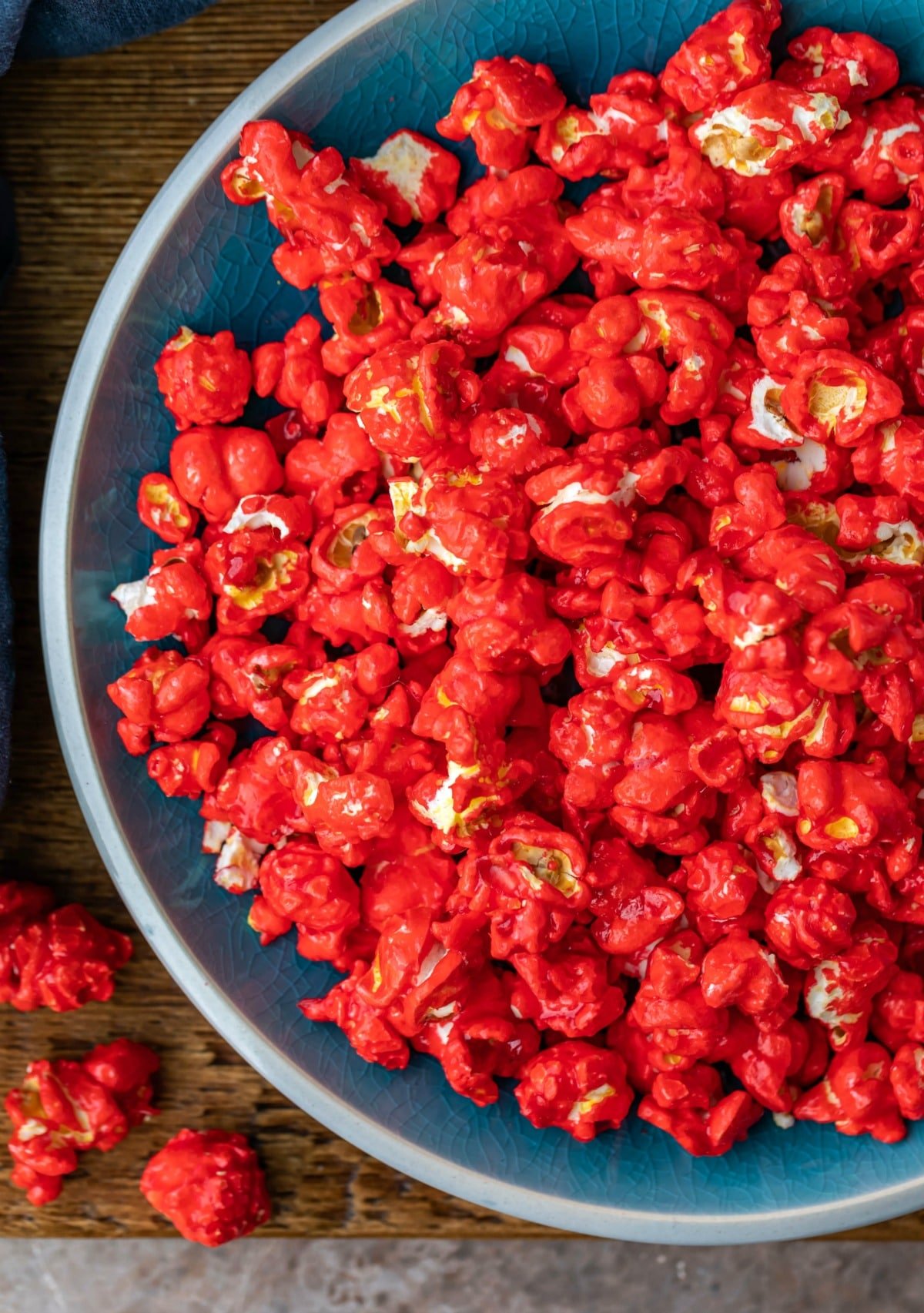 We didn't go to the mall very often while I was growing up. Even less frequent were the trips that involved a snack. Every once in a while, though, my mom would stop at the popcorn shop in the mall, and we would get popcorn and limeades.
I've always liked cinnamon flavored things, so I always picked the cinnamon popcorn. I still crave that cinnamon popcorn, but I can't get it where I live now. So, I've had to learn to make my own version.
Thankfully, this cinnamon popcorn is really easy to make, and it keeps well. It's a great snack, dessert, or movie-watching treat.
How To Make Red Hot Cinnamon Popcorn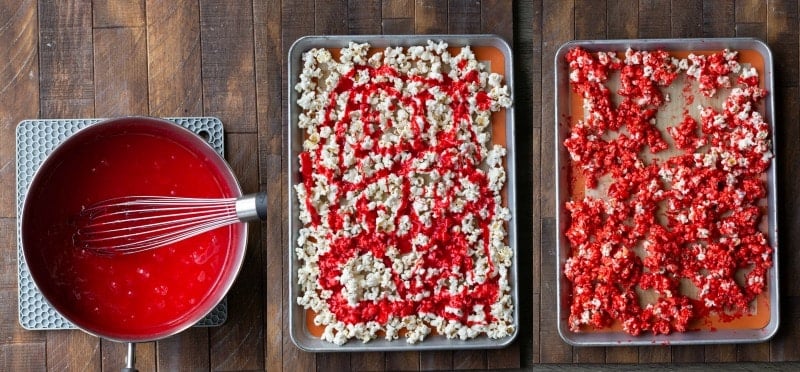 Spread the popped popcorn in a lightly buttered roasting pan. Set pan of popcorn in the oven while you make the candy glaze.
Melt the butter most of the way. Add the red hots, sugar, corn syrup, and salt.
Bring to a boil. Once at a boil, let boil for 5 minutes.
Remove from the heat and carefully stir in cinnamon extract, if using, and baking soda.  Carefully but quickly, pour the glaze over the popcorn and stir to coat.
Bake for 45 minutes, stirring every 15 minutes.
Tips 
First, work quickly! The candy coating sets up quickly, so you'll want to work fast.
Second, the popcorn don't need to be completely coated before it goes into the oven. As you stir the popcorn, it will continue to get covered in the coating while it bakes.
Third, gently break up the chunks of popcorn after it comes out of the oven while it's still a little warm.
Popcorn: You can use any type of plain popped popcorn that you like.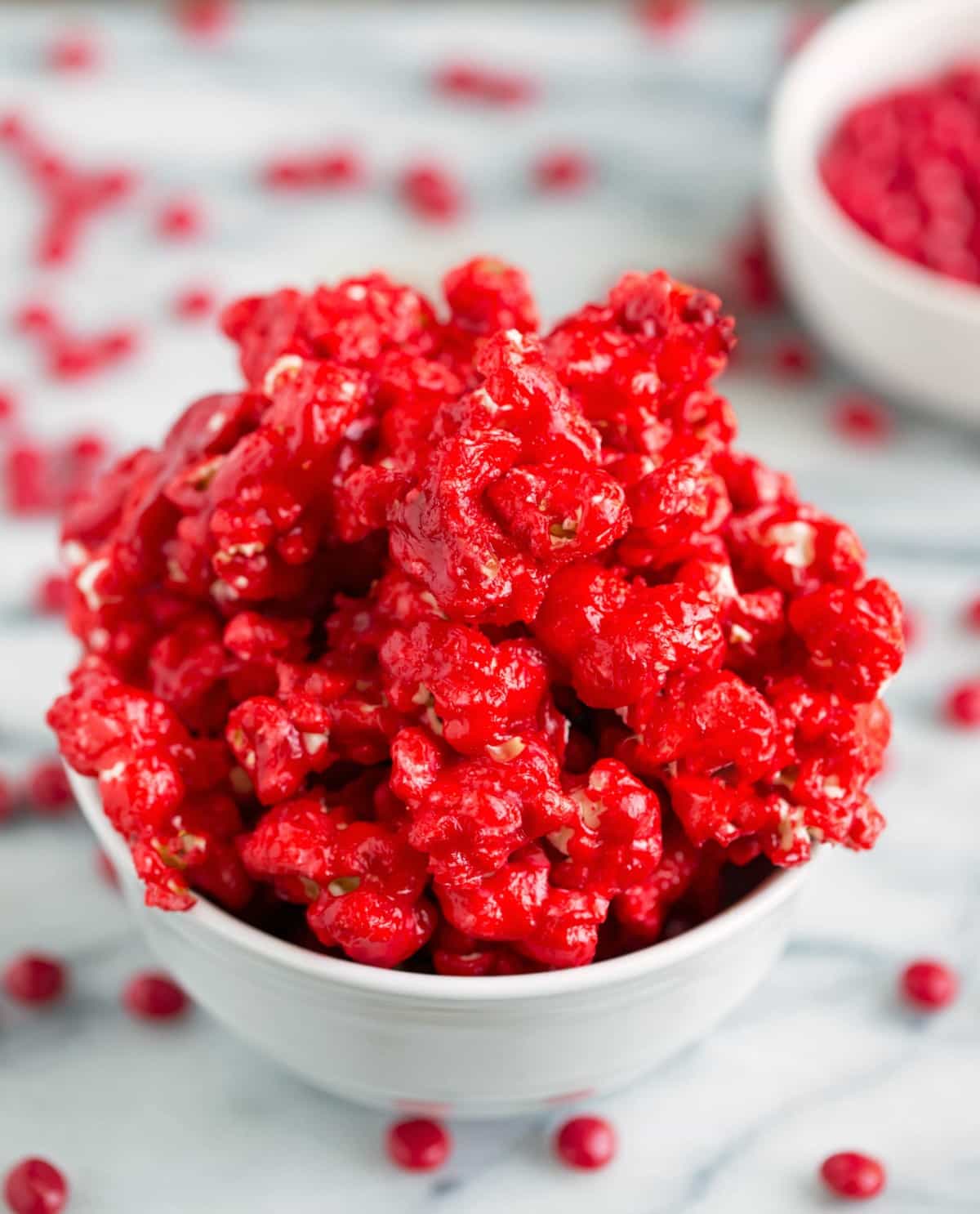 Do I Have to Use the Cinnamon Extract?
This popcorn has a good, strong cinnamon flavor, but it isn't too spicy. If you want a milder cinnamon flavor, you can omit the cinnamon extract.
How To Store
I recommend storing the popcorn in an airtight container to help it stay fresh and crunchy.
More Popcorn Recipes!
If you've tried this red hot cinnamon popcorn recipe, don't forget to rate the recipe and leave me a comment below. I love to hear from people who've made my recipes!
You can SUBSCRIBE to receive my latest recipe newsletters or FOLLOW ME on FACEBOOK, INSTAGRAM and PINTEREST for even more delicious food.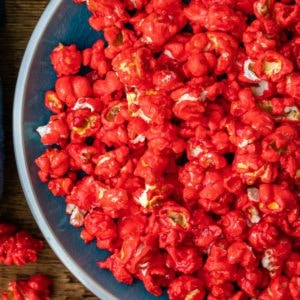 Red Hot Cinnamon Popcorn
Popcorn covered in a red hot candy glaze.
Ingredients
3.3 ounce bag plain microwave popcorn, popped about 6-7 cups popped popcorn
1/4 cup butter
9 ounces red cinnamon imperial candies (red hots)
1/4 cup granulated sugar
1/4 cup light corn syrup
1/2 teaspoon salt
1/4 teaspoon baking soda
1/2 teaspoon cinnamon extract optional
Instructions
Preheat oven to 225 F.

Spread popcorn in a lightly buttered roasting pan.

Place the pan in the oven to start heating popcorn while you prepare the syrup.

In a heavy pan, melt butter most of the way.

Add the red hots, sugar, corn syrup, and salt. Bring to a boil and boil for 5 minutes.

Remove from heat; carefully stir in baking soda and cinnamon extract.

Working quickly, pour over warm popcorn stirring to coat.

Bake for 45 minutes, stirring every 15 minutes.

Remove from oven, and stir one last time.

Let cool.

Break into pieces; store in an airtight container.
Notes
*Nutrition facts are estimates.
Nutrition
Serving: 1serving | Calories: 213kcal | Carbohydrates: 37g | Fat: 7g | Saturated Fat: 4g | Cholesterol: 12mg | Sodium: 256mg | Potassium: 40mg | Sugar: 30g | Vitamin A: 160IU | Calcium: 5mg | Iron: 0.2mg
Published 3/3/12. Updated 1/31/2020.
Adapted from thesisterdish.blogspot.com
Reader Interactions
Love this recipe?
Share your thoughts below and let's chat! Make sure to connect with me on your favorite social platform below and show me what you made!