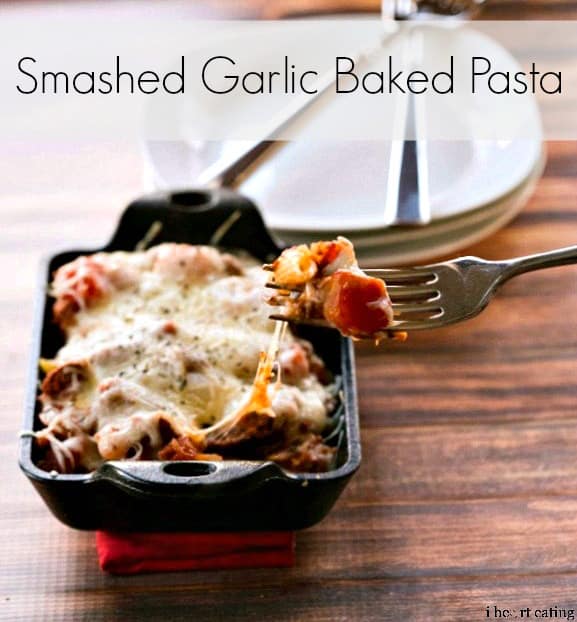 My husband and I agree on a lot of things. Garlic is not one of them. He's ok with a little garlic in things; I can't get enough of the stuff. When I was visiting Estonia, I went out of my way to eat at a restaurant that had garlic in everything. The food was incredible, and I still regret that I didn't try the garlic ice cream.
So, when I make pasta dishes, I usually use a fair amount of garlic. In this Smashed Garlic Baked Pasta, though, I used a lot. And it was awesome! The garlic cooks down (just make sure that you really smash the garlic cloves), so it's not overpowering. It's just good, old-fashioned comfort food, and if you like garlic, this is definitely a must make!
Ingredients
1 lb . ground beef
1 ½ c . finely chopped onion
1 c . peeled (, chopped carrot)
1 c . chopped celery
10 garlic cloves (, smashed)
1 (15 oz.) can crushed tomatoes in puree
1 (14.5 oz.) can diced tomatoes
1/4 c . tomato paste ((about 3 oz.))
2 c . beef broth or stock
1 T . dried basil
1 tsp . granulated sugar
Pinch baking soda
salt & pepper to taste
1 lb . penne pasta (, cooked)
1 ½ c . shredded Italian cheese blend
1/2 c . grated Parmesan cheese
Instructions
Preheat oven to 350 F. Grease a deep 9x13-inch baking dish. Set aside.

In a large skillet, brown ground beef.

Drain ground beef, and return it to the pan.

Add onion, carrot, and celery.

Cook for 5 minutes, or until veggies are soft.

Add garlic, and cook for 30 seconds, stirring constantly.

Add tomatoes, tomato paste, broth, basil, sugar, baking soda, and salt and pepper to taste.

Simmer, stirring as needed.

In a large pot, cook pasta according to package directions.

Drain pasta.

Pour drained pasta into prepared baking dish.

Top with tomato sauce.

Sprinkle with Italian and Parmesan cheeses.

Bake for 25-30 minutes, or until hot and bubbly.