Best steak marinade recipe! Just five simple ingredients are all you need to make this easy marinade. Includes directions that teach you how to marinade a steak for tender, juicy beef.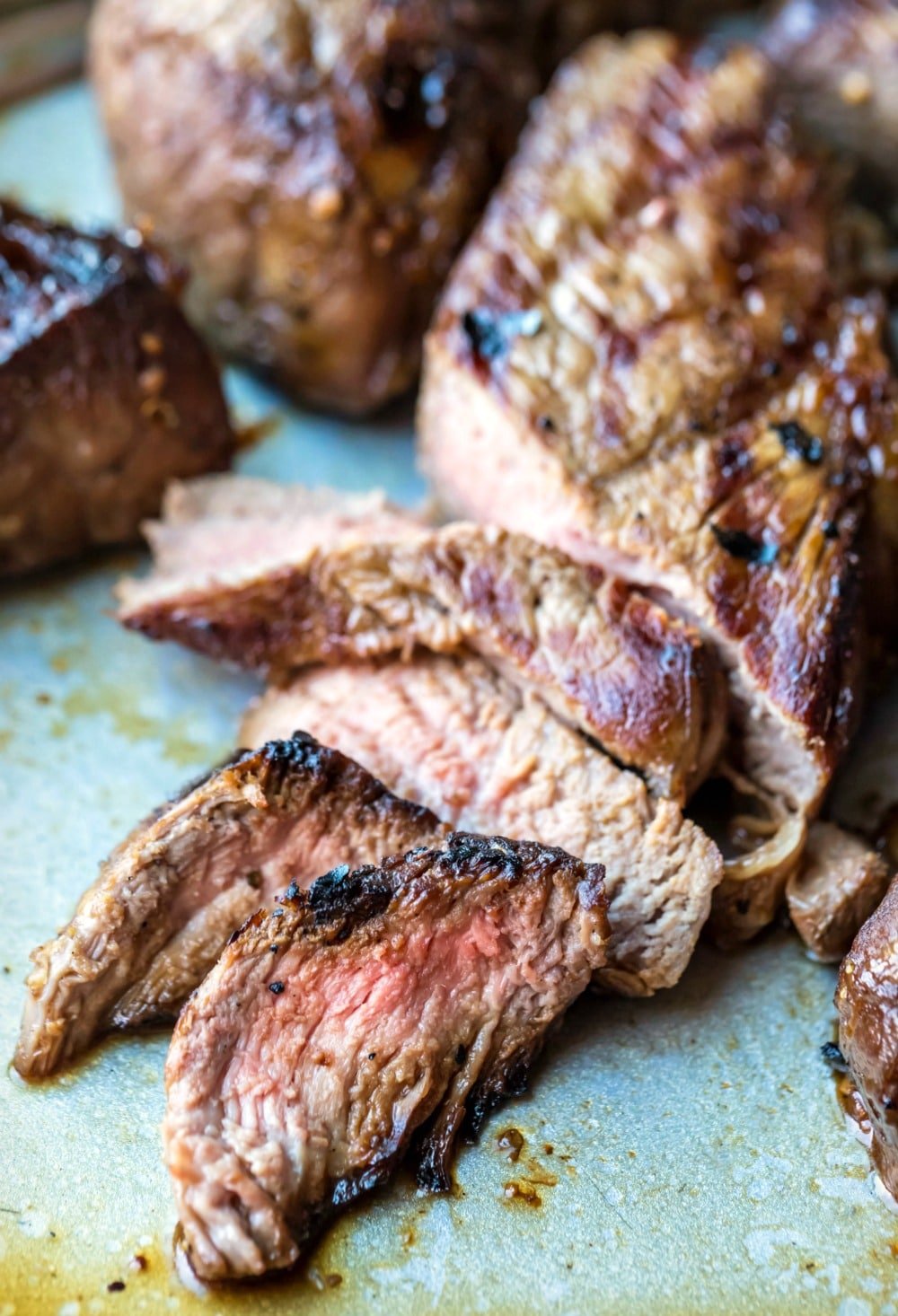 Double duty recipes can make dinner so much easier! Cook once and eat twice (or more), just makes sense - especially when life is busy.
This steak marinade is just that kind of easy, double duty recipe. The marinade itself if simple - just 5 ingredients (Want more marinade recipes? Check out 7 chicken marinades here).
It also takes just a few minutes to stir up, so you can have the steak marinating in no time.
I like to make some extra steak when I make this recipe. I serve the steak with sides the first night, and the leftover steak can be used in any number of second (or third) meals - sandwiches, salads, and more!
Should I Marinate Steak?
Absolutely! Marinades can also be a way to quickly tenderize meat.
Marinades are a great way to add flavor to steak before cooking it. I don't think steak needs any sauce after it's been in this marinade, but my kids like to have barbecue sauce on the side.
 How to Marinate Steak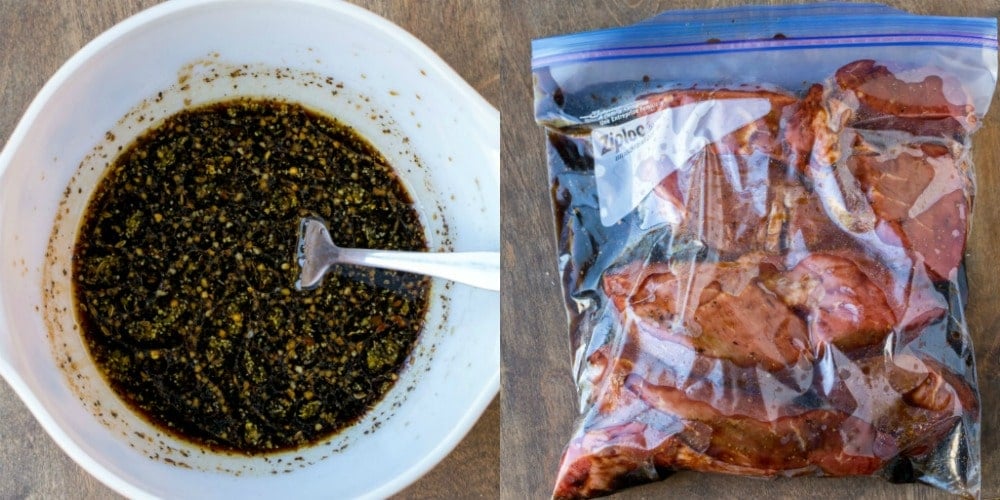 It's really simple to marinate a steak with this marinade.
Just mix together the soy sauce, brown sugar, olive oil, and seaoning in a bowl. Pour the marinade into a resealable container and add the steak.
I give the bag a couple squishes to coat the steak, and then just chill it until you're ready to cook the steak.
How Long Should I Marinate Steak?
I recommend marinating the steak for between 2 and 24 hours with this recipe. Since this recipe doesn't contain an acid, you could leave the steak in the marinade for up to 48 hours, but I don't recommend marinating the steak for any longer than that.
Can You Overmarinate Steak?
It depends. It's difficult to overmarinate a steak with this recipe because it doesn't contain an acid such as vinegar or lemon juice.
However, if you use a different recipe that contains lemon juice or vinegar, you can end up with mushy steak if you leave the steak in the marinade for too long.
Tips for Marinating Steak
Pierce it. If you're marinating a thick steak, piercing the steak can help the marinade to really get into the meat.
Marinades need plenty of flavor. If you love garlic, feel free to add another clove or two to amp up the flavor.
Give the bag a squeeze. If I'm using a baggie, I give it a couple squeezes to coat the meat in marinade before I put the baggie in the fridge. If you're using a resealable container, give it a couple of flips (with the lid on tightly) to help coat the meat.
Chill it. I recommend marinating the steak for between 2 and 24 hours. In order to avoid bacteria growth, chill the meat while marinating.
Don't re-use it. If you want to brush marinade onto the steak while cooking, make up a new batch. In order to avoid possible bacterial contamination, don't re-use the marinade that the steak was in.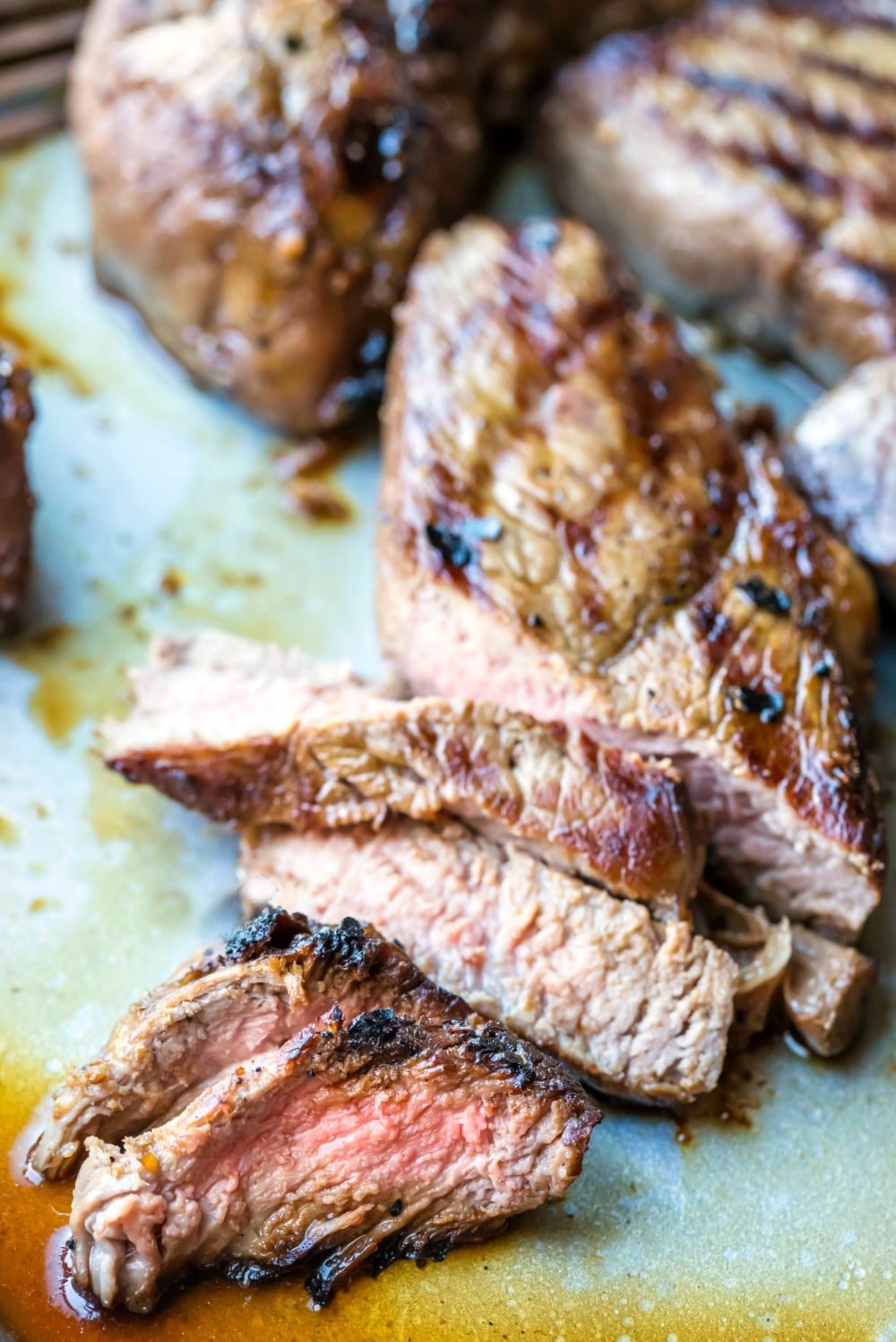 Recipes that Go Well With Steak
Classic Potato Salad Recipe
 More Beef Recipes!
If you've tried this steak marinade recipe, don't forget to rate the recipe and leave me a comment below. I love to hear from people who've made my recipes!
You can SUBSCRIBE to receive my latest recipe newsletters or FOLLOW ME on FACEBOOK, INSTAGRAM and PINTEREST for even more delicious food.
Steak Marinade
Simple 5-ingredient steak marinade. Check out the step-by-step photos and tips above the recipe!
Ingredients
½

cup

lite soy sauce

½

cup

brown sugar

(not packed)

2

tablespoons

olive oil

1

teaspoon

Montreal Steak seasoning

1

clove

garlic

(minced)
Instructions
In a medium bowl, mix ingredients together until well-combined.

Add marinade and steak to resealable container.

Place container in the fridge, and chill until ready to cook.
Notes
The marinade makes enough for about 2 ½ - 3 pounds of steak.
I recommend marinating the steak for at least 2 hours and up to 24 hours.
If you're marinating a thick steak, piercing the steak will help the marinade to flavor the steak.
I give the baggie a couple squishes to help coat the meat in marinade before chilling. 
Nutrition values are estimates and do not take into account discarded marinade.
Nutrition Information
Serving:
1
g
Calories:
124
kcal
(6%)
Carbohydrates:
19
g
(6%)
Protein:
2
g
(4%)
Fat:
4
g
(6%)
Sodium:
1085
mg
(45%)
Potassium:
65
mg
(2%)
Sugar:
18
g
(20%)
Vitamin A:
10
IU
Vitamin C:
0.2
mg
Calcium:
22
mg
(2%)
Iron:
0.7
mg
(4%)
Originally published 4/30/18. Last updated 6/5/19.