Whipped Buttercream Frosting is the best frosting ever! This frosting is made without powdered sugar. It has the rich creaminess of a buttercream & the light, airy texture of a whipped cream frosting!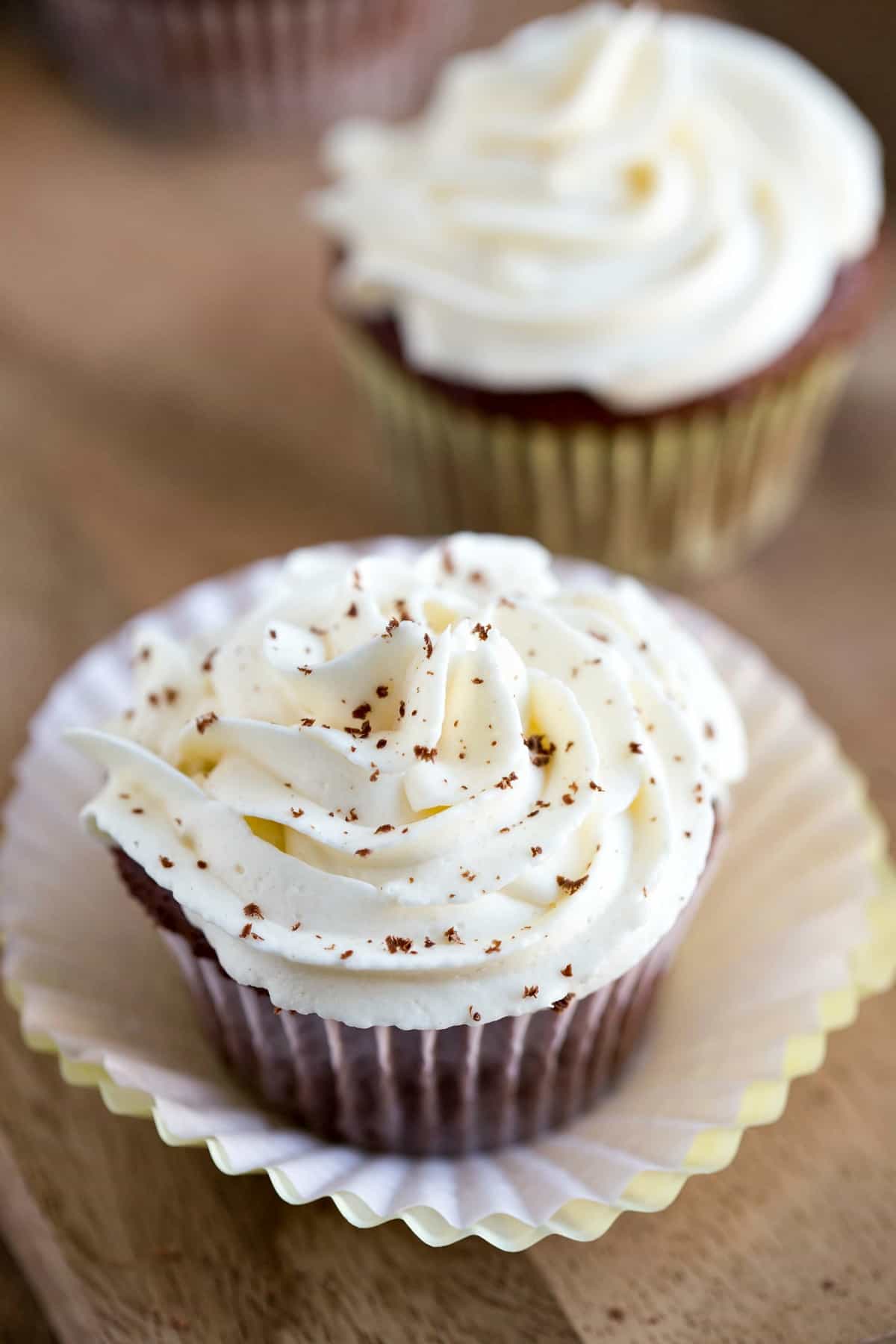 This recipe was originally published on 12/22/12. It was updated with new pictures on 7/25/16. 
This Whipped Buttercream Frosting recipe pretty much blew my mind.
I owe a big thank you to my other mother, Marilynn, for this recipe (She was married to my father, and "other mother" is more fitting than "step mom").
I'm not a big frosting person; most buttercream frostings are just ok, and I can take them or leave them.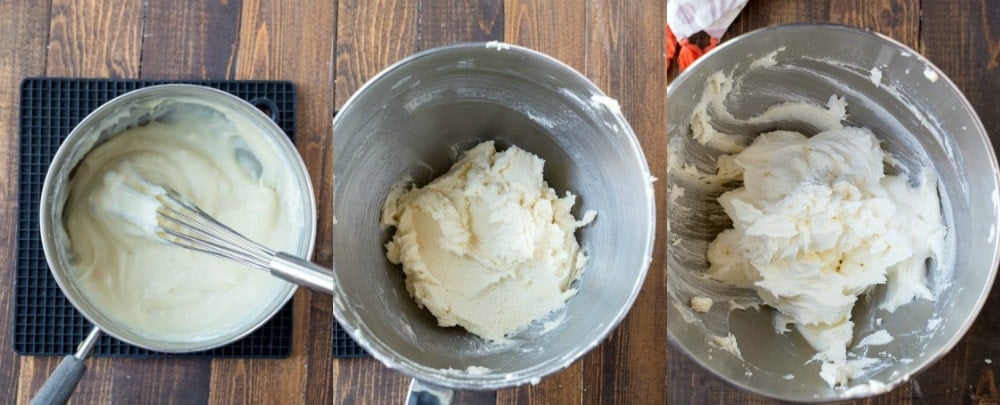 Also, I used to have trouble getting my powdered sugar incorporated into the buttercream.
It would just end up being lumpy.
Well, this buttercream frosting takes care of that because it uses (are you ready for this?) granulated sugar!
Yep!
Regular, old granulated sugar.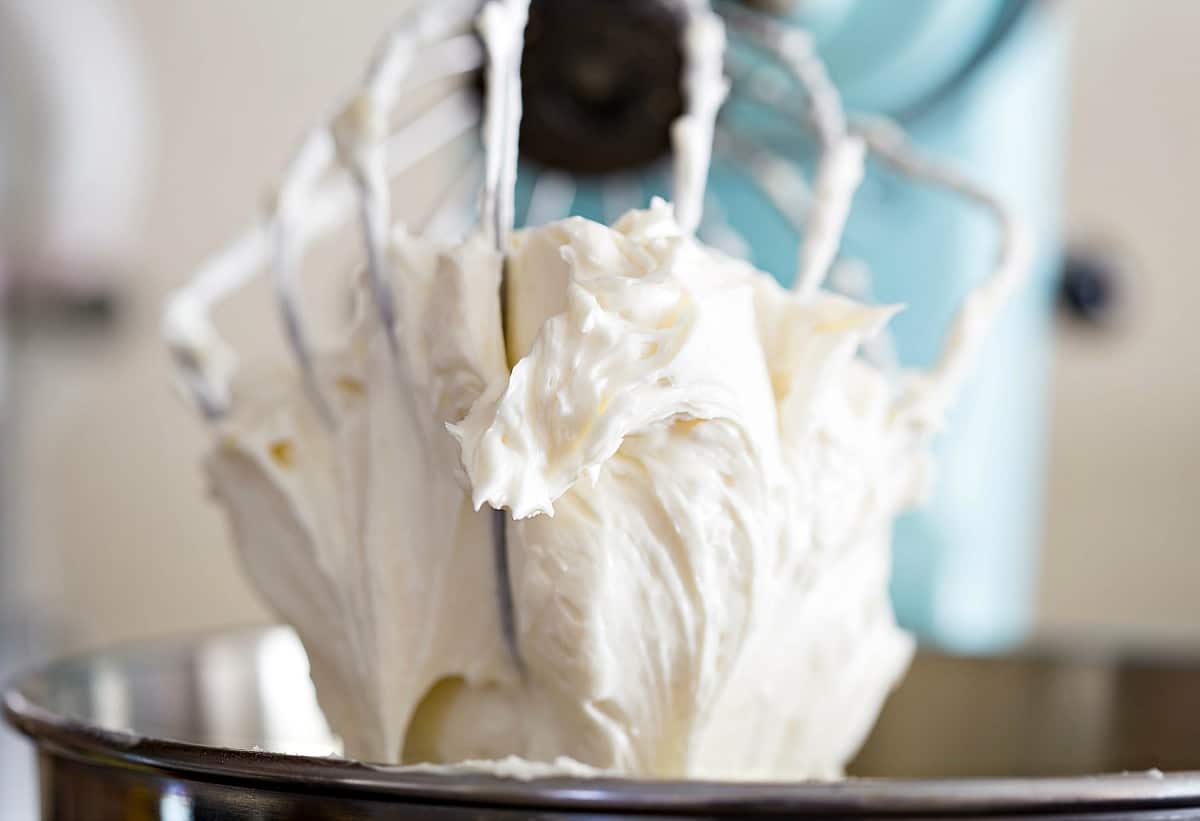 So, if you've ever wondered how to make frosting without powdered sugar, this is it! Don't worry – it's not gritty at all.
In fact, it has the texture of a light whipped cream with the flavor of a sweet, vanilla buttercream.
It's honestly the best frosting (buttercream or otherwise) that I've ever had. It's sweet but isn't overwhelmingly, make-your-teeth-ache sweet.
I've put answers to a lot of the questions I've received in the recipe notes. Please take a second to read through those notes before making the frosting.
How much frosting will this recipe make?
This recipe will make enough to frost a 2 layer 9-inch round cake or 24 cupcakes.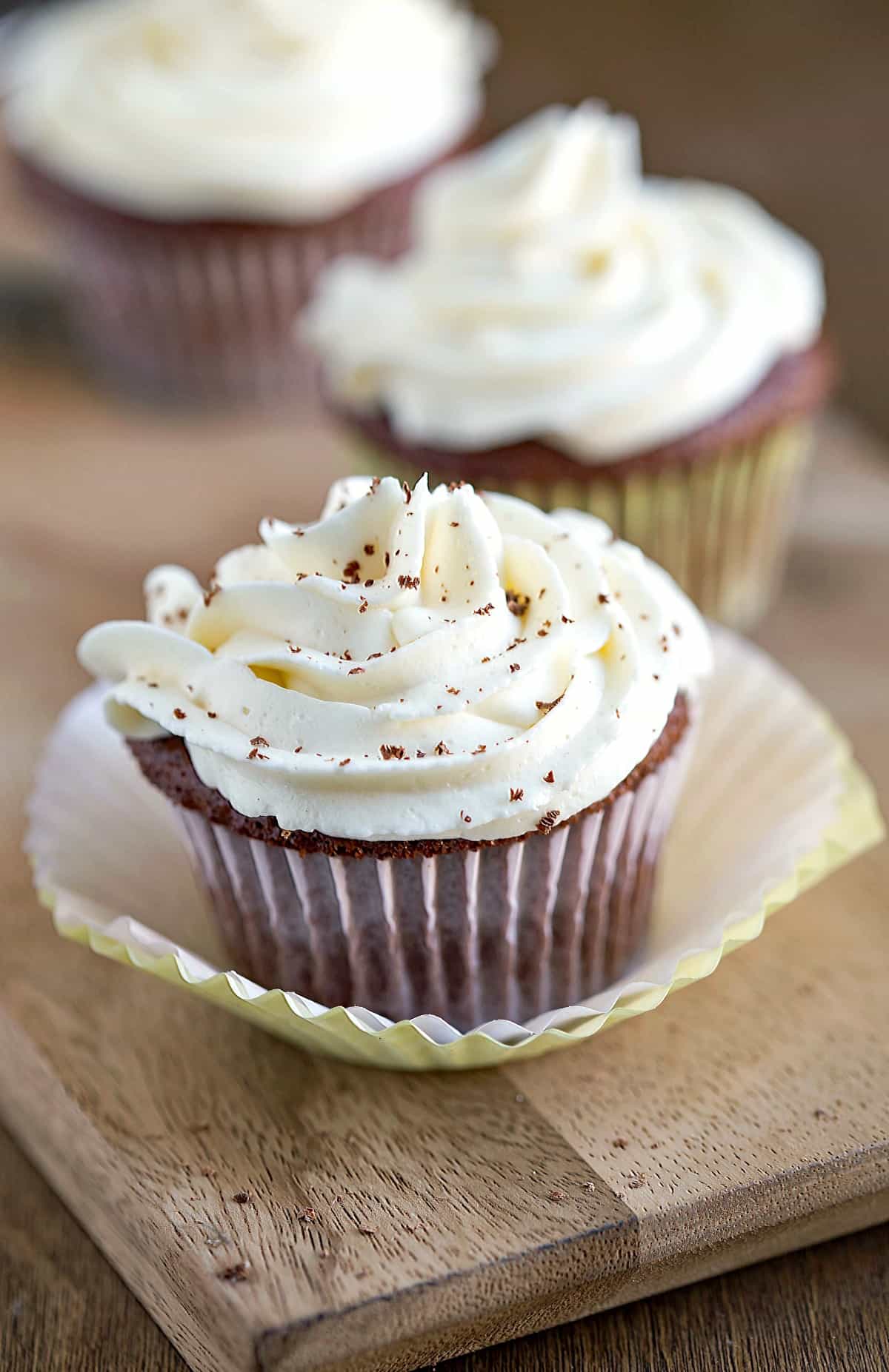 Troubleshooting tips
If your frosting is still a little gritty after beating it for 5 minutes, go ahead and add the cooled milk/flour mixture. That will usually smooth out any remaining sugar.
A couple people have reported that a film has formed on their milk/flour mixture. I haven't had this happen, but another person said that she's had good luck with blending the milk/flour mixture with a blender before cooking it. She said that it removed any lumps and helped prevent a skin from forming.
Can I use food coloring in this frosting?
I've never tried to use food coloring with this frosting. However, I have heard from several people who have successfully used both regular and gel food coloring.
See how easy it is to make this whipped buttercream frosting!
More frosting recipes (made with granulated sugar)!
If you've tried this whipped buttercream frosting recipe, don't forget to rate the recipe and leave me a comment below. I love to hear from people who've made my recipes!
You can SUBSCRIBE to receive my latest recipe newsletters or FOLLOW ME on FACEBOOK, INSTAGRAM and PINTEREST for even more delicious food.
Whipped Buttercream Frosting
Light and fluffy buttercream frosting made without powdered sugar.
Prep Time: 30 minutes
Cook Time: 10 minutes
Total Time: 40 minutes
Servings:24 servings
Course: Dessert
Cuisine: American
Keyword: buttercream frosting, frosting, whipped frosting
Ingredients
7 tablespoons all-purpose flour
1 ½ cups milk
1 ½ tablespoons pure vanilla extract
1 ½ cups salted butter (at cool room temperature1)
1 ½ cups granulated sugar
Pinch of salt
Instructions
In a small saucepan, whisk flour into milk together over medium-low heat, stirring constantly, until it thickens. It will be the consistency of a thick paste. Make sure that you whisk the flour and milk together well before you begin cooking it to avoid lumps.

Remove from heat and let it cool to room temperature. This step is key. If your mixture is warm, it will melt your butter, and you'll end up with runny frosting.

Stir in vanilla.

While the mixture is cooling, cream the butter, sugar, and salt together until light and fluffy on medium high-high, about 5 minutes. Make sure that you scrape down the sides and really incorporate the butter and sugar to avoid gritty frosting.

Then add the completely cooled milk mixture.

Beat it for about 5 more minutes on medium-high to high until it looks like whipped cream. It may look separated at first, so keep beating it until it comes together and looks like a whipped cream.
Notes
Make sure that your butter isn't too warm! The butter should be at cool room temperature. You want it to dent if you press it, but you don't want it to be so warm that it's near melting.
Also, if you're using a hand mixer, beat it on high. This recipe work well with a stand mixer because it has the power to really whip the frosting.
To get the best flavor, you'll want to use real butter and pure vanilla extract.
When cooking the milk/flour mixture, you don't want it to look wet. It should be like a thick paste. If it's wet and runny, your frosting will be too loose.
Please don't cut the mixing time short! I know it's tempting, but it's important to beat the butter and sugar together for the time the recipe calls for to keep it from being gritty. If you cut the mixing times short, you won't end up with the right texture of frosting.
Want to try a buttercream made with powdered sugar instead? Here is my favorite vanilla buttercream frosting that's made with powdered sugar. 
Nutrition values are estimates. 
Nutrition Information
Serving: 1servingCalories: 169kcal (8%)Carbohydrates: 15g (5%)Fat: 12g (18%)Saturated Fat: 7g (35%)Cholesterol: 32mg (11%)Sodium: 108mg (5%)Potassium: 25mg (1%)Sugar: 13g (14%)Vitamin A: 380IU (8%)Calcium: 21mg (2%)Iron: 0.1mg (1%)