Easy peach crisp recipe! This simple, no bake recipe is the fastest, easiest way to make peach crisp and can be made in about 20 minutes.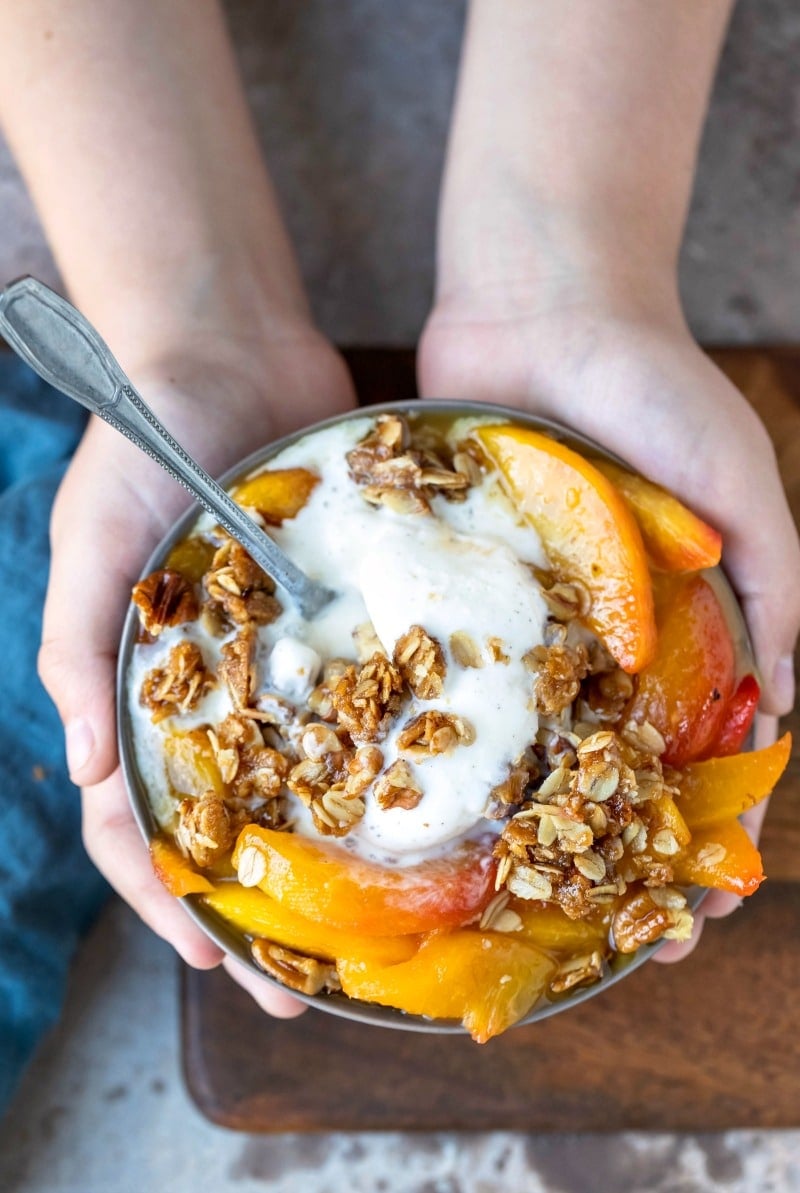 I'm so excited to share this peach crisp recipe with you because it isn't your ordinary peach crisp.
No, this recipe takes everything that great about the dessert – the juicy peaches and the crunchy crisp topping – and makes it SO much faster and easier.
And it's no bake! So, not only can you enjoy one of the best summer desserts, but you don't have to turn on the oven and heat up your house to make it.
AND it's ready in about 20 minutes. Which means that it takes less than half the time that it normally takes to make peach crisp.
How To Make Peach Crisp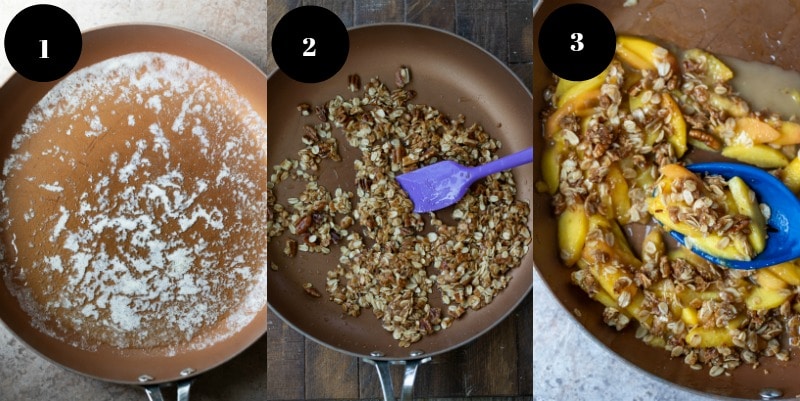 This peach crisp is so fast and so easy because it's made entirely in one skillet on the stovetop. This easy stovetop method means that it's ready in about half the time that it normally takes to make peach crisp.
To begin, melt 3 tablespoons of butter in a large skillet (picture 1). Reserve the other tablespoon of butter for later in the recipe.
Once melted, add the oats, nuts, brown sugar, cinnamon, and salt. Toss to combine and coat in butter.
Cook, stirring regularly, until lightly toasted and browned, about 5-8 minutes (picture 2). Remove topping to a plate.
Add the remaining tablespoon butter to the now empty skillet, and add the peach slices and granulated sugar. Let the peaches cook until soft, about 5-6 minutes.
Serve the peaches topped with the crisp topping (picture 3).
How To Peel Peaches
There are different ways to peel a peach, but I've found the simplest way is to use a soft skin peeler. It works like a regular fruit and vegetable peeler, but it's designed for soft skinned fruits like peaches.
What's The Difference Between Peach Crisp And Peach Cobbler?
Peach cobbler is cooked, sliced peaches topped with a biscuit-like topping. Peach crisp is sliced, cooked peaches topped with an oat-based crunch topping.
There are also peach crumbles. Peach crumbles are similar to peach crisps (cooked sliced peaches with a crisp topping). The main difference is that peach crumble doesn't use oats in the topping.
What To Serve With Peach Crisp
Peach crisp is delicious all on its own. It's also fantastic topped with a dollop of sweetened whipped cream or a scoop (or two) of vanilla ice cream. If you can find it, cinnamon ice cream also pairs really well with peach crisp.
How To Reheat Peach Crisp
The fastest and easiest way to reheat it is to microwave it. I recommend adding the topping to the crisp just before serving so that it doesn't get soggy in the microwave.
More Fruity Dessert Recipes!
If you've tried this easy peach crisp recipe, don't forget to rate the recipe and leave me a comment below. I love to hear from people who've made my recipes!
You can SUBSCRIBE to receive my latest recipe newsletters or FOLLOW ME on FACEBOOK, INSTAGRAM and PINTEREST for even more delicious food.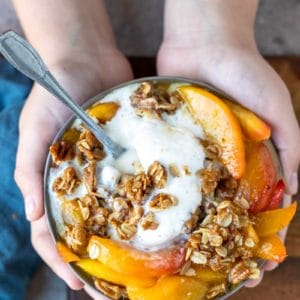 Easy Peach Crisp
Easy Peach Crisp is the fastest, no-bake peach crisp recipe.
Ingredients
4 tablespoons butter divided
1/4 cup chopped pecans or walnuts optional
1/2 cup old-fashioned rolled oats
1/4 cup brown sugar packed
1/2 teaspoon ground cinnamon
Pinch salt
2 pounds peaches peeled and in slices1
2 tablespoons granulated sugar
Instructions
Add 3 tablespoons butter to a large skillet.

Melt over medium heat.

Add nuts, oats, brown sugar, cinnamon, and salt; toss to coat in butter.

Cook, stirring frequently, until golden and lightly browned, about 5-8 minutes.

Remove to a plate. The topping will crisp up as it cools.

Add 1 tablespoon butter to the now-empty skillet.

Stir in the peach slices and granulated sugar.

Cook until the peaches are soft, about 5-6 minutes.

To serve, divide peaches between bowls and sprinkle with topping.
Notes
Peaches should be thinly sliced (about 1/4-inch thick). Slicing the peaches thicker will make it take longer for them to cook. See the notes above the recipe about peeling peaches. 
Nutrition values are estimates. 
Nutrition
Serving: 1serving | Calories: 350kcal | Carbohydrates: 49g | Protein: 4g | Fat: 17g | Saturated Fat: 8g | Cholesterol: 30mg | Sodium: 105mg | Potassium: 514mg | Fiber: 5g | Sugar: 39g | Vitamin A: 1090IU | Vitamin C: 14.9mg | Calcium: 38mg | Iron: 1.3mg
Reader Interactions
Love this recipe?
Share your thoughts below and let's chat! Make sure to connect with me on your favorite social platform below and show me what you made!