Best easy zucchini bread recipe! Makes two loaves of moist, perfectly spiced zucchini bread. Includes tips on how to make zucchini bread.

I get excited when I see the new crop of zucchini hitting the stores.
I love zucchini in just about anything. One of my favorite easy dinner recipes is this zucchini frittata, and I could eat zucchini bread every day.
How to make zucchini bread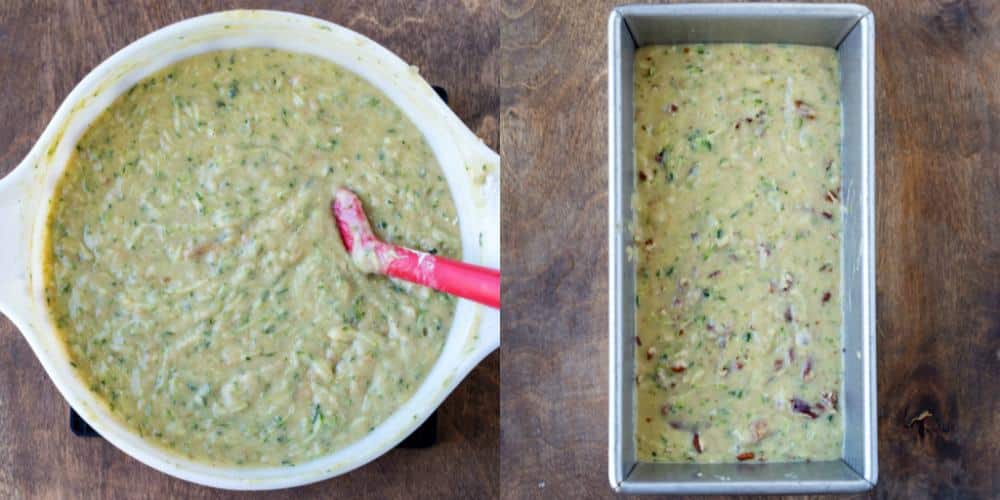 This easy zucchini bread recipe makes two loaves of moist zucchini bread.
I love that it's soft without being greasy.
This bread is a great way to use up zucchini. It takes about 3-4 medium-ish zucchini, and there's no need to peel the zucchini before use.
Also, this recipe uses melted butter, so the batter can easily be mixed by hand.
Actually I'd suggest mixing it by hand to avoid overworking the batter.
Can I bake it in a 9×5 loaf pan?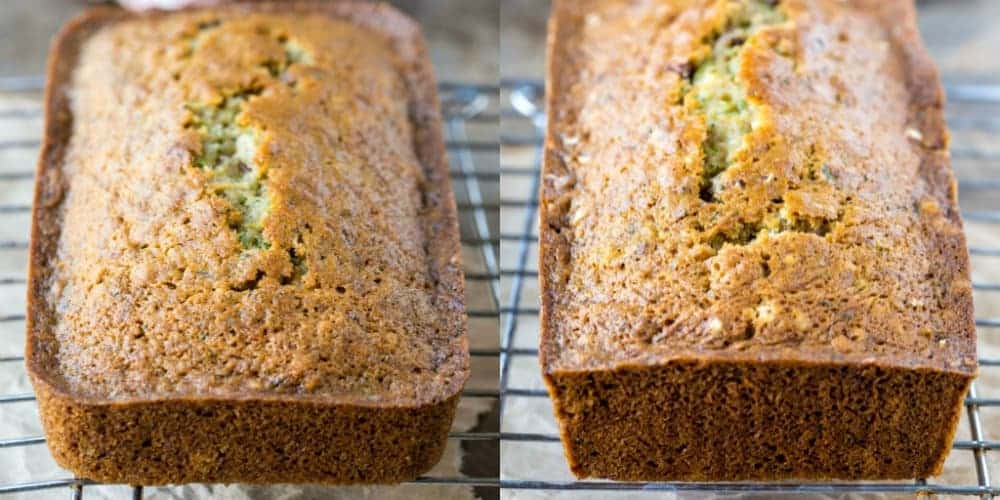 I often get questions about substituting different pan sizes in place of the ones called for in the recipe.
Above on the left, you'll see this recipe baked in a 9×5-inch baking pan.
To the right, this recipe baked in an 8×4-inch baking pan (the size called for in this recipe).
The recipe works baked in the 9×5-inch pan, but the loaf is wider and shorter than the loaf baked in the 8×4-inch pan.
Also, the 9×5-inch loaf was finished baking about 5 minutes sooner than the other loaf.
How long will this zucchini bread last?
The zucchini bread will stay good for about 2-3 days.
I store mine wrapped at room temperature.

More zucchini bread recipes!
If you've tried this zucchini bread recipe, don't forget to rate the recipe and leave me a comment below. I love to hear from people who've made my recipes!
You can SUBSCRIBE to receive my latest recipe newsletters or FOLLOW ME on FACEBOOK, INSTAGRAM and PINTEREST for even more delicious food.
Zucchini Bread
Easy-to-make, moist zucchini bread recipe
Prep Time: 25 minutes
Cook Time: 40 minutes
Total Time: 1 hour 5 minutes
Servings:32 pieces
Course: bread
Cuisine: American
Keyword: zucchini bread
Ingredients
3 cups grated fresh zucchini about 4 zucchini
3 cups all-purpose flour
2 teaspoons baking soda
2 teaspoons ground cinnamon
1 1/2 cup granulated sugar
2 large eggs
2 teaspoons vanilla extract
1/4 teaspoon kosher salt
3/4 cup butter melted¹
1 cup chopped pecans optional
Instructions
Preheat the oven to 350F. Grease two 8x4-inch loaf pans. I like to use nonstick spray with flour. Set aside.

Place the grated zucchini in colander in the sink while you continue.²

Whisk together sugar, eggs, vanilla, salt, and butter in a large bowl.

Add flour, baking soda, and cinnamon, and whisk in until just combined.

Stir in grated zucchini until just incorporated.

Add nuts, if using, and stir in until just combined.

Divide batter between prepared loaf pans.

Bake for 40-60 minutes, or until a wooden toothpick inserted into the center comes out clean.³

Cool in pans for 10 minutes.

Run a thin knife around the edges, and remove zucchini bread out onto wire cooling racks to finish cooling.
Notes
The butter should be just melted but not hot. It takes about 35 or so seconds for me to melt it in the microwave.
No need to squeeze or wring any moisture from the zucchini. Simply place it in the colander, and let it sit. This will help to make the bread moist.
I loosely tent the bread with foil during the last 10 or so minutes to prevent the top from over-browning.
Nutrition values are estimates. 
Nutrition Information
Serving: 1sliceCalories: 147kcalCarbohydrates: 19g (6%)Protein: 2g (4%)Fat: 7g (11%)Saturated Fat: 3g (15%)Cholesterol: 21mg (7%)Sodium: 129mg (5%)Potassium: 61mg (2%)Sugar: 9gVitamin A: 3.5%Vitamin C: 2.6%Calcium: 1%Iron: 4.1%
Zucchini Bread Recipe Video