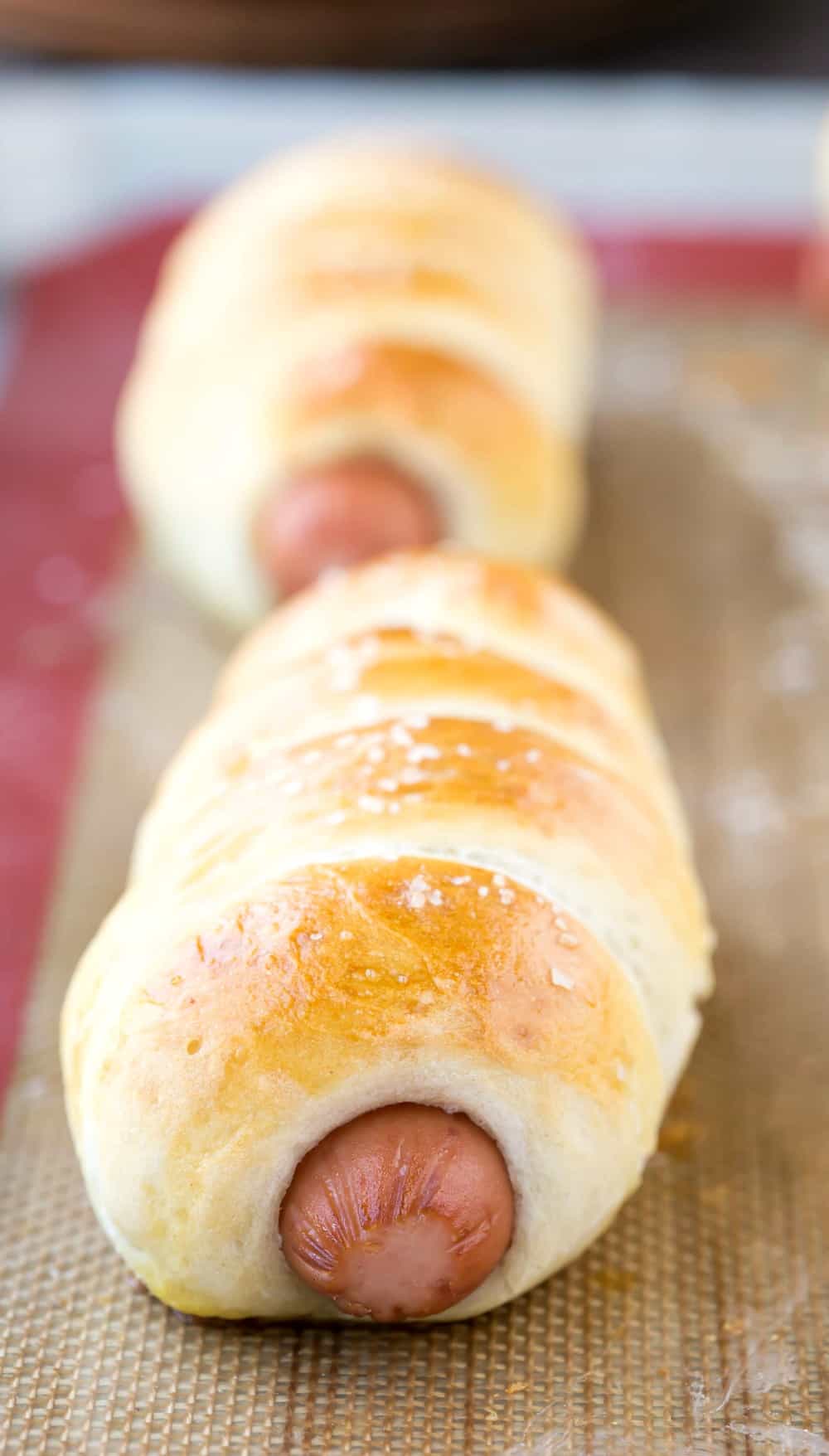 Summer is in full-swing here, and I love it!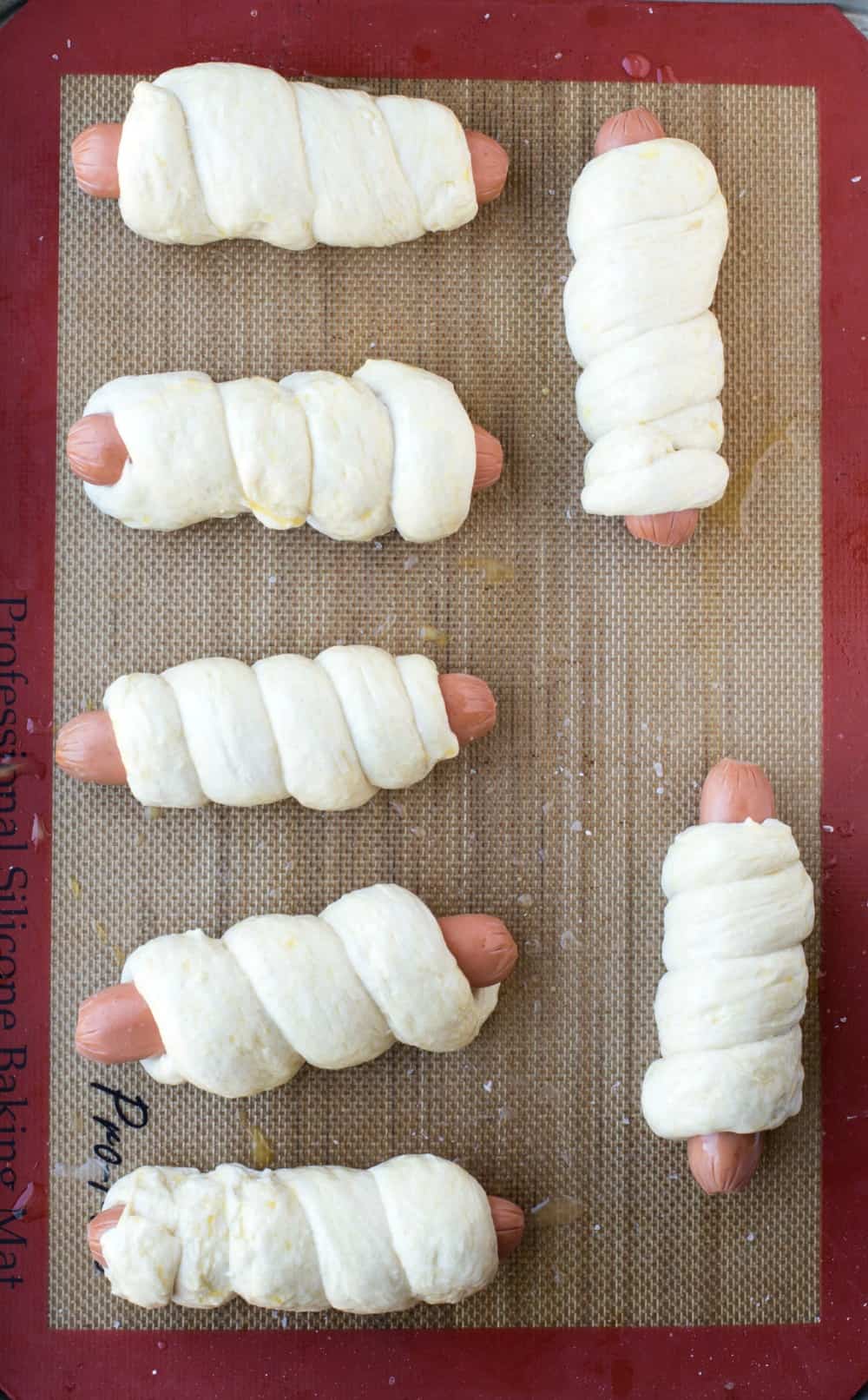 We're lucky that we have an extended summer here, which means that we get to enjoy more grilling, more time at the pool, and more summer get-togethers.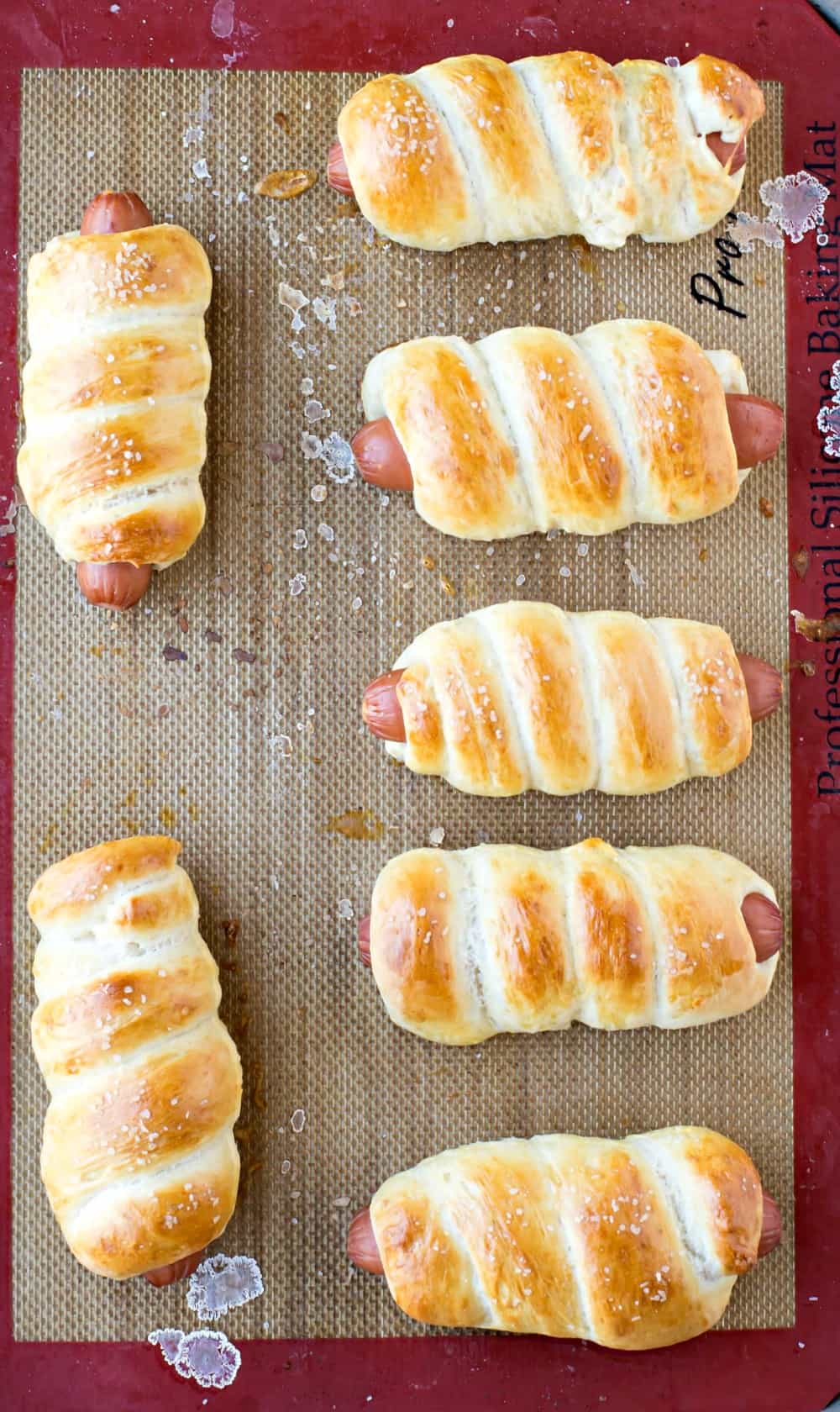 Even though if feels like summer lasts longer here, we always end up trying to fit as much as possible into them when the kids are out of school.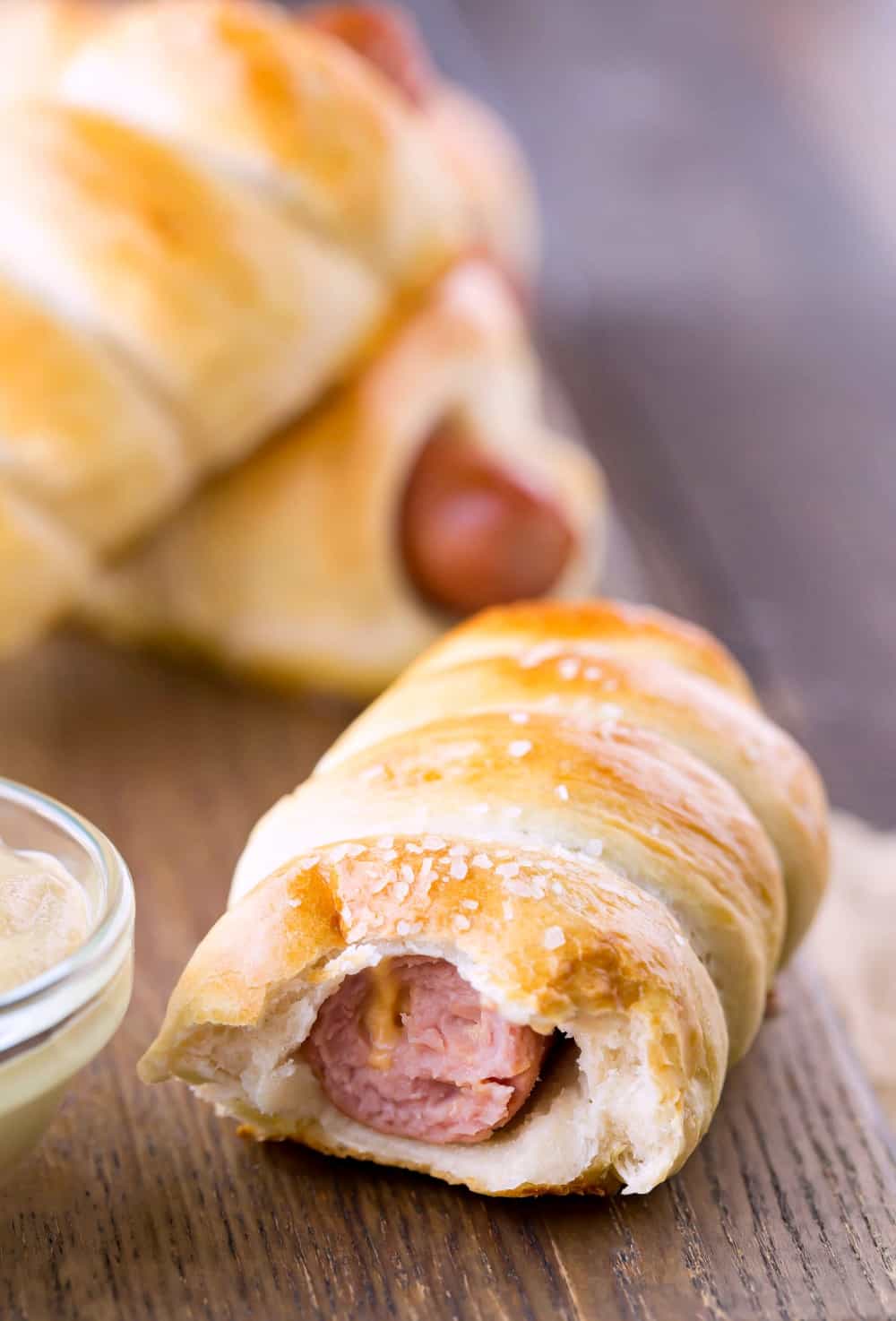 Since we're trying to fit so much in, we usually have simpler dinners during the summer – like this Pretzel Dog recipe.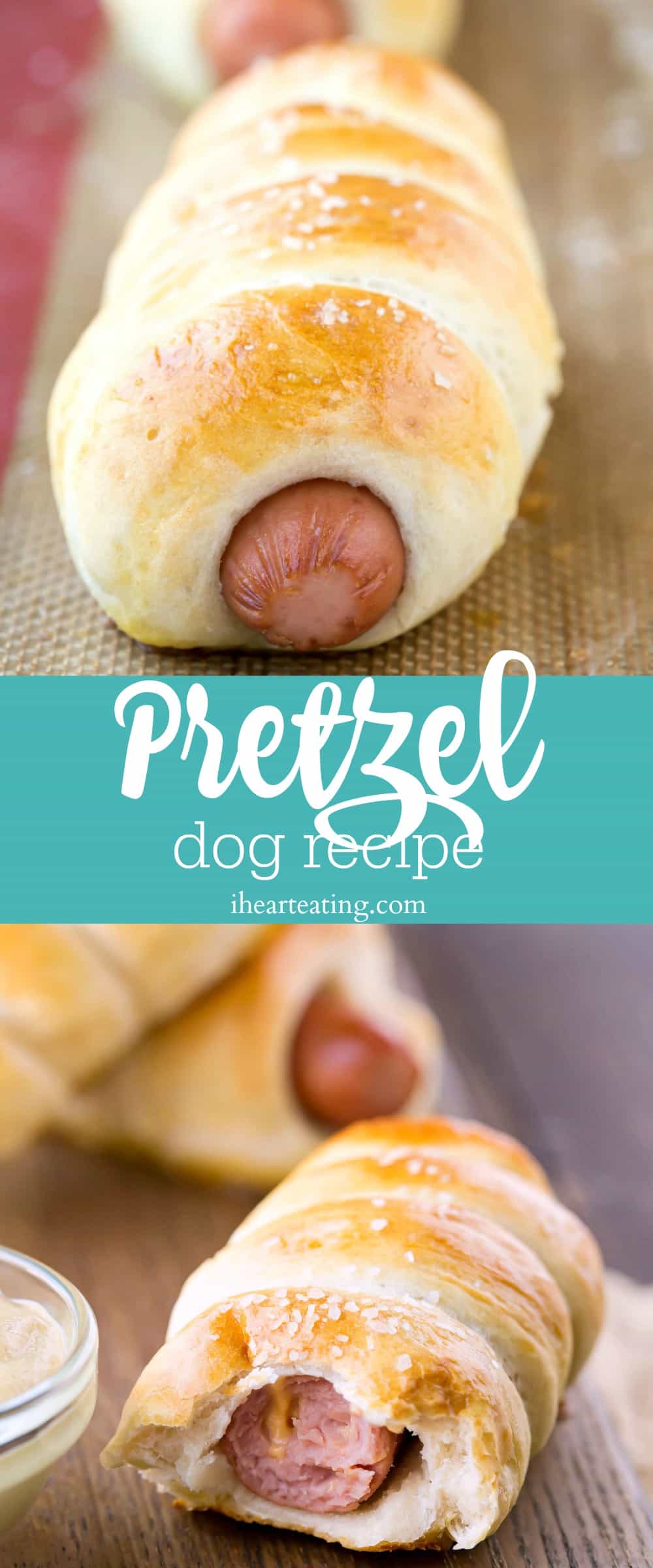 This recipe combines my easy pretzel dough with hot dogs for a delicious, family-friendly dinner. Serve these pretzel  dogs with fresh veggies or salad for a summer dinner that's easy-to-make and easy-on-the-budget.
Pretzel Dog Recipe
Pretzsel dog recipe
Prep Time: 30 minutes
Cook Time: 10 minutes
Total Time: 40 minutes
Servings:10 pretzel dogs
Course: Main Course
Cuisine: American
Keyword: hot dog
Ingredients
Pretzels
1 ½ cups warm water (about 85 F)
1 tablespoon instant yeast (can also use active dry yeast)
2 tablespoons brown sugar
1/2 teaspoon salt
3-4 cups all-purpose flour
Water Bath
6 cups warm water (about 85 F)
6 tablespoons baking soda
Egg Wash
1 large egg yolk
1 tablespoon water
Kosher salt
1 package (10) hot dogs
Mustard, barbecue sauce
Instructions
In the bowl of a stand mixer fitted with a paddle attachment (or in a large bowl if mixing by hand), stir together warm water, yeast, and brown sugar. If using active dry yeast, let yeast mixture stand for 5-10 minutes or until foamy.

Stir in 2 cups flour and salt.

Continue stirring in flour 1/2 cup at a time until dough comes together. Dough will still be a little sticky. If you touch the dough, it should pull with your finger but shouldn't come off on your finger.

Cover the dough with plastic wrap, and let it rise for about 10 minutes.

While dough is resting, preheat oven to 425 F. Line baking sheets with parchment paper or silicone baking mats.

To prepare the water bath, stir together remaining 6 cups warm water and 6 tablespoons of baking soda in a medium bowl.

To prepare the egg wash, mix egg yolk and water together. Set aside.

Divide dough into 10 pieces.

Roll each piece of dough into a rope approximately twice as long as the hot dog.

Wrap dough around the hot dog, pressing the ends of the dough in to seal them.

Repeat with the remaining dough and hot dogs.

Submerge shaped pretzel in water bath, and then place it on prepared baking sheets.

Brush each pretzel with the egg wash, and sprinkle with a little kosher salt.

Bake for 10-15 minutes, or until golden brown.

Serve with mustard or other desired sauces for dipping.
Notes
*Nutrition values are estimates. 
Nutrition Information
Serving: 1pretzel dogCalories: 263kcal (13%)Carbohydrates: 39g (13%)Protein: 9g (18%)Fat: 7g (11%)Saturated Fat: 2g (10%)Cholesterol: 39mg (13%)Sodium: 2405mg (100%)Potassium: 109mg (3%)Fiber: 1g (4%)Sugar: 2g (2%)Vitamin A: 25IU (1%)Calcium: 26mg (3%)Iron: 2.8mg (16%)